EIC Ecosystem Partnerships and Co-Investment Support Programme  
A. Ecosystem Partnerships
About 
With the Ecosystem Partnerships, the EIC aims at being an active connector in the European Innovation Ecosystem. 
Through an open call, the EIC seeks to partner up with different actors able to provide to the EIC beneficiaries and Seal of Excellence holders access to services such as, incubation, acceleration, growth and scale up. The programme will try to meet the SMEs needs in terms of their sectorial knowledge, business development, networking and market knowledge. The EIC beneficiaries will be able to improve their competences and acquire tailored made knowledge in different fields such as: pitching, networking events, specialised trainings (e.g. on intellectual property protection, technology due diligence etc.), innovation bootcamps and summer schools. EIC beneficiaries and Seal of Excellence holders will receive support to validate/accelerate a technology, will have access to mentorship, business coaching, co-investment opportunities, access to tech infrastructures, piloting plants, testbeds etc.
The EIC categorizes the Ecosystem Partners services in following way:
Standalone Services: such as workshops or matching processes focussing on a specific topic. 
Individualized Services: specific services that are critical to EIC-beneficiaries in particular situations, such as usage of specific laboratory equipment or technological due-diligence. 
Programme Services: Uptake in accelerators, incubators, or venture builders. A large advantage of cooperating with EIC-Partners is the possibility to integrate into their accelerators, incubators, or venture builders.
The programme's initial run took place between December 2021 and December 2023. It has been extended until December 2025.
Eligibility
This EIC Partners services under this programme are open to beneficiaries from: EIC Pathfinder, EIC Transition, EIC Accelerator, Seal of Excellence and Women Tech EU.
Every specialized and active peer in the European Innovation Ecosystem can apply to become an EIC partner.  
The applying innovation actor shall have in mind that their aim will be to leverage on thematic synergies between the EIC portfolio companies and their expertise to enhance tailored and specialised business acceleration service support to EIC beneficiaries and strengthen the pipeline of excellent start-ups in strategic, high tech and tough tech sectors and technologies receiving EIC funding. They should be willing to enhance EIC beneficiaries' access to resources (labs, equipment, tools and spaces like clean rooms, integrated circuit design, pilot lines, etc.) to further mature their products and technologies. They will have to ensure the EIC Global Business Acceleration Service offers' complementarity and close collaboration with other business acceleration service providers and will interlink the pan-European ecosystem of business acceleration service providers by providing networking opportunities and encouraging the exchange of best practices.
Learn more
The EIC Service Catalogue
EIC beneficiaries can access a searchable database of all the services being provided by the EIC Partners. The EIC Service Catalogue gathers all the unique service offers open to EIC innovators and allows them to search services by category, project stage, country and date of service implementation. 
The decision to retain or withdraw services from the EIC Service Catalogue will be solely made by the EIC and EIC Contractor unless a formal request to remove the service is made by the EIC Partners.  
Log in to the EIC Community to learn more and access the catalogue.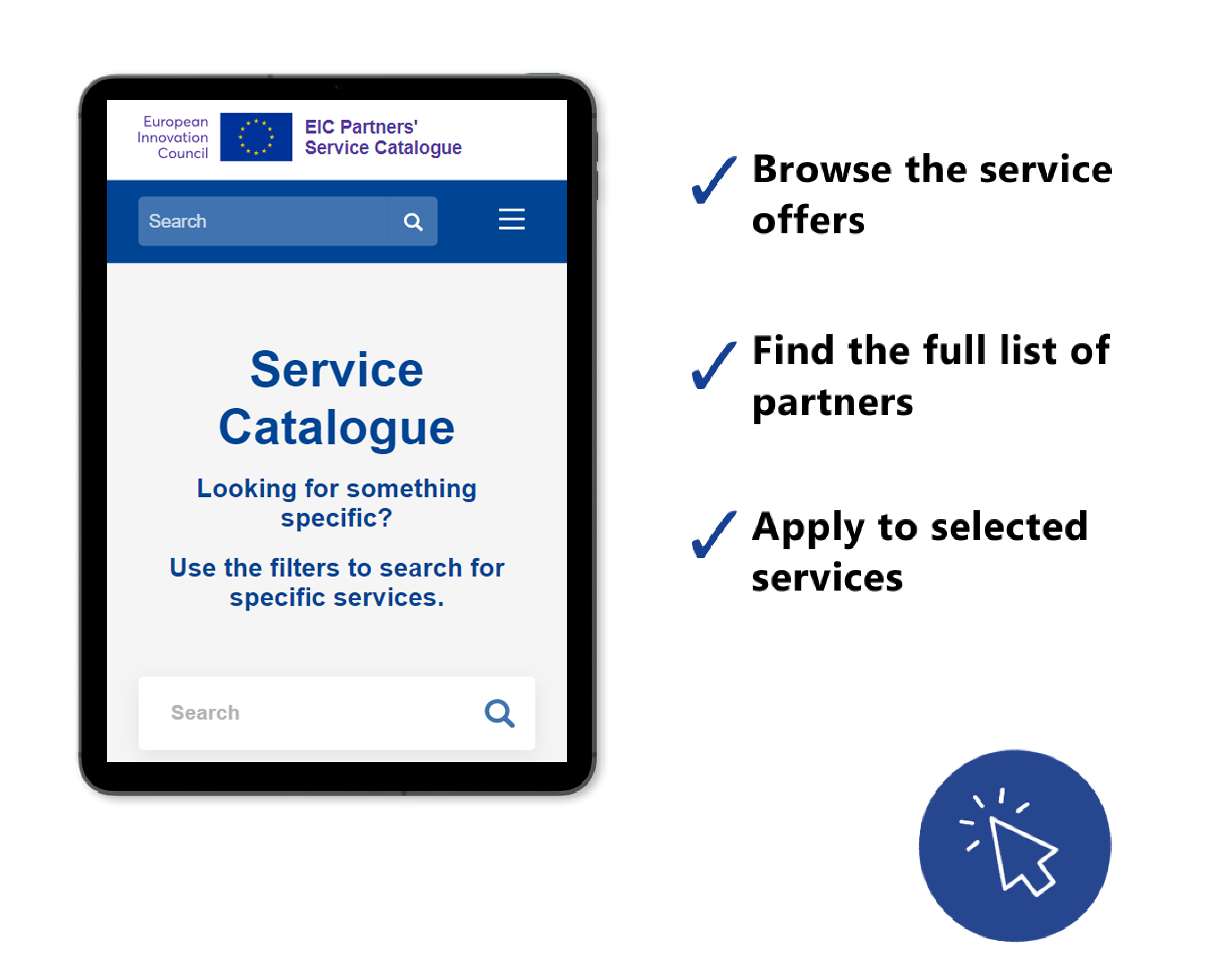 B. EIC Co-Investment support
About 
The Co-Investment Support by the EIC to the selected Beneficiaries is a key step in ensuring that the beneficiaries become investors-ready and can gain access to the best co-investment opportunities from the private sector. The EIC Fund does so through its well-designed support strategy which includes several key activities, which the EIC pursues for the benefit of beneficiaries, including, amongst others:
Offering venture building services that can include the review, improvement, and redesign of Beneficiaries' pitch decks (e.g., storyline, content, layout and design); the assessment and refinement of their financial model; in-depth valuation benchmark reports, thorough overview of competitors and finally access to a wealth of resources.
Facilitating EIC's Beneficiaries' access to private investors, and vice-versa, through the EIC Fund co-investor platform as well as assisting EIC's Beneficiaries in optimising their profiles on the platform, ensuring they are presented in the most compelling and accessible manner to potential investors. Co-investing in companies carefully selected by the European Innovation Council (EIC) is a great investment opportunity as well as an opportunity to support breakthrough, market-creating innovations across Europe and beyond. Investors such as VCs, CVCs, BAs, family offices and other relevant asset managers interested in co-investing with the EIC Fund and discovering new EIC companies, should fill in this form.
Fostering matchmaking opportunities between Beneficiaries as well as with relevant investors through tailored investor lists, outreach support and, where possible, direct introductions.
Organizing dedicated events aimed at building relations with potential investors included in the EIC Fund co-investor platform (e.g., ePitching events and investor roundtables in the different sectors in which Beneficiaries are present). In addition, the beneficiaries invited to pitch during these events will receive dedicated support, including the refinement of their pitch decks and presentation, to maximize their potential for impactful connections and investor meetings during these events. More than 30 investor events have been organized in 2023 covering different sectors (such as Space and Transport, Sustainability and Tech, Medtech, Biotech, ICT, Hardware, Software, Foodtech etc) and showcasing more than 140 companies. 
Together, these four key support activities enable EIC innovators to connect with potential investors and increase their chances of being funded, while at the same time, giving the investor community access to the promising EIC projects. These support activities are highly supportive in bridging the gap between public and private funding.
Eligibility
The focus on the co-investment activities is for EIC companies that have been granted blended finance and grant-first types of funding.
In order to discover more and get this support, EIC blended and grant-first companies are invited to fill in this form and highlight the main activities that would benefit their fundraising effort. 
Timeline
Dedicated support activities are open to EIC blended and grant-first companies at any moment. For events, the EIC runs at least one investor activity per month.
Please check the Open Calls & Upcoming Events page.
Testimonials
Jean Botti, CEO at VoltAero:
The EIC Investor Day is a great forum for European entrepreneurs where startups can display their uniqueness and can expose to investors what the DNA of the company is all about. This gives the chance to everybody to compete for funds that will help startups pass the Valley of death and contribute to their future growth and achieve their dreams.
Yun Luo, ROSI SAS, who pitched in the "EIC Scaling Up: Powering the future of sustainability and tech":
We animated relationships with the investors we were already in contact with, talked to new investors and met many startups with a similar mindset. It's like a community.
Fabiana Fantinel, Founder and Managing Partner of CO2Bioclean:
The company has participated in several pitching events, but Fantinel noted that they "don't all have the same quality", which is why knowing that a pitching event was organized by the EIC is very important to them.

 
Asparuh Koev, CEO at Transmetrics:
I am very glad to receive this service, it has helped us already a lot, even though it is still early days. The redesign of the pitch deck was excellent, and having deep insights into investors via Pitchbook is also very helpful. 
For a short impression of our Investor-events, please check the YouTube video below.
FAQ
Find all the answers on the EIC Ecosystem Partnerships and Co-investment Support Programme in the FAQ.
Contact us 
Should you have any questions regarding this programme, please contact us via email: investment@eicfund.eu.