Challenges
EIC Challenge Platform
Are you an EIC thinker who likes to dig into science, research or technology to address new problems? Or do you have a pressing challenge that requires the attention of innovative minds? We have good news for you: the new EIC Challenge Platform is ready and can help you with both scenarios. This virtual stage will gather EIC challengers with problem-solvers eager to develop and implement innovations in different sorts of fields. If you think you can be our next challenger or challenge solver, don't miss the opportunity to connect with this creative network.
Check our challenges and solutions here!
What's in it for you?
The EIC Challenge Platform will make innovative challenges and solutions accessible to all EIC Community Members. EIC innovators from all backgrounds can participate in the challenges put forward by EIC Community Members' by participating remotely. By becoming a Challenge Owner or a Challenge Solver, EIC Community Members will:
Connect with giant European Business Partners:
Large corporates, investors, and innovation procurement departments with access to the EIC Community will share their challenges on our platform. We receive multiple challenges from large companies, including big multinationals such as Procter & Gamble or Ab InBev. The challenge solvers selected by these Business Partners will have an exclusive connection with these organisations, receiving direct feedback on their proposals and possible one-to-one meetings to explore further steps.
Promote yourself and win:
Each challenger defines the award offered to the winning solution. Some challengers provide cash prizes, others an exclusive opportunity to develop a Proof of Concept (POC) or even promote the winner globally at international fairs. But the challenge platform is not just about the awards. Challenge solvers can always gain visibility from a global network, including incubators, startups, brands and corporates.
Leave your innovative mark in the world:
Challengers and Challenge Solvers can contribute to tackle some of the world's pressing issues and leave their mark in the world. You leave your innovative mark globally by solving their sustainability challenges, waste problems, or process issues while uncovering and harnessing new business opportunities.


How can you join the EIC Challenge Platform?
The path to becoming a challenger or solver is simple! Here is what you have to do:
Step 1: Register or Log-in
If you are already an EIC Community Member, you just need to log-in with your ECAS log-in account on our platform. If you don't have access to the EIC Community, discover how to have a member account here.
Step 2: Submit a new challenge or solution
If you have a pressing challenge and would like to engage with other innovators from the EIC Community to tackle it, you can submit your challenge here and connect with the challenge solvers. If you think you have an innovative solution that can address one of our challenges, you can upload your proposed solution for a specific challenge. By default, only challengers can view your offer.
Step 3: Explore future business opportunities
If your solution is accepted and selected by the challenger, you can start interacting with the organisation and explore future business opportunities.


Latest challenges
Discover all the challenges: take a look below and participate in the challenge that interests you the most.
Short Description: EIT Digital submission period for 'Innovation Factory 2022' is open throughout 2022, targetting entrepreneurial minds planning to launch or boost a deep tech venture up to EUR 250,000. The work programme is guided by the EIT Digital Strategic Innovation Agenda 2022-2024, which identifies five focus areas: Digital Tech, Digital Industry, Digital Cities, Digital Wellbeing and Digital Finance.
Short Description: Merck is offering a series of research grants to stimulate innovative research in challenging areas of future importance. Merck is a science-driven organisation and conducts its business in healthcare, life science and electronics. Proposals to this challenge should find an application in the field of green chemistry to one of these three sectors.
Short Description: Three public procures from Spain, Sweden and Italy will jointly procure the design and development of the TIQUE service - InnovaTIve care services to deliver QUick rEsponses to complex patients with advanced heart failure through integrated care.
How can you contribute?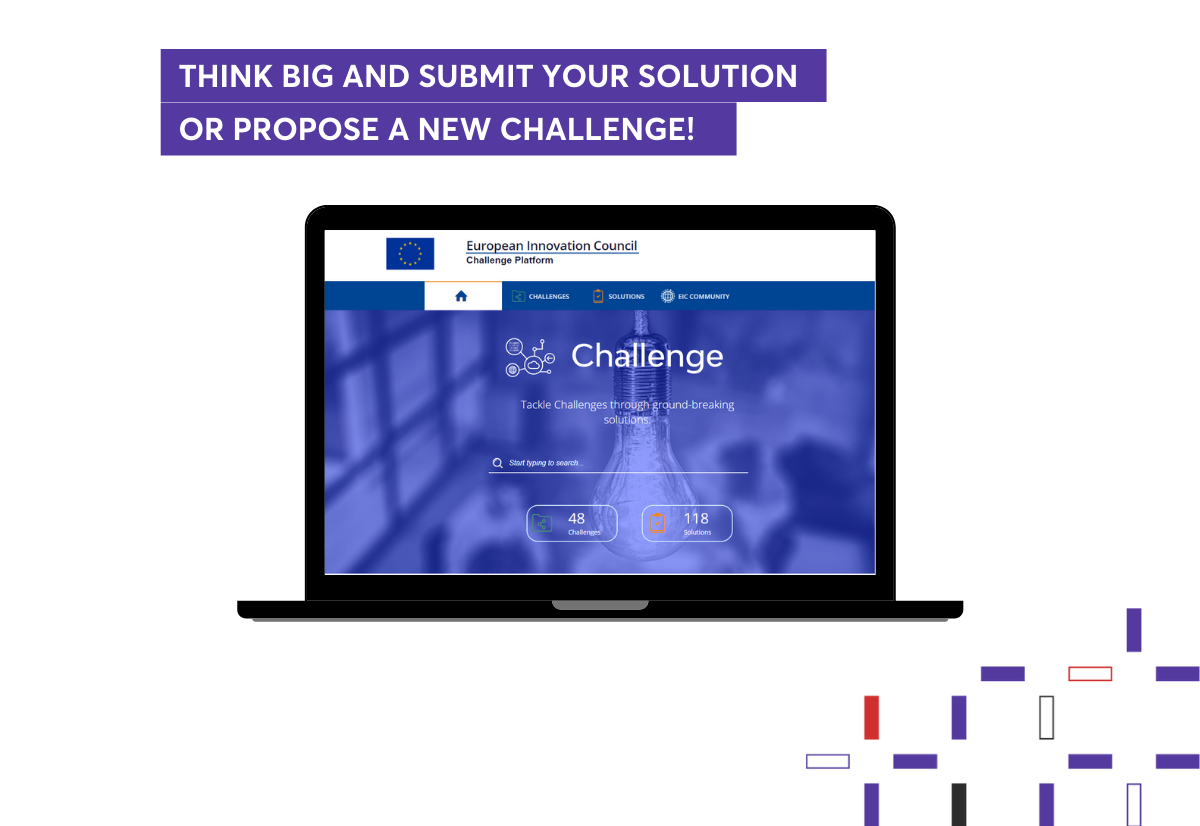 More information
For more information on the EIC Challenge Platform, please visit our website here or send a message via our Contact Form (please select the category 'EIC Challenge Platform').