The European Innovation Council together with Amazon Web Services are excited to invite you to an online event on 31st May 2022  to boost your company growth and discuss market differentiation and additional technical depth in your product. 
EIC Ready-Set-Scale Day powered by Amazon Web Services (AWS) is a chance for your early-stage company (not later than round B) to get inspired by peers and experts in how to navigate your company growth journey. We will be talking about the business and technological aspects of your venture and lessons learned about building a company venture from Amazon experts and additional speakers invited to the gathering. 
The applications are open until 20 May 2022. Apply here, and don't miss this opportunity!
The number of places is limited to 50 companies (up to 2 people per company), first come first served.
What's in it for you?
This exclusive event will include specific training agenda (below) and is an excellent opportunity to exchange experiences with fellow EIC companies. 
You will benefit from:
A packed agenda full of sessions, roundtables and expert lectures based on your needs. 
Exposure to investors and VC funds with pan-European focus. 
One-to-One meetings between companies and investors (if selected).
AWS mentorship in business and technology.
$25K in cloud support and credits whenever relevant. 
Tentative Agenda: (the agenda will be adjusted to the needs of the selected companies)
10:00 – 10:15 Welcome.
Getting to know the companies in the room! 
10:15– 11:00 Culture of Innovation for Startups: How Amazon stays ahead of the curve? 
Speaker (TBC): Gergo Kalcsics, serial founder and executive, currently Sr. VC and Startup Business Developer at AWS
11:10 – 11:50 VC Roundtable: The Changing VC Landscape. 
Discussion between VC investors about raising money over Zoom, trends they are focusing on in 2022 and deep-technology financials relevant for anyone who is interested in VC funding.
11:50 – 13:00 VC-Startup Speed Dating  
The VCs will meet companies they selected for 1:1 meetings.
13:00 – 13:30 Scaling at Speed: Hiring Best Practices from Amazon and Startups' Talent Discovery Journey.
The session will be led by Monika Rozalska-Lilo, entrepreneur and open innovation expert. Currently EMEA Scale Sr. Business Developer at AWS.
13:30 – Conclusion words & Wrap-up
When?
Take note: 31st May 2022, from 10:00 to 13:30 PM CET (tentative times).
Who can apply?
All EIC-funded companies working on innovative solutions in all sectors, with a focus on early-stage companies (primarily seed and round A). 
How can you be selected?
Click THIS LINK to apply. We will accept the first 50 applications that will sign up on the "first come, first served" basis. 
If you have any questions about this opportunity, please send us an email at rozmon@amazon.com.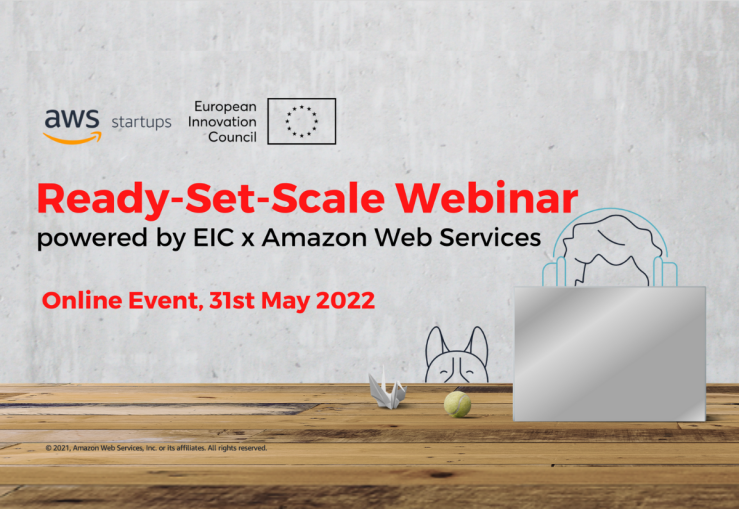 DISCLAIMER: This information is provided in the interest of knowledge sharing and should not be interpreted as the official view of the European Commission, or any other organisation.