By turning climate and environmental challenges into opportunities, Europe is striving to be the first climate-neutral continent by 2050. In this light, the European Innovation Council is giving all EIC-beneficiaries the opportunity to participate in the very first European 'Greenathon': an ideation hackathon that will digitally connect innovators funded by the EIC. From 27 October to 30 October 2020, we will address pressing key sustainability challenges proposed by large European corporate players like HenkelX Ventures, Saint-Gobain, Danfoss and Engie.      
Is your company or research activity contributing to a more sustainable future in the fields of energy, construction & renovation or food & agriculture? Do you want to team up with peers and corporates to co-create, innovate and learn in an intensive 4 days event? Then you've come to the right place! Join us in hacking the European Green Deal and contribute to a greener Europe for all! 
Applications are open until 7 October 2020. 
Co-create the future with other like-minded innovators 
Climate change and environmental degradation are an existential threat to Europe and the world. To overcome these challenges, Europe needs a new growth strategy that transforms the Union into a modern, resource-efficient and competitive economy. The European Green Deal is the European Commission's roadmap to fulfil this transformation and innovative and eco-friendly SMEs are crucial to make a successful green transition in Europe.  
The EIC Greenathon will take advantage of this momentum, bringing together innovative EIC beneficiaries and business partners to solve tangible challenges and construct new collaborations for sustainability and business growth.  
The challenges proposed are genuine, complex problems linked to sustainable transformation on energy, construction and food & agriculture. All of them will require fresh thinking and a new approach based on novel technologies and models.  
Who can apply?   
The event is open to all EIC beneficiaries, both EIC Accelerator and EIC Pathfinder. If you're interested in these topics, take a chance, apply and compete for one of several prizes offered by our business partners. 
How the EIC Greenathon will work 
The EIC Greenathon will be a fully virtual event, taking place over four mornings from Tuesday, 27 October to Friday 30 October 2020, 9.00 to 13:00 CET. The event will start with an introduction by the European Innovation Council, providing an insight into the new opportunities created by the European Green Deal. Following the in-depth challenge briefings, participants will work together in teams. They will identify collaborative solutions that will leverage the combined creativity and resources of enterprises, SMEs and researchers. The Greenathon will close with a round of pitches in front of a jury and the final prize ceremony.  
What's in it for you 
Further knowledge on innovative technologies that will help Europe reach its European Green Deal goals. 
Networking opportunities with like-minded innovators and representatives from big European players. 
Personalised online training on pitching technics before the event. 
Privileged access to large corporates. 
Besides this, the winning teams of each challenge will: 
Meet with Corporate's senior staff for in-depth feedback, networking and pitching. 
Explore potential Proof-of-Concepts (POC) opportunities. 
Strength possible collaborations with business partners on the longer-term.
The Challenges 
The challenges proposed by the EIC business partners require specific expertise. However, the EIC beneficiaries will apply to the overall event, not only to a particular challenge. After the introduction session, on 27 October 2020, the attendees will have the chance to participate in ideation workshops to have a more detailed idea on which challenges they would like to work on in teams. After that, participants will be able to register for the challenge they are most interested in/suitable for. 
The Greenathon will gather sustainability challenges from several European players. Please find below the ones from Saint-Gobain, HenkelX Ventures and Danfoss and keep your eyes on the EIC Community to discover more! 
Saint-Gobain is concretely looking for innovative solutions in the areas of:
 Energy performance of industrial furnaces: 
Develop high temperature and heat flux monitoring (>1,000 C) solution including IoT sensors, and data analysis to be combined with Saint-Gobain refractories to monitor and optimize the thermal performance of industrial furnaces such as glass furnaces and calcination kilns in order to reduce energy consumption. 
End of life management of ceramic-based industrial furnaces: 
Create automated and optimized systems for end of life recovery of ceramic parts from industrial furnaces or toolings. 
More details regarding Saint-Gobain challenges can be found here (this page is only available for EIC Community members. Please access the member area in the platform to see this information).  
HenkelX Ventures prepared three distinct challenges that aim at different target participants:  
Sustainable Marketplace 
Build a sustainability algorithm that serves as the backbone of a sustainable marketplace;
Biotech for Sustainable Packaging 
Find the sweet spot for an innovative packaging concept based on biodegradable packaging;
Plastic Matchmaking Platform
Find the sweet spot for a circular system that turns plastic waste into durable goods with new purpose;
More information about the challenges from HenkelX Ventures can be found here. 
Danfoss, the Danish corporate focused on energy-efficient solutions, is now embarking on an ambitious journey to become CO2 neutral in all of the company's global operations by 2030. To achieve this goal and to address some key sustainability challenges, Danfoss joined Europe's first "Greenathon". 
The challenge: 
How can Danfoss and the partners play together a role in effectively managing temperatures across different subsystems on board of electrified vehicles and machinery?
For more detailed information on Danfoss challenge, please check this dedicated page.  
Engie: In the framework of its Green Deal, the EU Commission emphasized the pivotal role of hydrogen for the decarbonization of the European economy. Up to 10 million tonnes of renewable hydrogen will be necessary by 2030. In order to enable the delivery of such significant volumes, Engie will need to discover innovative solutions to improve current hydrogen production technologies.
The challenge: 
How can Engie ensure Green Hydrogen Production from Sea Water?
For more detailed information on Engie challenge, please check this dedicated page.
The Spanish cities of Alcoy and Logroño, taking part in the Intelligent Cities Challenge, also joined the EIC Greenathon and brought two new sustainability challenges for EIC innovators to take the right green action.
The challenge from Logroño:
Deploy a city-wide Internet of Things (IoT) network to obtain data about the city and the use of public space. In particular:
In terms of traffic and parking monitoring;
Flows of people;
Street lighting;
Air quality;
Logroño also wants to deploy a city-wide harvest energy network to power the IoT network and other municipal infrastructure and consequently connect them.
The challenge from Alcoy:
Create systems that allow energy to be generated 24 hours per day. These systems need to be: 
Aesthetically and structurally integrated into the municipal buildings (more significant in the historic center);
Combine various sources of renewable energy;
Incorporate a design that is integrated with its surroundings.
For more detailed information on these challenges, please check this article.
EIC Business Acceleration Services 
This opportunity is brought to you by the EIC pilot Business Acceleration Services. To explore other opportunities to connect with the largest corporates in Europe, keep an eye on our events page. Should you have any questions regarding the event, please refer to our helpdesk: https://community-smei.easme-web.eu/contact (please choose "EIC Greenathon" as the subject).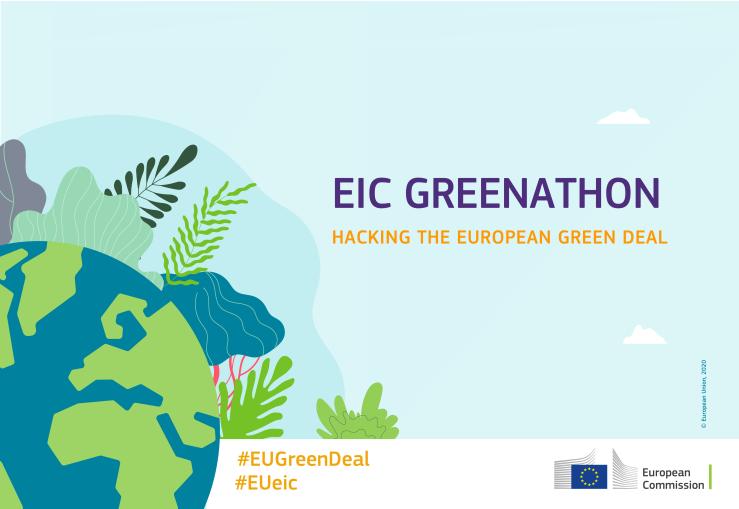 DISCLAIMER: This information is provided in the interest of knowledge sharing and should not be interpreted as the official view of the European Commission, or any other organisation.