Hacker, innovator, out-of-the-box-thinker, engineer or tech geek? We want you! Join Europe's 1st Greenathon from 27 October to 30 October 2020, with the whole EIC crowd. Tackle our society's challenges to help transform Europe into the first climate neutral continent by 2050! Many attractive prizes are waiting for you! Interested? Keep your eyes on the EIC Community and mark your calendars for 27-30 October 2020. 
*** Applications for the EIC Greenathon are open now***
This new fully remote event, inspired by the co-creation spirit of a classical hackathon, focuses on creating new ideas and forging unique collaborations for sustainability and business growth. We're looking for open-minded EIC beneficiaries (both EIC Pathfinder and EIC Accelerator), with excellent problem-solving capabilities that are passionate about contributing to a greener and cleaner Europe. But that's not all…
Take a chance, apply, and you will:  
GAIN further knowledge on innovative technologies that will help Europe reach its European Green Deal goals; 
CO-CREATE disruptive solutions to a more sustainable future; 
MEET like-minded innovators and representatives from big European players; 
TRANSFORM environmental challenges into business opportunities; 
COMPETE for one of several prizes offered by our business partners 
 

For now, get your minds ready and stay tuned! Applications will open in early September 2020!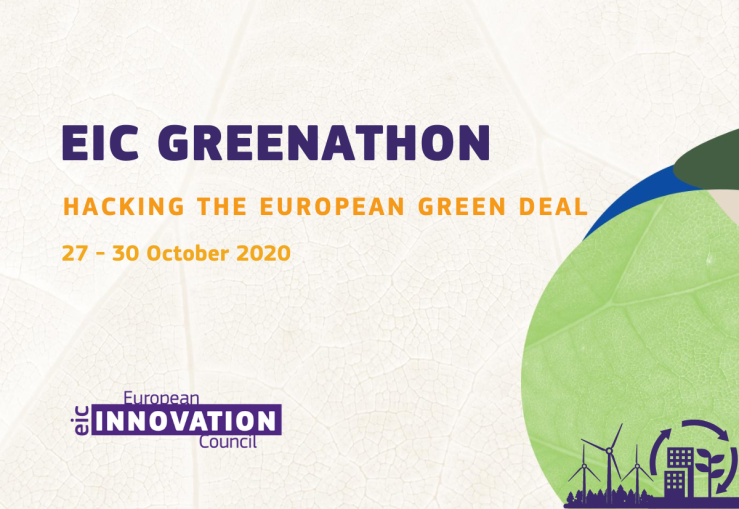 DISCLAIMER: This information is provided in the interest of knowledge sharing and should not be interpreted as the official view of the European Commission, or any other organisation.