On 16 & 17 March 2022, and as part of the Business Acceleration Services (BAS), the European Innovation Council (EIC) invited eligible startups to participate in an online event dedicated to the Green Deal. During this two-day initiative, six pitching winners were selected from the thematic pitching sessions that took place. As a way of delving into the participating EIC innovators and their thoughts about the event, we invite you to keep reading and find out more about what the session's winners had to say. 
Climate breakdown is accelerating rapidly, causing many of the potential impacts to be more severe than predicted and there is only a narrow chance left of avoiding its worst ravages – as stated in the last Intergovernmental Panel on Climate Change (IPCC) issued in February. 
The reduction of GHG emissions will require the employment of innovative technologies which are currently at the prototype or demonstration phase, or net yet commercially deployed in mass-market applications – thus, needing significant investments. 
To help with this, the EIC Investor Day on Green Deal showcased some of the brilliant innovators decarbonising industry, transport, agriculture, and other carbon-intensive industries, in front of top-notch investors in Climate tech. 
Five thematic pitching sessions took place, that revolved around the topics of: 
Environment & Climate Change 
Industrial Biotech & New materials 
Renewable Energy & Cleantech 
Precision farming & Sustainable food 
Sustainable cities & Green mobility
From those, six winners derived from the following companies: Minespider, Polymertal, Enerpoly, Brevel, RootWave, and VoltAero. 
Minespider is the premiere responsible supply chain technology company. Working with global brands such as Google, Cisco, and VW, they use their blockchain platform to connect them to their suppliers and reduce their company footprint. When we asked his thoughts & impressions about the event and how it would help the company further, Nathan Williams (CEO at Minespider) that won Session 1: Environment & Climate Change, said: 
"I appreciate how the EIC supports deep-tech startups like Minespider. Emerging technology has such potential for growth but is high risk and needs extra support to reach market potential. This event brought together some very progressive investors alongside some very impressive startups, and you can see each one as a success story for Europe. I left the event with 4 investor meetings, all with the profile I had been looking for, so it was a huge success for me. 

For the event itself, I was very happy with how the organisers kept everyone on time. This did a great job of giving everyone airtime, preparing us for the pitch session and giving feedback beforehand." 
Polymertal is a deep-tech startup that provides an alternative to metals and composites. Their materials allow manufacturers to integrate lightweight, sustainable components from bio-based materials with significant performance and price advantage. Guy Varon (CMO at Polymertal) that won Session 2: Industrial biotech & New materials, mentioned: 
"The EIC Investor Day on Green Deal was a well-organised event that brought together strategic, leading investors to form the EIC community along with some of the most innovative startups in various fields. Meeting the investors and pitching to them provides the opportunity to secure additional funding to promote the company to the next stages and further grow the global initiatives that we set out to achieve. I was lucky enough to meet and talk with some exciting investors in the field that we operate in to find mutual benefits. Connecting between startups and investors that share the same agenda to support the EIC's Green Deal, promotes the path to achieving net-zero through investments in companies that support decarbonization initiatives through collaborations. A big part of Polymertal's strategy is to provide material that reduces the carbon footprint by 60% compared to the metal alternative. I was very excited to win the Industrial biotech & New Materials category in the pitching session and hope future events will also hold such an opportunity." 
Enerpoly is a developer and manufacturer of zinc-ion batteries that are both affordable and scalable sustainably. The company's innovations in battery electrochemistry and production processes create a stationary energy storage solution that has the combination of low cost and a long lifetime to enable mass adoption of distributed renewable energy. Eloisa de Castro (CEO at Enerpoly) that won Session 3:  Renewable Energy & Cleantech, stated: 
"It was a pleasure to pitch Enerpoly at the EIC Investor Day on Green Deal along with many other fine companies that focus on climate tech. The event allowed us to meet investors active in our industry, and their insights reiterated for us the high market need for our affordable and sustainably scalable battery technology. Overall, the experience has further strengthened our commitment to delivering Enerpoly Zinc-Ion batteries for energy storage and helping Europe achieve its ambitious clean energy goals." 
Brevel is an affordable, consistent, and scalable producer of microalgae-based alternative protein and functional ingredients. Their intention is to open the doors to microalgae as the future of the food system. Yonatan Golan (CEO at Brevel) that won Session 4:  Precision farming & Sustainable food, referred that: 
"The event was an amazing opportunity to connect with partners who are intent on making a sustainable impact on our planet. It put in one place all the leading European investors who are focused on a more sustainable, healthy, and better future. Via the panel, we took part in, and the pitching event, we gained visibility and access to the people shaping the future of our sustainable food industry." 
RootWave is an electronics company that develops sustainable technology and energy meant for growers, gardeners, and groundskeepers to spot weeds and treat invasive species. They also intend to be the alternative to chemical herbicides. Andrew Diprose (CEO at RootWave) that won Session 4:  Precision farming & Sustainable food, stated that: 
"The EIC Investor Day on Green Deal was a great event to pitch to a focussed panel of esteemed investors interested in how agriculture can be a solution to many issues humanity finds itself facing." 
VoltAero is a pioneer and experienced company specialising in developing an aircraft design that's meant for safe, quiet, efficient, and eco-friendly flight in hybrid-electric and electric modes. The company's production aircraft will provide a highly capable and reliable general aviation platform for owners, air taxi/charter companies, commercial flights, and other utility-category applications. Jean Botti (CEO at VoltAero) that won Session 5:  Sustainable cities & Green mobility, said: 
"The EIC Investor Day is a great forum for European entrepreneurs where startups can display their uniqueness and can expose to investors what the DNA of the company is all about. This gives the chance to everybody to compete for funds that will help startups pass the Valley of death and contribute to their future growth and achieve their dreams." 
In addition, the event also brought together investors, entrepreneurs, and scientists to discuss hot topics in the transition toward a green economy within three-panel discussions. In the panel discussion "Deep tech solutions driving the net-zero transition", the panellists considered that the current geopolitical situation potentially represents an opportunity for Europe to act in a coordinated way and phase out oil and gas. Not to mention, also avoid going back to coal. It emphasised the need for affordable energy storage, grid stability, renewables, and other types of energy, battery rejuvenation technologies, and all technologies less dependent on critical minerals and imports. 
During the panel discussion about the role of mid-long term energy technologies, it was emphasised that sustainable energy consumption requires new ways of producing, storing, and consuming energy. Thus, bringing to the market emerging solutions that require a multidisciplinary approach in terms of connecting scattered research, training new experts, treating the market as an information source, making the link between research and industry as early as possible and looking at new business models. 
Moreover, from the panel discussion on the alternative protein, we learnt that 2021 was an exceptional year with investments of about 5 billion euros – five times more compared to 2019. The scaling of the industry requires standards, but also new types of investors to bridge the gaps that are willing to finance infrastructure and are comfortable with the level of risk represented by this emerging sector. 
Stay tuned for upcoming BAS Investor initiatives taking place this year. Events such as the EIC ePitching with Investors: Telecom, Internet & Media occurring on 7 April 2022 or the EIC Investor Day with Euronext that will soon have applications open. 
About the EIC Business Acceleration Services
This opportunity is brought to you by the EIC Business Acceleration Services. To explore other opportunities to connect with the largest corporates in Europe, keep an eye on our events page.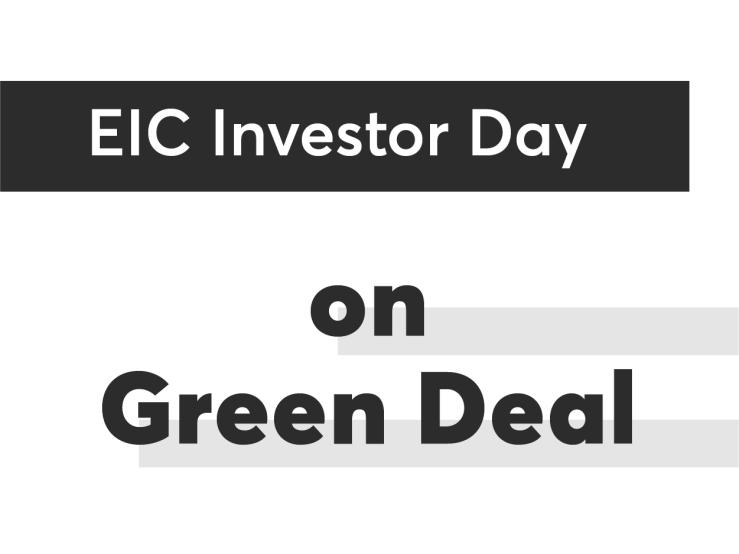 DISCLAIMER: This information is provided in the interest of knowledge sharing and should not be interpreted as the official view of the European Commission, or any other organisation.