The European Innovation Council Business Acceleration Services and Deutsche Bahn Group invite you to apply to our joint EIC Corporate Day on 29 June 2021. This specially designed service to accelerate your business collaborating with the Europe's biggest railway infrastructure and mobility provider.
DB mindbox is the startup hub of Deutsche Bahn Group (DB Group), Europe's biggest railway infrastructure and mobility provider with more than 340,000 employees. DB mindbox connects the worlds of startups and corporate, with the aim to bring new innovations into the company that improve DB's core rail business.
Applications are open until 21 May 2021. 
The EIC beneficiaries selected to attend the EIC Corporate Day with Deutsche Bahn on 29 June 2021 will have access to specific training, pitching, pre-arranged meetings with experts from Deutsche Bahn and the possibility to network with high-level partners and like-minded innovators in a dedicated online event. 
Who can apply? 
Deutsche Bahn is looking for innovative and disruptive approaches in the following fields:
Future of Train Stations

New usage concepts for station areas that combine online and offline areas (NO: online store or click & collect approaches)

Approaches whereby customers do not need to have a presence on site (keyword: Corona)
Innovative retail concepts

Multi-channel retailing in/at the station
Location-based digital services/products/services for the customer/traveler
Intermodal travel offers
Sustainability

Smart Materials
Building materials / facilities (esp. timber construction)
New products in the area of BIM / construction planning.

Improved and automated cleaning offerings

Forecasting / sensor technology
Digital service support offerings (on-demand) at locations where there are no employees

Artificial intelligence for the railway sector

Automatic image recognition of anomalies
AI-based sensing approaches that improve and simplify the customer experience.

Facial recognition
Workloads 

Construction Technology (smart technologies for the rail construction industry).

Noise control
Simulation and visualization of construction processes, documents, etc.
Simplifying construction participation for citizens through digital tools
Innovative sensor solutions

Regional transport of the future

Creating better customer experiences through new digital tools (entertainment or information)
Make traveler information clearer and more transparent
New services for the customer with WOW effect
Offer intermodal mobility solutions

Focus on maintenance and operations

Sensor solutions
Visual inspections (image recognition)
Data & process mining
Predictive maintenance
Opportunities for selected EIC-funded beneficiaries
Privileged access to a world-leading company with potential to cooperate within a 100 days proof of concept program along with increased visibility and possible access to new markets and experts.
Networking opportunities with relevant business counterparts based on your company profile 
Personalised online training on pitching technics before the event 
Services related support before, during and after the event 
Application 
You can apply by clicking on the following link: Link
After logging in with your EU-Login, please fill in the respective form. 
In your application form, you should include the answer to the questions:
What is your business compliance with the event? 
What are your expected specific synergies/outcomes for your potential business with the Corporation? 
Please acknowledge the information you provide on the application form will be shared with Deutsche Bahn to maximise potential benefits and ensure the effectiveness of meetings. Deutsche Bahn based on its business interests, will select the final participants among the applicants. 
The Business Acceleration Services will contact all applicants once the selection process has been concluded. However, this contact does not include feedback or recommendations to those not selected. 
Additional Information
The DB Mindbox programme: Within the 100 days proof of concept program at DB mindbox, startups will get the opportunity to develop a prototype and/or test their product live in the DB universe. On top, startups will receive EUR 25,000 funding (no equity taken!), exclusive access to the Deutsche Bahn experts, data and markets. Also, we offer professional business coaching and mentoring through our market partners. Additionally, a potential workplace in our Coworking Space next to the Spree in Berlin, if needed and if the pandemic allows it. In the event of a beneficial collaboration, there is a high chance to build a long-term partnership with Deutsche Bahn. 
EIC Business Acceleration Services 
The Business Acceleration Services provided are free of charge. All participants are expected to fill out a short satisfaction survey shortly after the event, and a business impact survey after six months. Failure to do so may lead to exclusion from future Business Acceleration Services. 

 
This opportunity is brought to you by the EIC Business Acceleration Services. Read our report on EIC Corporate Days and watch our EIC Corporate Day video to learn more about what we do and how we do it. To explore other opportunities to connect with the largest corporates in Europe, keep an eye on our events page.  
Cancellation policy 
Cancellations will only be considered in duly documented cases of "force majeure". Unjustified cancellation can lead to exclusion in future Business Acceleration Services events. For additional information, please refer to our Helpdesk (please choose "EIC Corporate Day with Deutsche Bahn" as the subject).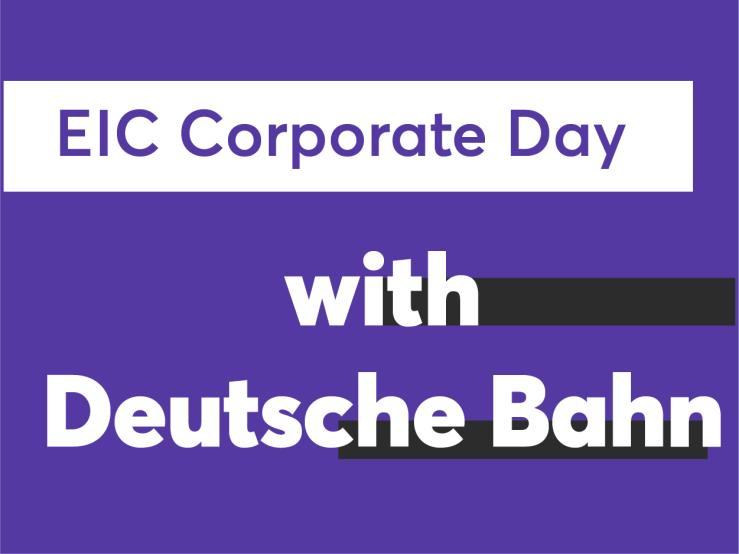 DISCLAIMER: This information is provided in the interest of knowledge sharing and should not be interpreted as the official view of the European Commission, or any other organisation.