Wondering how the EIC Partners can help you with your fundraising needs? Sign up for the EIC's Ask me Anything about EIC Service Catalogue online session on 26 October to connect with the key innovation players whose fundraising support services are available on the EIC Service Catalogue.
Who are the EIC Partners joining the session? Watch Belayer, Bioindustry Park Silvano Fumero, Catalyze Group, Falko, MOST Foundation, Path-finder Corporate Finance, RDI Hub, Techcelerator.co, Unknown Group, pitch their services and get the chance to engage them in one-to-one meetings!
Whether you are an EIC beneficiary or a Seal of Excellence holder, the EIC Service Catalogue has the services you need to advance your solution. This platform allows you to choose between 10 service categories that address unique needs as well as filter offers according to your project stage and funding programme.
To guide you on your search for the perfect service and connect you with Partners across the ecosystem, the EIC is organizing the second edition of the Ask me Anything about the EIC Service Catalogue online event on 26 October, 14h00 – 16h10 CEST. This time, the spotlight is on the Partners providing fundraising support services to help you reach the right investors.
Sign up here
This session will be held via Zoom.
Participants must register before 24 October and will receive the link to the session by email.
Why should you join this online session?
This Ask me Anything is your chance to:
Hear from a curated list of EIC Partners providing services to help EIC beneficiaries on their fundraising journeys;
Discover quality services including investor-readiness support, preparation for investor introductions, access to networks of investors and investment programmes;
Follow up with the EIC Partners through dedicated one-to-one meetings;
Start pursuing important networking connections with key players from the innovation ecosystem.
Who can apply?
All types of EIC beneficiaries and Seal of Excellence holders from all sectors are welcome to apply, but the session will be of particular interest for beneficiaries looking for fundraising support services.
Which Partners can you meet at the event?
You can find the list of EIC Partners presenting their services during the session below:
These organisations were handpicked from the 80+ top-level service providers currently featured in the EIC Service Catalogue, due to their strategic fundraising support offers.
What is the EIC Service Catalogue?
The EIC Service Catalogue gathers a vast number of support services, from fundraising to acceleration, matchmaking, and even niche services such as intellectual property and legal support, infrastructure provision and many others. These services are tailored to EIC beneficiaries and Seal of Excellence holders and provided by the group of innovation ecosystem organisations known as EIC Partners.
If you are having trouble finding resources/services to scale up your solution, the EIC Service Catalogue may be the tool you need.
Log in to the EIC Community to discover more (registered users only).
What is the EIC Ecosystem Partnerships and Co-Investment Support Programme?
The EIC Service Catalogue is brought to you by the EIC Ecosystem Partnerships and Co-Investment Support Programme. This programme offers all EIC beneficiaries and Seal of Excellence holders access to a network of Partners providing services tailored to their needs. The programme also includes a component to promote co-investment along with the EIC Fund by preparing beneficiaries to interact with investors and connecting them through matchmaking and dedicated events.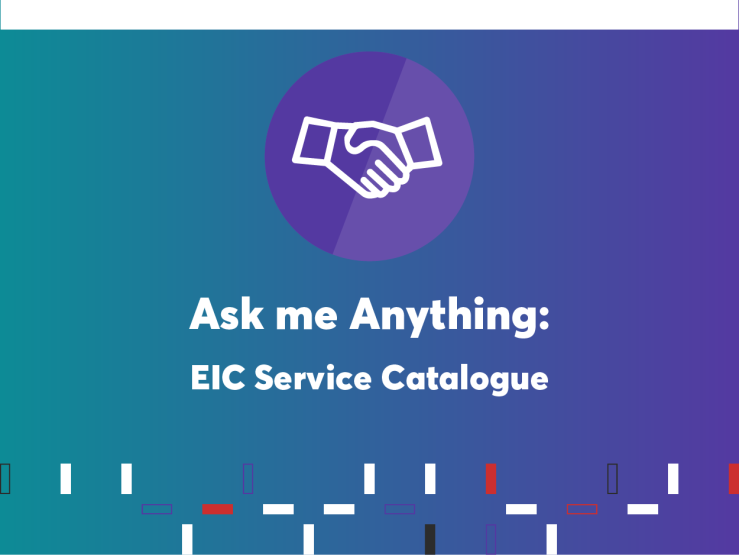 DISCLAIMER: This information is provided in the interest of knowledge sharing and should not be interpreted as the official view of the European Commission, or any other organisation.