The European Innovation Council (EIC), in collaboration with Vinnova, would like to invite EIC beneficiaries to join the next EIC Investor Day, taking place in Stockholm (Sweden), on 1 June 2023. Meant for climate tech-related innovators/companies working on Renewable energy, energy storage & green hydrogen, Agritech & Food, Green Mobility & Sustainable cities, and Industrial Biotech & Advanced materials, EIC-funded beneficiaries will be able to pitch their disruptive business ideas to top European later-stage investors like 2150, BASF Venture Capital GmbH, BayWa r.e. Energy Ventures, Diffusion Capital Partners, eCapital, Epagon VC, EQT Ventures, Eurazeo, Fundie Ventures, Holcim Technology, Indaco Venture Partners, IP Group PLC, Inventure, Net Zero Tech Ventures, NordicNinja VC, Norrsken VC, Planet First Partners, Planet Fund, Sofinnova Partners, Statkraft Ventures, Telos Impact, Voima Ventures Oy, Wi-Venture, and more to be confirmed soon.
Applications are open until 20 April 2023.
March marked the release of the final report of the Intergovernmental Panel on Climate Change (IPCC), an eight-year-long undertaking from the world's most authoritative scientific body on climate change. With already 1.1° degrees Celsius of global temperature rise, changes to the climate system that are unparalleled over centuries to millennia, are now occurring in every region of the world, from rising sea levels to more extreme weather events to rapidly disappearing sea ice and every 0.5° degrees Celsius aggravates the situation.
The European Union has set ambitious targets to reduce greenhouse gas emissions, mitigate the impacts of climate change, create economic opportunities and protect the environment. Innovative solutions are crucial in reaching these ambitions and the time of supporting them to scale up is now.
In this perspective, the European Innovation Council (EIC) is organising in collaboration with Vinnova the EIC Investor Day on Climate tech on 1 June in Stockholm (Sweden) to showcase and connect the most innovative companies in the portfolio with Europe's finest investors in climate tech.
EIC-funded companies focusing on 1) Renewable energy, energy storage & green hydrogen, 2) Agritech & Food, 3) Green Mobility & Sustainable cities and 4) Industrial Biotech & Advanced materials are invited to apply for this event by 20 April 2023.
Please note that when applying, you must select one of the four topics of interest above.
What's on the agenda?   
The EIC and Vinnova have set up a top-notch agenda for the event (Address: Combient Zenit, Mäster Samuelsgatan 56, 111 21 Stockholm, Sweden). On the evening of 31 May 2023, a welcome dinner for EIC beneficiaries will take place.
During the day of 1 June 2023, 4 thematic pitching sessions will occur in the morning and early afternoon where EIC-funded companies will present their innovative technologies and solutions.
After the pitching sessions, investors will have the opportunity to meet the companies in private one-to-one meetings to dive a bit deeper with the company representatives.
When?  
31 May 2023 from 17.30 PM (CET) networking dinner & 1 June 2023, from 8:30 AM to 18:30 PM (CET).  
Who can apply?  
All EIC-funded companies (with priority given to EIC Accelerator and SME Instrument Phase II ones raising a series A or later stage working on innovative solutions in areas related to:
Renewable energy, energy storage & green hydrogen
Agritech & Food
Green Mobility & Sustainable cities
Industrial Biotech & Advanced materials.  
Selection process  
During the application process, you will need to fill in an application form. Afterwards, your company profile will be shared with our investor jury, and they will make the selection based on their investment preferences. 
For this event, in particular, we would like to invite EIC Accelerator and SME Instrument Phase II companies raising a series A or later stage. However, if you feel that you can match the topics of interest, please feel free to apply. 
Important: Please do not book any travel before receiving confirmation that you have been selected for the event.
The companies selected will benefit from free-of-charge customised coaching support in fine-tuning their decks and honing their pitching skills. A high-level pitch can make or break a deal – thus companies are strongly encouraged to take advantage of the coaching support.
About Vinnova
Vinnova is Sweden's innovation agency. Vinnova's mission is to strengthen Sweden's innovative capacity and contribute to sustainable growth. For Vinnova, innovation is about bold thinking and doing things differently to improve people's lives and our planet. The agency works to ensure that Sweden is an innovative force in a sustainable world and to open the way for innovation that makes a difference.
The agency focuses on eight areas that are vital in creating a sustainable society: Sustainable industry, Sustainable food systems, Sustainable mobility, Sustainable precision health, Sustainable societies, Digital transformation, Ecosystems for innovative companies, and Emerging innovations.
Vinnova is a government agency under the Ministry of Climate and Enterprise, the national contact authority for the EU framework programme for research and innovation, and the Swedish Government's expert authority in innovation policy. The company employs over 200 people, and its head office is in Stockholm with affiliates in Brussels, Silicon Valley and Tel Aviv.
Now, Vinnova is teaming up with the EIC to bring an Investor Day to EIC innovators working on disruptive solutions in Climate Tech.
About the EIC Business Acceleration Services  
This opportunity is brought to you by the EIC Business Acceleration Services. To explore other opportunities to connect with investors, procurers and corporates in Europe, keep an eye on our events page.   
All participants are expected to fill out a brief satisfaction survey shortly after the event and a business impact survey after six months. Failure to do so may lead to exclusion from future Business Acceleration Services.  
Cancellation policy  
Cancellations will only be considered in duly documented cases of "force majeure". Unjustified cancellation can lead to exclusion in future Business Acceleration Services events. For additional information, please refer to our Helpdesk (please choose "EIC & Vinnova Investor Day on Climate Tech" as the subject).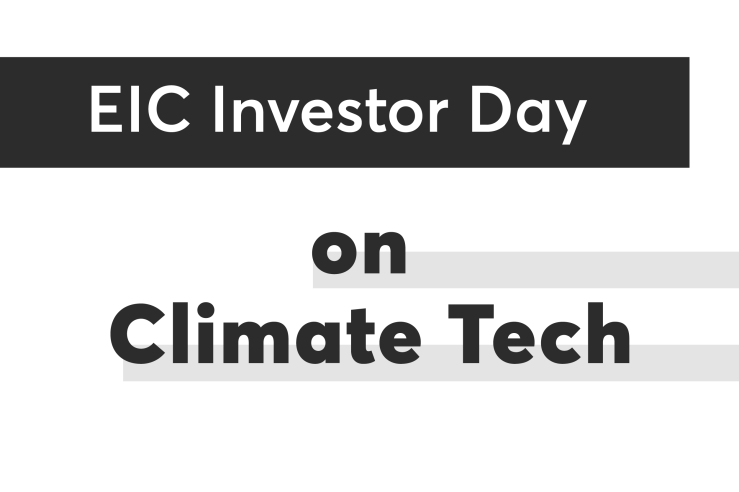 DISCLAIMER: This information is provided in the interest of knowledge sharing and should not be interpreted as the official view of the European Commission, or any other organisation.