Within the Greenhouse Gas (GHG) Programme, the European Innovation Council (EIC) and its business partner Galp invite you to apply to a joint EIC GHG Co-creation initiative that is taking place on 14 & 15 September 2022. EIC-funded beneficiaries, that want to co-create innovative and scalable solutions to address topics of interest related to the environment and sustainability, are invited to apply.
Tell us why you're the right co-creator here and join this collaborative journey. 
Applications are open until 27 July 2022!
Galp seeks the balance between meeting the energy needs and minimising the carbon intensity of their activity. They are committed to developing efficient and sustainable solutions in their operations and in the integrated offers to customers. Galp is also one of the largest Iberian producers of solar-based electricity.
Moreover, Galp is a leader in their sector in the world's main sustainability indices and wants to become carbon-neutral by 2050.
Recently, the corporate launched its newest innovation platform called Upcoming Energies. With it, Galp aims to accelerate the innovation ecosystem and redefine the energy business and help people's lives by:
Making 50% of important investments allocated to low to zero carbon businesses;
Making 30% of additional net investments in the field of renewable energy;
Transforming their grey refinery into a green energy hub;
Progressively decarbonising to be a Net Zero CO2 emissions corporate with an initial target of 40% (from Operations) by 2030.
This concept aims to be an open door to the external community of research, development, and innovation (R&D+I), based on targets, collaborative programmes, materialised projects with start-ups, suppliers, universities, and partners, as well as with new stakeholders that will come to integrate the innovation ecosystem in the energy sector.
The co-creation journey with Galp kicks off with an online event on 14 & 15 September 2022. Find more information about the proposed challenges, co-creation process, and timeline below.
Why should you join the EIC GHG Co-creation initiative?   
Explore how your solutions and capabilities can be sustainable  
Network and collaborate with Galp, and like-minded innovators   
Build a roadmap of market entry with Galp   
Work closely with partners on solutions that can best fit the market   
Find potential partners and customers in the industry  
Get access to experts from the EIC  
Challenges  
Galp is looking for innovative approaches & solutions for the following topics of interest:  
Challenge 1 – Real-time CO2 emissions monitoring 
Galp is looking for solutions that can directly measure GHG emissions, specifically CO2. A platform to collect and analyse real-time data with capabilities of enabling reporting and scenarios with mitigation potential.
Challenge 2 – Right2Plug: Promote on-street charging for users without access to home charging
Electrical vehicles (EVs) are becoming mainstream and the number of users without access to home charging will significantly increase. Users will depend entirely on the public charging infrastructure and will need to pay higher energy tariffs to charge their vehicles. Galp is looking for:
Sub-challenge 2.1 – Visualisation of data analytics tools to identify Iberian residential zones without access to home charging and simulate the number of charging points and the expected occupancy rate of each charging point.
Sub-challenge 2.2 – A new concept of public charging focused on residential users, including hardware and software, to simplify the charging process for the end-user and integration with municipalities - i.e., solutions for city centres with low-power charging.
  

Before applying, please make sure to click here to read a more detailed description of Galp's challenges and desired solutions. 
Your co-creation journey  
The EIC GHG Co-creation with Galp is an entirely virtual service following the journey below.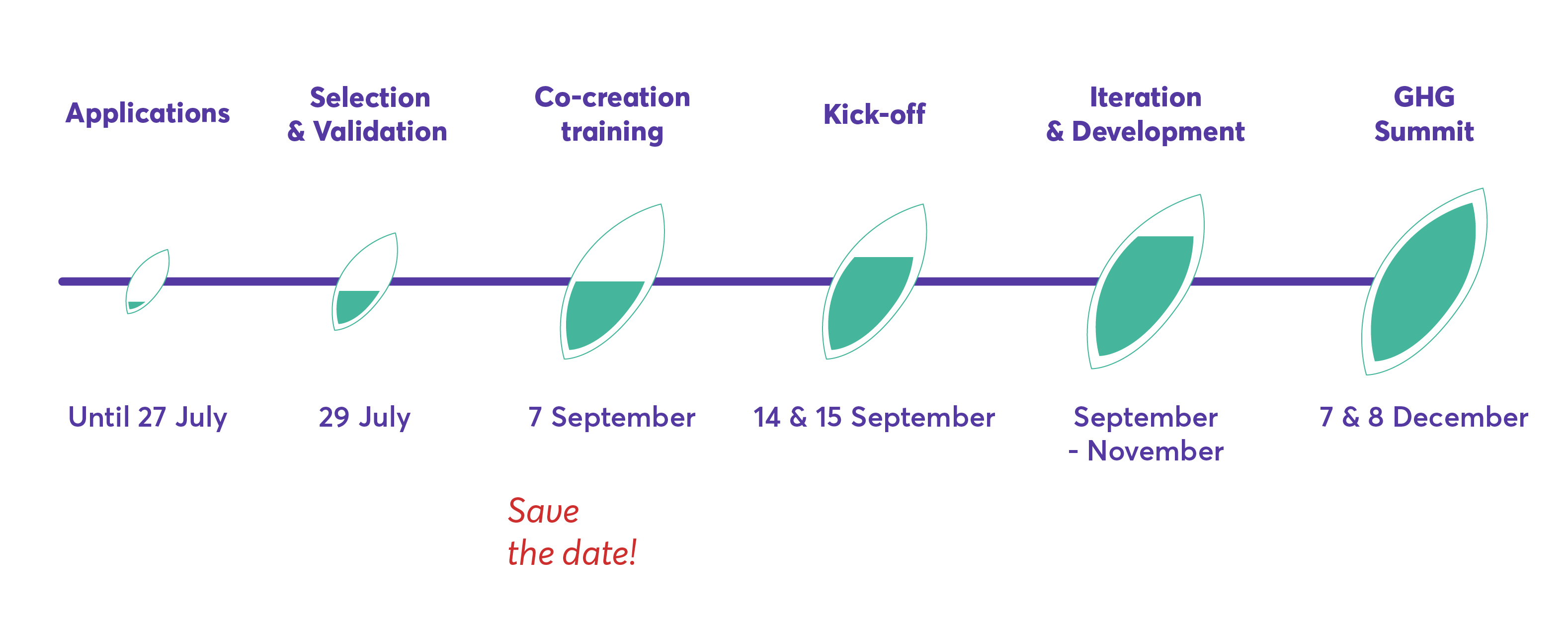 Step 1: Applications   
To apply to the EIC GHG Co-creation with Galp, you are invited to fill out the application form available here by 27 July 2022. Please note that we appreciate early applications as they will be reviewed with cut-offs due to the upcoming summer period.
Step 2: Selection process   
As soon as we close the submission process, your application will be shared with Galp. Then, we'll proceed with the evaluation and selection of the final list of participants. You'll be contacted once the selection process is completed. Also, please note that any feedback or recommendation to the companies that were not selected won't be foreseen.  
Step 3: Co-creation training – 9th September I Save the date!   
Successful and confirmed participants will be invited to join a co-creation training in which you will be briefed in more detail about the co-creation process and encouraged to undergo pitching training to prepare your pitches for the kick-off.  
Step 4: Co-creation kick-off event – 14th & 15th September | Save the date!   
After the selection process, a two-day ideation event with Galp will take place on 14 & 15 September 2022. It will help you better understand the challenges and start co-developing your solutions with the business partner. During this meeting, you'll also have the chance to define a clear roadmap with your next steps.  
Step 5: Iteration & development   
You'll have three months to implement the roadmap defined with Galp and can validate it regularly to ensure you are steering in the right direction. The business facilitators and experts will provide you with the necessary support along the way.   
Step 6: GHG Summit – 7th December 2022 | Save the date!
The GHG Summit will be a way of showcasing success stories developed in close collaboration among business partners and EIC beneficiaries.  
About the EIC Business Acceleration Services     
This opportunity is brought to you by the EIC Business Acceleration Services. To explore other opportunities to connect with the largest corporates in Europe, keep an eye on our events page.       
About the EIC GHG Programme     
With the EIC GHG programme, part of the Business Acceleration Services, the EIC offers its beneficiaries a dedicated GHG tool, the GHG Badges & CO2 Neutral Label initiative, and further resources.  
In addition, co-creation activities with corporates, industrial associations, regions in carbon transition and other EIC beneficiaries are taking place on a regular basis.    
Join our EIC GHG 200 tonnes initiative!  
As part of the EIC GHG Programme, a new call for applications is currently open for you to engage in sustainable measures and win carbon credits to help you in your green journey.
Need help?     
For additional information, please refer to our helpdesk (please choose 'EIC GHG: Co-creation with Galp' as the subject).  
Cancellation policy  
Cancellations will only be considered in duly documented cases of "force majeure". Unjustified cancellation can lead to exclusion in future Business Acceleration Services events.  

   
Should you have any questions regarding the event or your eligibility, please contact us through our contact page (please choose 'EIC GHG: Co-creation with Galp' as the subject).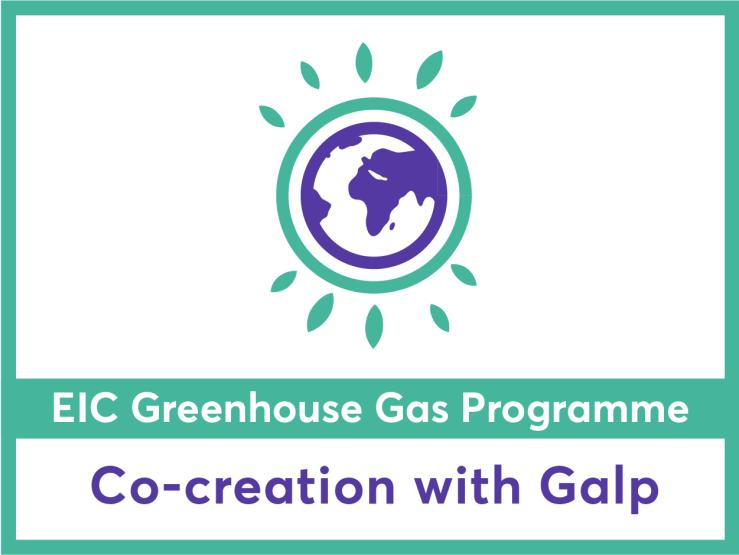 DISCLAIMER: This information is provided in the interest of knowledge sharing and should not be interpreted as the official view of the European Commission, or any other organisation.