At the beginning of the year, EU unfolded the EU Green Deal, a very ambitious action plan with the target of making Europe carbon neutral by 2050. The European Innovation Council (EIC) then launched a dedicated call for Green start-ups and selected 64 ambitious projects. This funding goes hand in hand with several events related to sustainability and green innovations, including last month's EIC Greenathon. On 10-11 November 2020 the EIC organised an Investor Day dedicated to the EU Green Deal, bringing together more than 100 active participants during the two days, out of which more than 40 investors.
The event featured several panels dedicated to sustainability and climate tech and showcasing of some of the EIC's green tech success stories. There were also 4 pitching sessions divided into four categories namely 'Climate change, resources efficiencies and sustainable agri-food tech', 'Renewable energy' Sustainable cities and circular economy' and 'Green transport & Mobility'. Following a tough competition, out of the nine companies pitching per each session, one winner was selected by jury members and public. We got together with the winners to discuss their company, the role the EIC plays in their development and the importance of the event.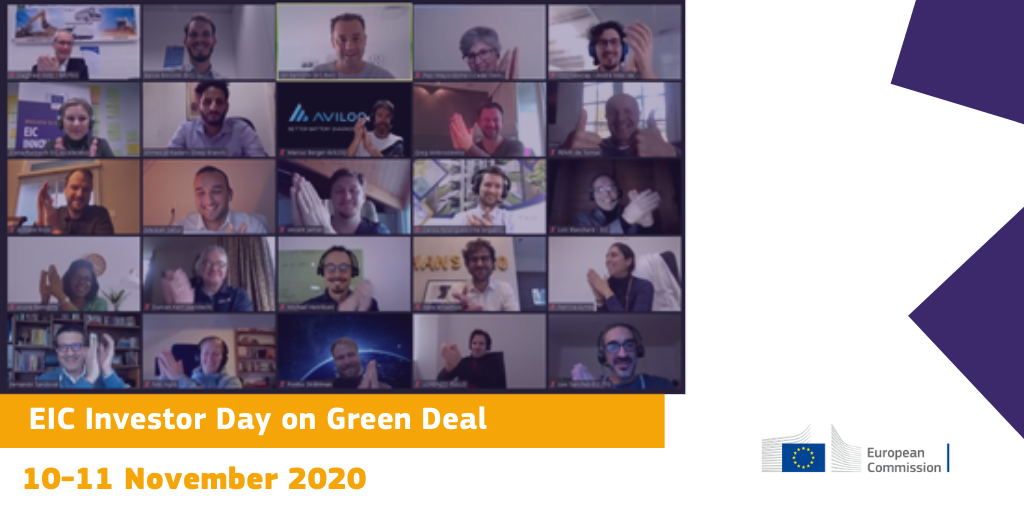 AlgaEnergy
AlgaEnergy, represented by their Managing Director Carlos Rodriguez-Villa, is a biotech company founded in 2007, exclusively focused on microalgae. For Carlos the EIC "plays a critical role in fostering and promoting one of Europe's main assets: sustainable innovation and bioeconomy". According to Carlos, the EIC played a key role in the development of their company: "We have a very attractive solution, a sustainable one, that fills the needs of certain markets. Due to its innovative nature it was difficult to find opportunities. The EIC offered more than just financial support, it took us to a new level". With the grant and support, AlgaEnergy was able to triple the number of employee's (up to 100 now) and become more attractive to investors. Due to their presence in other countries, including US, Mexico, Brazil, Japan and India, the company is "creating opportunities for people elsewhere, sometimes also with a social impact, like in India. All these economies are in one way or another benefiting from the funding that we got" Carlos explained. As for the Investor Day, Carlos thought it was a great opportunity to connect, not just with investors, but also with fellow EIC-companies: "We're always looking for synergies. I'm sure the event was productive for all companies. Seeing as we believe that microalgae will be fundamental in certain aspects of the EU Green Deal, it was important for us to be present here today". To learn more about AlgaEnergy, click here.
Circularise
Mesbah Sabur, CEO of Circularise, won best pitch in the category 'Sustainable cities'. Circularise's mission is to accelerate the transition to a circular economy and enable sustainable practices on a mass scale by promoting reliable and standardised information on material flows and composition. Circularise helps manufacturers, brands and OEMs to trace raw materials from source into parts and ultimately to end products. By digitizing materials Circularise is able to create a digital thread through the whole supply chain, enabling material traceability, tracking the CO2 footprint and other sustainability metrics like water savings. Additionally, Circularise enables law compliance, mitigates risks across the supply chain and enables you to improve brand perception, avoid greenwashing and increase revenue. "What we are trying to do is not easy to develop and sell, it's a long-term project. To have that backing, both financially as well as from a network-perspective, is great. We've benefited from a number of European funds and without that framework we would not be here", as Mesbah commented on the EIC-support. Even though Circularise only recently joined the EIC-programme, he could already see the benefits. In that light attending the event was important to him: "it's crucial for us to get involved in this conversation on the EU Green Deal. We also got the chance to meet with like-minded investors. We want to get on their radar as soon as possible and hopefully continue to be part of their network". To learn more about Circularise, click here.
AVILOO
Wolfgang Berger, CEO of AVILOO, pitched their battery testing system for electric vehicles. Batteries are subject to degradation over time, which results in a decrease in available power and range of electric vehicles (EV).When buying a used electric car, it is therefore of great importance for buyers and sellers to know the exact state-of-health of the battery, as this determines its value to a high-degree. AVILOO wants to be the first on the market, so timing is crucial: "the EIC-funding helped us to accelerate this process. We scaled up our team to 20 people and were able to reap the marketing-benefits. There are only a few companies who receive this grant, so we are proud to say that the EIC counts on us". Attending the event was for him all about "getting in touch with a large number of investors at the same time. We normally need countless online meetings and weeks of work to be able to reach so many investors". In addition, again the marketing aspect was important for Wolfgang: "We're able to get the word out and show other people what we are up to. The exposure that these events bring is great". To learn more about AVILOO, click here. 
Greenvolt 
Greenvolt is building the battery materials of tomorrow by applying advanced nanotechnology to energy storage. They create nano enhanced materials that can be integrated into the battery technologies of tomorrow, thereby greatly increasing the size and surface of batteries electrodes and leading to more efficient energy storage through material innovation. Armann Kojic, CEO of Greenvolt, said that thanks to the EIC, the company is gaining insights and connections, crucial to their business development.  "The journey of a start-up is trying to move as fast as you can, bringing your tech to the marketplace. It's always a struggle to fund projects like this. The EIC-grant gave us a seal of approval". Attending the EIC Investor Day meant "being part of a community, all getting together to offer solutions to similar problems from different angles. The definition of successful entrepreneurship is not how big and smart their ideas are, but the execution of those ideas made possible by the network and support around them". Armann stated: "We believe our innovation can have a huge impact on Europe and the world so it's important to become part of the dialogue. We are happy to take part in events like this, especially in times of COVID19. This is an easy way to get in touch with many stakeholders". Learn more about Greenvolt here.
Looking for ways to connect to top-class investors and peers? 
We host regular EIC Investor Days, as well as ePitching with Investor-sessions, all based on your company profiles in ScaleUp EU. Next up is the EIC Investor Day: Women in Tech 2.0. Keep an eye on our events page for more information on future events. If you are interested in joining, don't miss out and update your profile information straight away. If you need help, please contact us through our contact page (choose ScaleUp EU: claim access).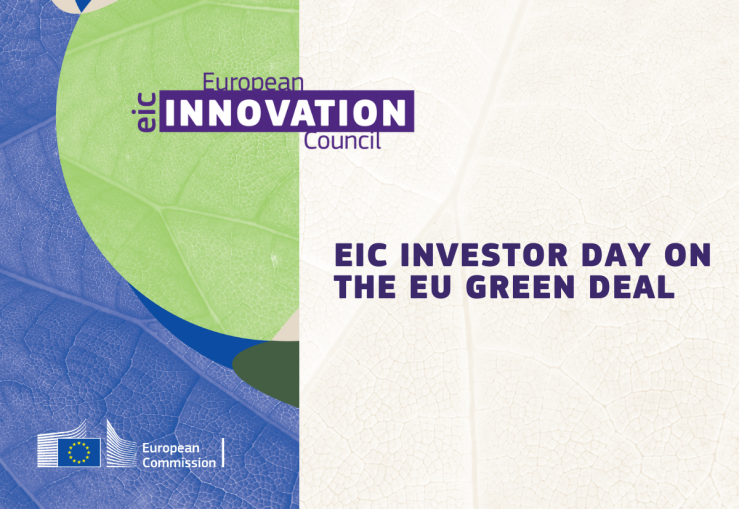 DISCLAIMER: This information is provided in the interest of knowledge sharing and should not be interpreted as the official view of the European Commission, or any other organisation.