Monika Tomecka, Josefien Groot and André Mão-de-Ferro have more in common than their age range. They all started their own startups in their early 20s, facing the challenges and learning curve from the young entrepreneurship experience. They reckon getting a business off the ground was a challenging task, but they also admit that it is certainly worth the hard work. The 3 CEOs under 30 already accumulated startup awards, EIC grants and the European recognition. During an interview for the EIC Community, they looked back and shared some piece of advice about their journey. 
Monika Tomecka, CEO and Co-Founder of uFraction8 
"There is nothing to lose but so much to gain."
Monika Tomecka is the CEO and co-founder of ufraction8. The Scottish startup has developed an innovative solution that allows the development and commercialisation of a sustainable, energy-efficient and scalable bioprocessing technology to enable sustainable cell-based manufacturing. Before founding uFraction8, Monika did the whole path from lab to business. "I wanted to make a change. I've seen the capabilities of new technologies and the positive impact they might have on the world's growing population. I've been trained as a scientist. But I always felt the urge of bringing innovations from the lab to the world. I knew I could do that by becoming an entrepreneur", explained. 
After obtaining a PhD in Biomedical Sciences and working for several years at different universities in research projects, she moved to London to participate in a startup accelerator, called Deep Science Ventures. It was there that she met her current co-founder Dr Brian Miller. In 2017, they founded the biotech company  uFraction8. "Startups move fast, adjust quickly to changing environments and can really make a difference. I decided to try, and I don't regret it: there is nothing to lose, but so much to gain," she added.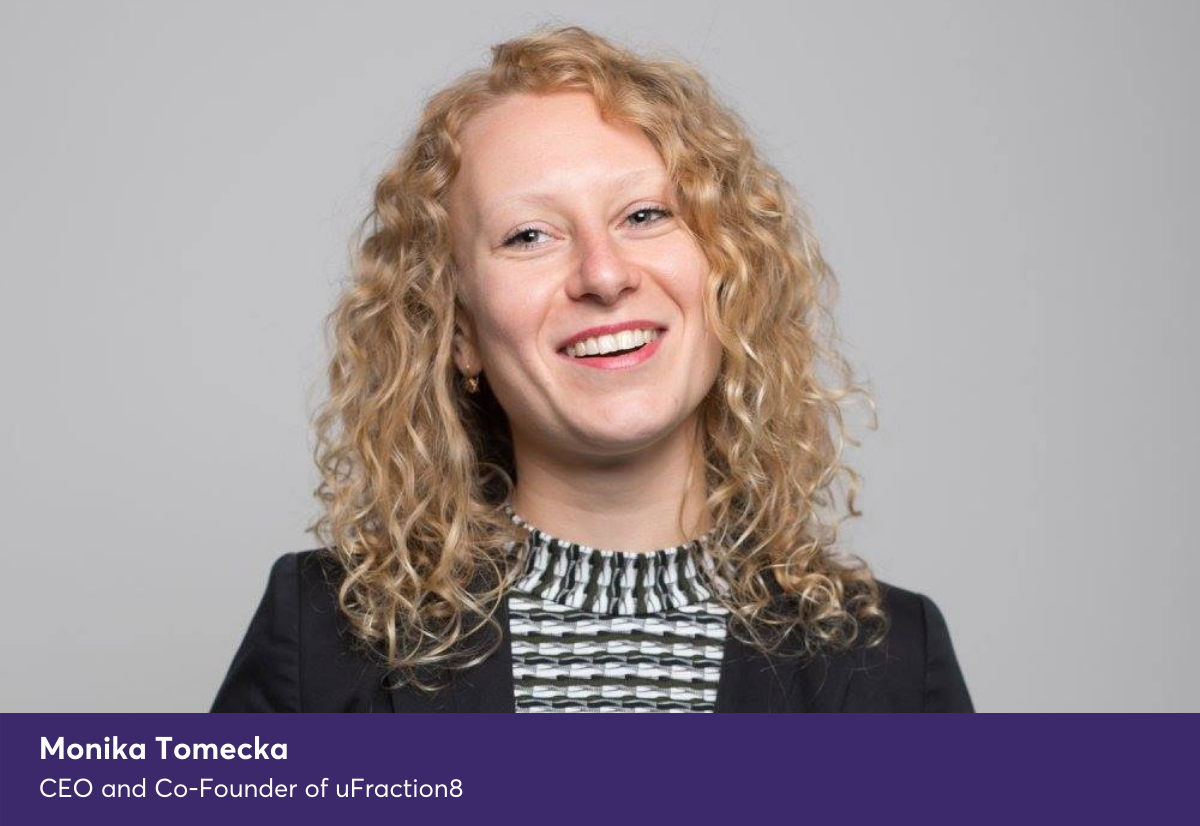 In less than two years, uFraction8 has won 8 national startup awards, and Monika herself was featured in the Top 20 Women to Watch in Scotland 2018 by Insider and the Top 10 of European Women Who Tech in 2019. When it comes to recommendations for other researchers or innovators, who want to follow the business world, Monika summarises her piece of advice in 4 short words: "Just go for it" says. "There is a lot of amazing research out there which never leaves laboratories. People invent incredible things, but they often lack the knowledge or carriage to turn them into businesses. Nowadays, there is much support available for people who wish to become entrepreneurs: startup accelerators, grants support, mentoring programs, and many others. It's important to tap into those early in the business formation as they really can boost your growth. They provide a lot of knowledge, advice and solutions. You just have to decide to take the first step towards them". 
Josefien Groot, CEO and Co-Founder of Qlayers 
"Failure is a natural part of being successful"
Josefien Groot started Qlayers together with Ruben Geutjens in 2017. The high-tech startup offers innovative robotic solutions to overcome the limitations of manual coating methods. The team has been developing hardware that creates microstructures on large surfaces, enabling automated coating of different structures, such as storage tanks, wind turbines, ships, and aircraft. 
Josefien is passionate about sustainability and wants to create an impact with innovation and entrepreneurship. "I want to improve the world when it comes to sustainability and social equality. I decided that the best way to do this is by becoming an entrepreneur since new companies can disrupt industries, unhealthy patterns, structures and systems in a very fast way", she said. "I hope that by starting my own companies, I can create the space for people to exploit their potential and positively change the world".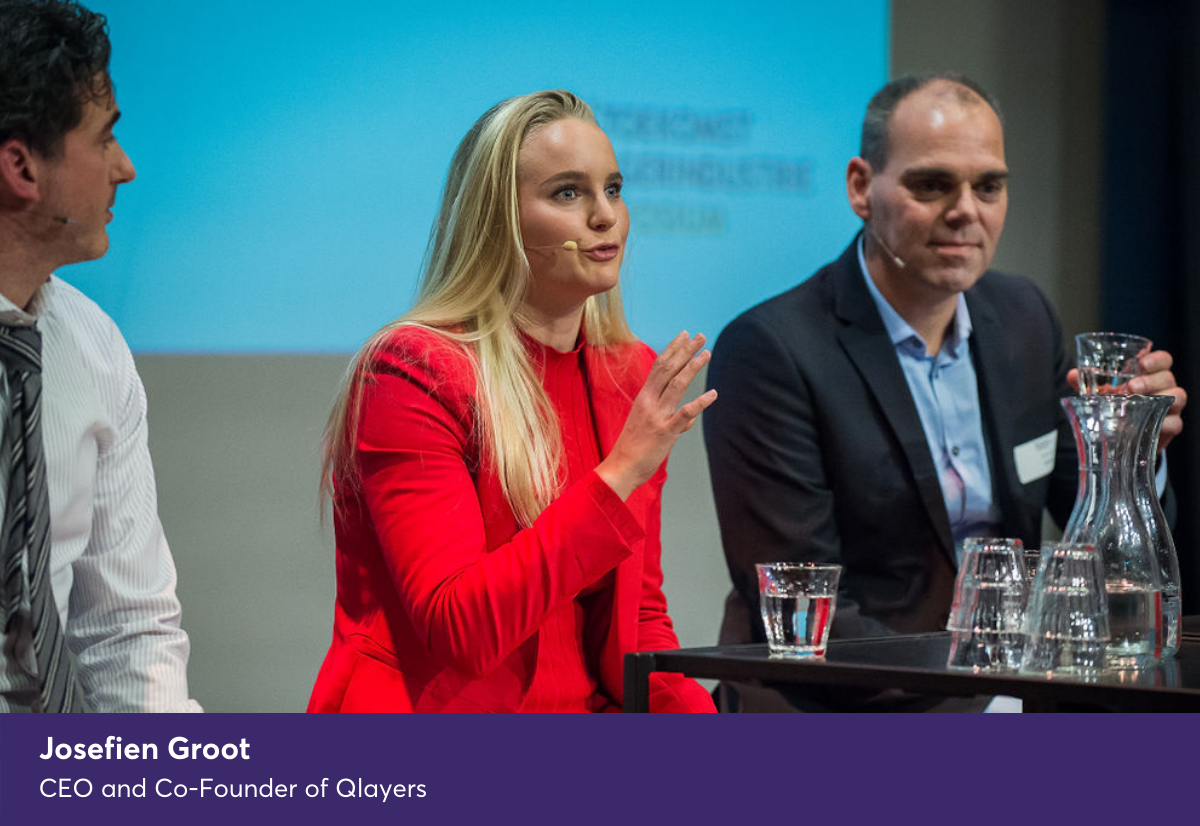 Thanks to their unique technology, Qlayers was already featured in the 10 Dutch Breakthrough Technologies for 2018 by StartupDelta and selected as one of the 500 most promising deep-tech startups worldwide by the Hello Tomorrow summit 2017 and 2018. In addition to that, Josefien won the award Rising Innovator at the EU Prize for Women Innovators 2020. 
The young innovator is convinced that the world needs more disruptive and radical solutions to address the current global challenges. And for the young researchers and innovators that are tapping into the idea of creating a new business, she leaves this short and precise advice: "Just start. You never know all the answers, but it is by doing that you find out what works and what doesn't work. Failure is a natural part of being successful", concluded. 
André Mão-de-Ferro, Co-Founder and Executive Manager of C2C-NewCap
"Entrepreneurship is the right vehicle to materialise ideas"
C2C- New Cap was created in 2014 by André Mão de Ferro and Rui Pedro Silva. The startup began at the IST Spin-off Community (University of Lisbon), ranked among Europe's top 11 engineering schools. C2C-NewCap is committed to providing a sustainable default solution as a new alternative to lead-acid batteries for high-power applications. The Portuguese startup develops electric energy storage solutions and manufactures pilot-scale supercapacitor modules based on a proprietary electrode technology.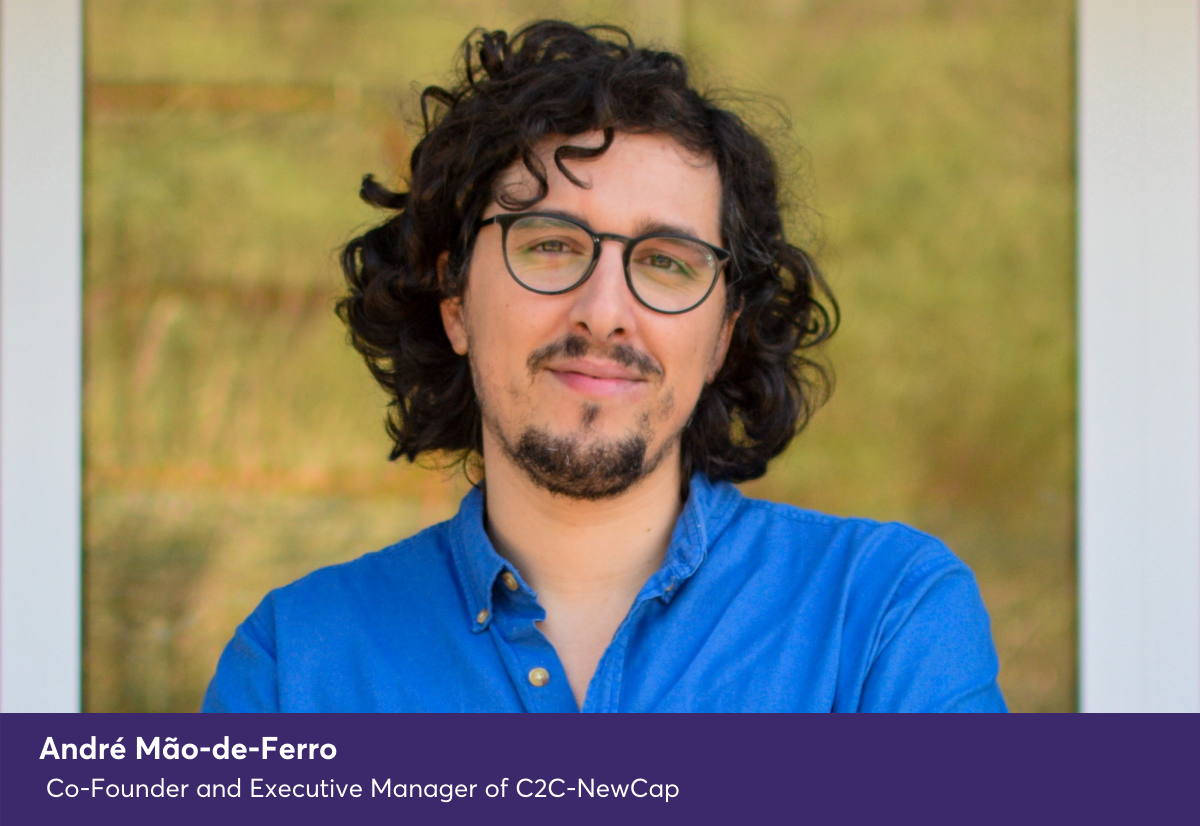 André is always fascinated by the ability of human ingenuity to develop ideas that can improve our lives and the art of turning an idea into a new business. "With bicycles, we multiply our mobility efficiency and travel much faster with the same effort. Adding carbon in the right amount to iron can make steel much harder and longer-lasting than pure iron. If we propagate a cutting of a delicious fruit tree, we can have multiple trees giving identical fruit. And, if we add two carbon plates in an electrolyte, we can store electrical energy with many cycles. How we create new solutions to increase efficiency and wellbeing is very attractive to me. Entrepreneurship is the right vehicle to materialise ideas", he concluded. 
In 2020, the startup was one of the 7 Portuguese companies included in the most innovative EU companies list. In March 2021, André Mão-de-Ferro was one of the Portuguese included in the EIC National Champions list.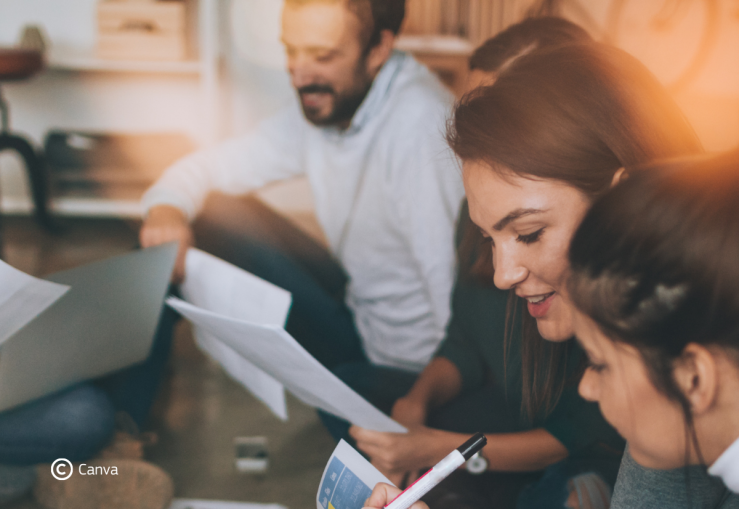 DISCLAIMER: This information is provided in the interest of knowledge sharing and should not be interpreted as the official view of the European Commission, or any other organisation.