Would you like to bring your climate innovation to market by building a start-up or by teaming-up with serial-entrepreneurs? As part of the RACE project, EIT Climate-KIC is working together with the European Innovation Council (EIC) Business Acceleration Services to offer you a new programme: up to 25 Pathfinder, Innovation Launchpad and/or Transition (including FET H2020 projects) early-startups and/or beneficiaries will be able to be part of it. Are you interested? EIT Climate KIC will help you to get your climate innovation ready for market uptake through a tailor-made programme.
If selected you will have access to entrepreneurship training, mentoring and/or match-making with serial entrepreneurs. You will also be connected with the EIT Climate-KIC networks. 
Key dates for participating startups/researchers/innovators
EIT Climate-KIC will offer the market uptake services from March 2022 to June 2022 with several different start dates. After the selection we will be in touch with you to determine in which dates you wish to participate. Depending on your needs, you will participate in group workshops, individual mentoring sessions and other activities to connect with commercialisation opportunities. 
Who can participate/apply?
We are looking for: 
Former and/or current EIC Beneficiaries from Pathfinder, Innovation Launchpad and/or Transition (including FET H2020 projects) with innovations that have a climate impact potential and are aligned with the European Green Deal 
Committed researchers and innovators, start-ups, SMES, consortia, that have the IP and want to build a business model and start-up or are willing to cooperate with serial entrepreneurs to bring the innovation to market.
Maturity: TRL level 3 or above. BRL open.
What will you get? 
EIT Climate-KIC services:

EIT Climate-KIC helps you to focus on valorisation and application of your research as well as the social benefits of your innovation
Supporting you in identifying the climate impact potential and alignment with SDGs
Connecting you with cities, regions, companies and/or potential end users for your innovation/technology; other funding opportunities and European Incubation and Acceleration services  

Tailor-made activities based on your needs:

Innovation Management and Entrepreneurship training 
Individual climate impact potential assessment
Sectorial 1:1 coaching and mentoring services
Time/duration: Tailor-made and adjusted to your availability, 1st cohort between March – June 2022. 
How to apply?
To apply for this programme please fill out the following form. 
Provided you meet the eligibility criteria you will be invited to a 30 min conversation with the EIT Climate-KIC implementing team. Maximum 25 start-ups/researchers/innovators will be selected.
About Climate-KIC 
EIT Climate-KIC is the EU's climate innovation initiative, working to accelerate the transition to a zero-carbon and resilient world by enabling systems transformation. Headquartered in Amsterdam, it operates from 13 hubs across Europe and is active in 39 countries. EIT Climate-KIC has been operating since 2010 and is predominately funded by the European Institute of Innovation and Technology (EIT), a body of the European Union.

As a Knowledge and Innovation Community (KIC), it brings together more than 400 partners from business, academia, the public and non-profit sectors to create networks of expertise, through which innovative products, services and systems are developed, brought to market and scaled-up for impact. Find out more under https://www.climate-kic.org/  
Questions? Please write an email to emily.amann@climate-kic.org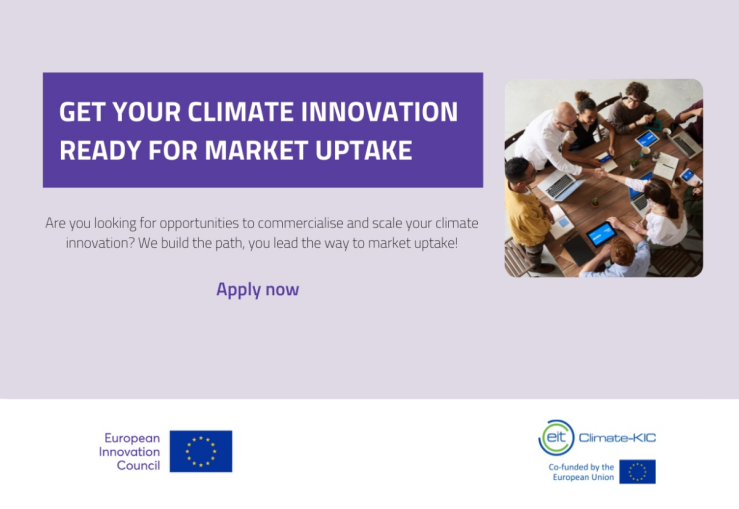 DISCLAIMER: This information is provided in the interest of knowledge sharing and should not be interpreted as the official view of the European Commission, or any other organisation.