The European Innovation Council (EIC), together with Grupa Azoty, is organising an EIC Procurers Day that's taking place on 12 & 13 October 2022. This online event aims to match EIC beneficiaries with the procurer's needs on the topics of Digital Transformation, Circular Economy, Green Deal, Bio-fertilisers and Fertiliser Additives, and Innovative Plastics.
Interested in this opportunity?
Make sure to apply here until 29 July 2022! 
Being one of the European leaders in the fertiliser industry, Grupa Azoty operates in the sector of mineral fertilisers, engineering plastics, OXO products, and other chemicals. The corporate ranks second in the European Union (EU) in producing nitrogenous and compound fertilisers.
Grupa Azoty also took a significant step in establishing meaningful matchmaking and development opportunities outside the Polish market by acquiring the Compo Expert Group in 2018, known for being one of the leading players in the global speciality fertiliser market.
With that in mind, the EIC and Grupa Azoty are calling you for action and looking for companies and startups that are willing to present their innovative solutions to procurers in the areas of Digital Transformation, Circular Economy, Green Deal, Bio-fertilisers and Fertiliser Additives, as well as Innovative Plastics. The selected EIC-backed SMEs will then get the chance to pitch their innovations and solutions during the online event on 12 and 13 October 2022. 
Who can apply?
All EIC-backed SMEs working on innovative products or services with market maturity in the mentioned topics of interest, that can respond to the needs of the challenges below.
What challenges should you prepare for?
Challenge 1 – Digital transformation:
Grupa Azoty is looking to digitise assets and processes and increase the automation of manufacturing processes. Expected solutions should allow to predict possible failures, conduct maintenance work more efficiently, and use employees' time more effectively. The effect of implementing the solution should be the reduction of costs (repair costs, elimination of failures, saving the employees' time).
Challenge 2 – Circular Economy:
Grupa Azoty is looking for innovative solutions to reduce the energy intensity of manufacturing processes, recovery of mineral components for fertiliser production from ash waste and biomass combustion and biomass combustion, innovations for plastics recycling and applications for regranulates and processing of OXO alcohols.
Challenge 3 – Green Deal:
Grupa Azoty is looking for innovative methods to produce "green" hydrogen, "green" ammonia and bioplasticisers. The procurer strives, among other things, to improve energy efficiency (including from conventional energy processes), reduce the energy intensity of the processes of producing semi-finished capture and management of CO2 (development of programs for planning, monitoring, and auditing of energy activities). 
Challenge 4 – Bio-fertilisers and fertiliser additives:
Grupa Azoty is looking for solutions to develop fertiliser additives (plant growth stimulators, micro and macro components, increasing the efficiency of fertilisation, improving the natural resistance of plants to abiotic stress factors, and enabling the fortification of food plants with deficient elements), including those of biological origin. In the same context, expected solutions are applications of biodegradable coating materials, biostimulants for increased stress tolerance and bioprotection of products.
Challenge 5 – Innovative plastics:
Grupa Azoty is looking for new solutions and applications for biodegradable plastics.
Opportunities for selected EIC-funded SMEs
Privileged access to one of the world's leading companies with the potential to initiate strategic partnerships along with increased visibility and possible access to new markets.
Networking opportunities with relevant business counterparts based on your company profile.
Personalised online training on pitching techniques and Grupa Azoty specifications before the event. 
Services related to support before, during and after the event.
Application
You can apply by clicking on the following link: Link
After logging in with your EU-Login, please fill in the respective form.
In your application form, you should include the answer to the questions:
What is your business compliance with the event?
What are your expected specific synergies/outcomes for your potential business with the Corporation?
Please acknowledge the information you provide on the application form will be shared with Grupa Azoty to maximise potential benefits and ensure the effectiveness of meetings. Grupa Azoty based on its business interests will select the final participants among the applicants.
The Business Acceleration Services will contact all applicants once the selection process has been concluded. However, this contact does not include feedback or recommendations for those not selected.
Additional Information
EIC Business Acceleration Services
The Business Acceleration Services provided are free of charge. All participants are expected to fill out a brief satisfaction survey shortly after the event, and a business impact survey after six months. Failure to do so may lead to exclusion from future Business Acceleration Services. 
This opportunity is brought to you by the EIC Business Acceleration Services. To explore other opportunities to connect with the largest public and private procurers in Europe, keep an eye on our events page.   

 
Cancellation policy
Cancellations will only be considered in duly documented cases of "force majeure". Unjustified cancellation can lead to exclusion in future Business Acceleration Services events.

 
Should you have any questions regarding the event or your eligibility, please contact us through our contact page (please choose "EIC Procurers Day with Grupa Azoty" as the subject).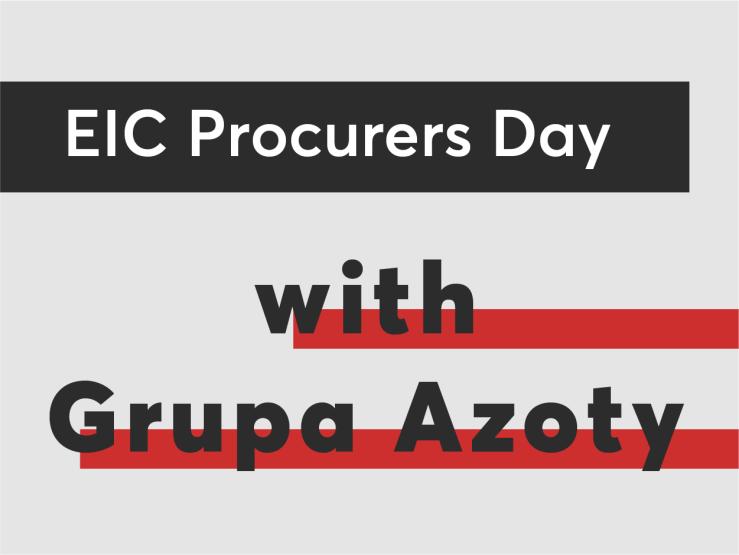 DISCLAIMER: This information is provided in the interest of knowledge sharing and should not be interpreted as the official view of the European Commission, or any other organisation.