As an EIC-funded SME, you probably already had the chance to pitch your solution in multiple matchmaking initiatives to attract the attention of investors or potential customers. But did you ever try to build win-win synergies and co-create solutions with Business Partners? That's where the EIC Greenhouse Gas Programme (GHG) comes in. The aim is to leverage unique collaborative experiences between EIC companies and large European organisations while offering EIC companies the chance to co-create products and services. In this light, the European Innovation Council and its Business Partner Trelleborg invite you to apply to our joint EIC GHG Co-creation initiative.
The manifesto for environmental stewardship and action has shown how dependant we are on each other to achieve sustainable development and collective wellbeing. With this mindset, European corporates, regions, and industrial organisations are taking action to reduce their climate impacts while building innovative collaborations to drive common progress and achieve mutual goals. But to do so, they need you.
Taking action on sustainability and capitalising on innovative thinking has always been a top priority for Trelleborg. As a way of helping modern-day society to function better and have reliable solutions, the company wishes to create innovative and sustainable ways of helping the planet and its communities.
As a leading supplier of polymer-based critical that range from space to seabed, from below ground to Healthcare & Medical, including agricultural areas and manufacturing environments, Trelleborg has vast experience in the market dating back to 1905. They ensure key sustainability concerns are identified to contribute to a better society.
So, save the date: this co-creation journey with Trelleborg kicks off with an event on 23 and 24 March 2022. You can find more info about the co-creation process and timeline below.
Let us know why you're the right co-creator here and join this collaborative journey.
Applications are open until 28 January 2022.
 
Why should you join the EIC GHG Co-creation programme? 
Explore how your solutions and capabilities can be sustainable
Network and collaborate with Trelleborg, and like-minded innovators 
Build a roadmap of market entry with Trelleborg 
Closely work with partners on solutions that can best fit the market 
Find potential partners and customers in the industry
Get access to experts from the EIC
Your co-creation journey
The EIC GHG Co-creation with Trelleborg will be an entirely virtual service following the co-creation journey below.

Step 1: Applications and Info webinar 
To apply to the EIC GHG Co-creation with Trelleborg, you will have to fill the application form available here by 28 January 2022. 
During the application process, an info webinar (21 December 2021, from 10:00 to 11:00 CET) will be organised to provide more information about the co-creation initiative, the application requirements, and challenges. If you would like to attend this info-webinar, make sure to check the agenda here and register here.
*Please note that your registration to the info webinar does not imply that you will be selected for the co-creation initiative with Trelleborg.
Step 2: Selection process 
As soon as we close the submission process, your application will be shared with Trelleborg. Then, we'll proceed with the evaluation and selection of the final list of participants. You'll be contacted once the selection process is completed. Also, please note that any feedback or recommendation to the companies that were not selected won't be foreseen.
Step 3: Co-creation kick-off event – 23rd & 24th of March | Save the date! 
After the selection process, a two-day ideation event with Trelleborg will take place on 23 and 24 March 2022. It will help you better understand the challenges and start co-developing your solutions with the business partner. During this meeting, you'll also have the chance to define a clear roadmap with your next steps.
Step 4: Iteration & Development 
You'll have a month to implement the roadmap that you'll define with Trelleborg. Not to mention, have the opportunity to validate it regularly to ensure you are steering in the right direction.
Demo Day 
The Demo Day will showcase the final solutions and promote them to a bigger audience. Date TBD.
Challenges
Regarding challenges, Trelleborg is focused on discovering new solutions for the following topics:
Challenge 1 – High-performance polymers from renewable resources
Context: Currently all high-performance elastomer industrial-grade materials are made from synthetic rubbers, which makes the carbon footprint for synthetic rubbers consequently very high. The goal is to partially or completely replace the molecules used today with similar substances of vegetable or natural origin and make it routine and a standard thing.
Possible solutions:
New polymers or oligomers or key ingredients derived from renewable resources 
Technologies for re-processing of high-performance elastomer polymers 
Upcycling of used elastomeric materials 
De-polymerization technologies to derive new raw materials for new polymers 
Circular approaches to generate value-added solutions from re-processed or treated synthetic rubber materials 
New materials suitable for replacing current antioxidant and antiozonant molecules (6PPD, TMQ, Waxes, among others.)
Challenge 2 – Functional additives supporting key sustainability aspects
Context: All current high-performance elastomers are based on rubber polymers and several additives that influence the performance characteristics of the final products. Properties influenced by additives include wear, chemical resistivity, media and temperature behaviour, elastomeric properties at extreme temperatures. The goal is to partially or completely replace the molecules used today with similar substances of vegetable or natural origin.
Possible solutions:
Innovative rubber recipes utilizing new functional additives 

Longer life: improved wear 
Energy efficiency: lower friction 
New properties: conductivity, heat transfer 

Self-healing properties 
Radical innovation with currently unknown functional and performance properties, such as sensing, diagnostics 
Additives that can be activated during use of the product and give additional performance characteristics when needed or desired 
Compliant with REACH regulation when it comes to PAH contents
Challenge 3 – Separation technologies for high-value elastomers and plastics
Context: Elastomer materials currently are a small portion of the post-consumer waste stream. Particularly in the tire business, the separation of extruded components represents a very important problem in the tire sector today. The goal is to use robotic solutions that generate a great value especially for the precision with which the separation is carried out, increasing the productivity of the department with reduction of processing waste making the whole operation more sustainable.
Possible solutions:
Separation technologies of mixed wastes 
Separation technologies at the source of waste production 
Dry/wet robotic cutting devices
More information on the Trelleborg challenges can be found here.
About the EIC Business Acceleration Services   
This opportunity is brought to you by the EIC Business Acceleration Services. To explore other opportunities to connect with the largest corporates in Europe, keep an eye on our events page.    
About the EIC GHG programme   
With the EIC GHG programme, part of the Business Acceleration Services, the EIC offers its beneficiaries a dedicated GHG tool, monthly webinars and further resources.   
In addition, co-creation activities with corporates, industrial associations, regions in carbon transition and other EIC beneficiaries are taking place on a regular basis.
Did you hear about the latest EIC GHG Tool?
As a way of efficiently reducing carbon emissions and developing other sustainable practices to help our planet, this initiative is meant to offer EIC beneficiaries the opportunity to calculate, track & monitor CO2 emissions, plus simulate mitigation measures to make your business more sustainable. More information on the EIC GHG programme can be found here.
Need help?   
For additional information, please refer to our helpdesk (please choose 'EIC GHG: Co-creation with Trelleborg' as the subject).
Cancellation policy
Cancellations will only be considered in duly documented cases of "force majeure". Unjustified cancellation can lead to exclusion in future Business Acceleration Services events.
Should you have any questions regarding the event or your eligibility, please contact us through our contact page (please choose 'EIC GHG: Co-creation with Trelleborg' as the subject).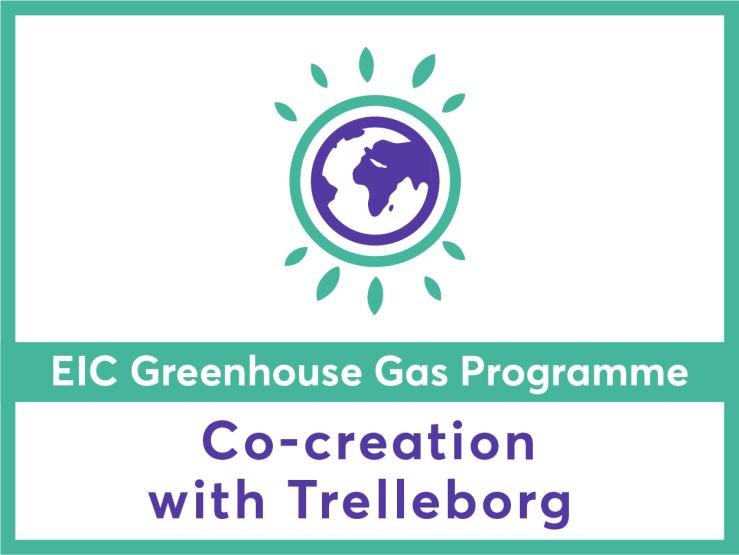 DISCLAIMER: This information is provided in the interest of knowledge sharing and should not be interpreted as the official view of the European Commission, or any other organisation.