On 11 February 2020, International Day of Women and Girls in Science, Commissioner Gabriel launched the 7th edition of the EU Prize for Women Innovators. Applications are now open until Tuesday 21 April at 17:00 CET (Brussels time). If you think you have what it takes to become the next EU Woman Innovator, don't miss your chance and apply now.
The European Commission launched today the seventh edition of the EU Prize for Women Innovators. The Prize celebrates female leaders in innovation and aims to inspire the next generation to follow their footsteps.
The contest is funded under Horizon 2020, the EU research and innovation programme. Three "Women Innovators" will each receive €100,000, and another €50,000 will be awarded to a "Rising Innovator", an exceptional entrepreneur at the beginning of her career.
Mariya Gabriel, Commissioner for Innovation, Research, Culture, Education and Youth, opened the competition today on the International Day of Women and Girls in Science.
"Long-standing gender biases and stereotypes, as well as lack of visible role models, continue to steer girls and women away from science and technology related careers. We need to do much more to give visibility to European women who have made key contributions to science, research, innovation, and beyond. The EU Prize for Women Innovators rewards talent and contributes to creating an inclusive and empowering Europe", said Commissioner Gabriel.
Women are underrepresented in terms of creating innovative enterprises. That is why the Commission created a Prize for Women Innovators in 2011 to increase public awareness of this issue and to encourage women innovators to exploit the commercial and business opportunities and become entrepreneurs.
Deadline for applications is 21 April 2020. A jury of independent experts will evaluate and select the four winners, who will be announced in the second half of the year.
Who can apply? 
The contest is open to women across the EU and countries associated to Horizon 2020 who have founded or co-founded an existing and active company before 1 January 2018. 
Award criteria
breakthrough innovation – the company founded or co-founded by the contestant provides a truly innovative product or service.
impact – the product or service addresses a specific societal need or challenge, with significant benefits to citizens and to the economy. 
inspiration – the contestant has shown active leadership, she has played a pivotal role in the success of the company and inspired others. 
More information on eligibility and award criteria is available online.
How to apply
Applications must be submitted online, via the Funding and Tenders Portal. Applicants are invited to read the following documents before submitting their application.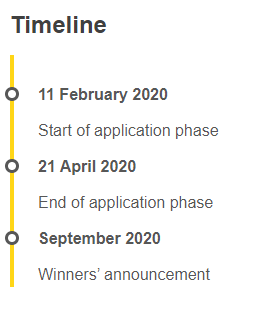 DISCLAIMER: This information is provided in the interest of knowledge sharing and should not be interpreted as the official view of the European Commission, or any other organisation.