The European Innovation Council (EIC) invites all EIC innovators to join the REPowerEU initiative. This new EIC business service aims to promote the collaboration between EIC beneficiaries and some of the largest European corporates: EDP, Iberdrola, Neste and Veolia, to shift from the dependence on Russian gas before 2030.
Disclaimer: applications closed on 5 September 2022.
What is REPowerEU?
The European Commission (EC) proposed the outline of a plan to end Europe's dependence on Russian fossil fuels before 2030 – starting with gas. To achieve this ambitious objective, the EC is developing a REPowerEU plan that aims to increase the resilience of the EU-wide energy system while tackling the climate crisis and fast-forwarding the green transition.
In the framework of REPowerEU, the EIC Business Acceleration Services offers EIC innovators the opportunity to enhance their cooperation with large corporates and co-create innovative solutions to various pre-determined challenges launched by our partner corporates: EDP, Iberdrola, Neste and Veolia (more about their challenges below).
REPowerEU challenges
Each of the 4 partner corporates has its own unique set of challenges, which are aligned with the following REPowerEU goals (non-exhaustive):
Acceleration of renewable energies.
Decarbonisation    industry: Switch to electrification and enhance low-carbon manufacturing capabilities.
A hydrogen accelerator to develop infrastructure, storage facilities and ports.
Increase of production and sustainable use of biomethane and other alternative fuels.
More solar panels on the roof, heat pumps and energy savings.
Diversify the gas supply and invest in the necessary infrastructure.
EICxREPowerEU challenges
Further information on each of the challenges can be found when clicking on the name of the corporate. Please note that you can apply to multiple challenges via the single application form.
Selection Process & Proposed Programme
Each partner corporate will dedicate a team of experts to analyse the applications to this call. They will select the EIC beneficiaries and meet at the online kick-off event of the EICxREPowerEU initiative based on their needs and highest possibilities to develop a business collaboration (Proof of Concept, pilot, MVP…).
The selected EIC beneficiaries will receive dedicated coaching and preparation to pitch and do business with the corporates.
The kick-off event of the EICxREPowerEU initiative will take place on 4 & 5 October 2022, and will contain a pitching session, 1-to-1 business meetings between corporates and EIC beneficiaries and the involvement of high representatives from the European Commission.
After the kick-off event, Corporates and EIC beneficiaries will be supported for 1 to 5 months to co-create and translate some of the propositions in an MVP or any other form of collaboration. This can include hands-on work, training webinars and reinforcement during the same period.
Finally, the programme will culminate in a Demo Day – with the date and location to be determined – where both Corporates and EIC beneficiaries will be invited to demonstrate the work and success stories done under the collaboration of both entities.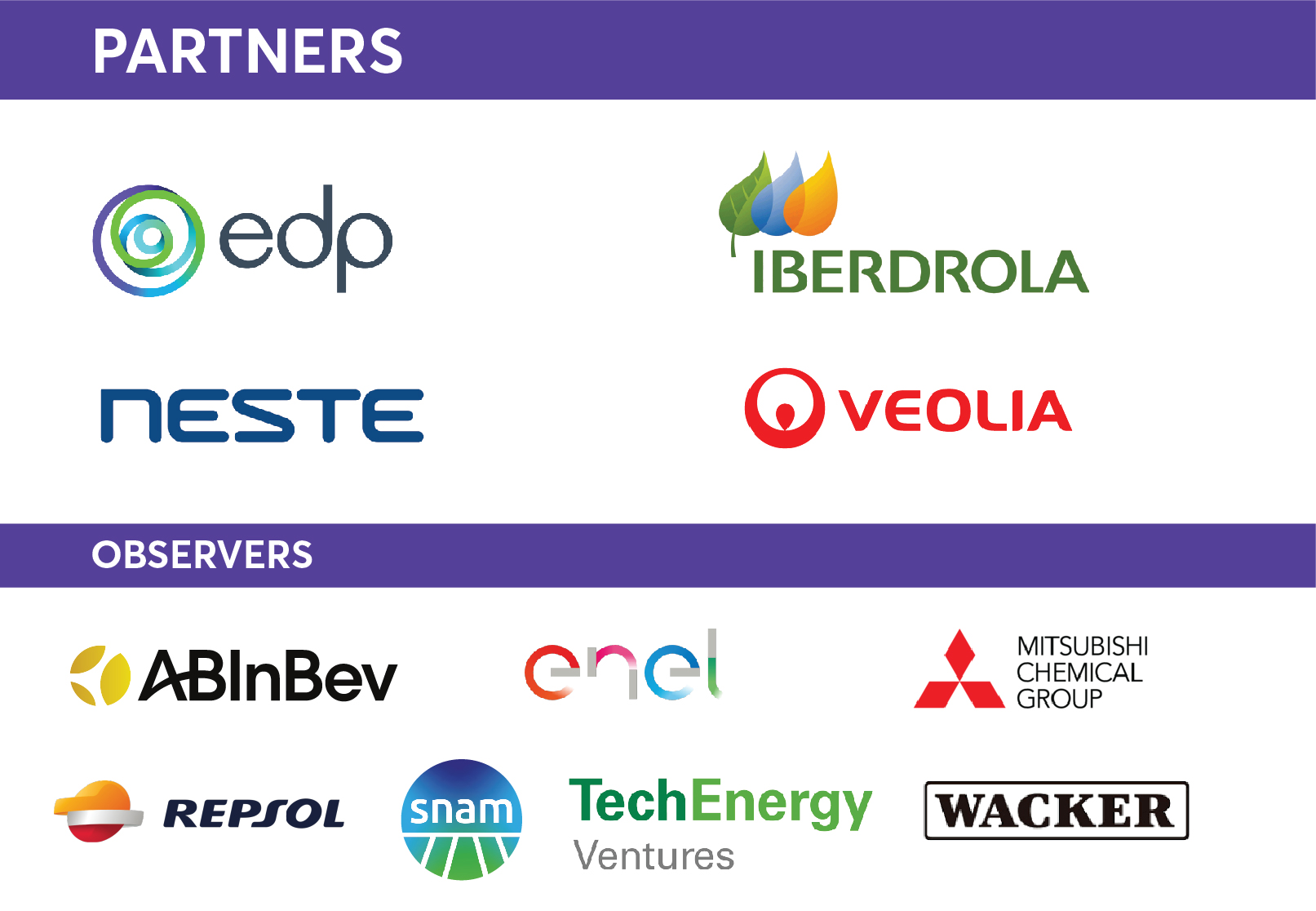 Observers
In addition to the four challengers listed above, the following list of corporates will be attending the kick-off event on 4 & 5 October 2022 as observers:
Please note that these corporates have not supplied any challenges for the REPowerEU initiative, meaning you cannot apply to them as such. They will be observing the pitches and could potentially engage with the selected EIC beneficiaries.
Additional information
About EDP
EDP aims at leading the energy transition to create superior value and it is ranked as one of the most sustainable integrated utilities in the world on the Dow Jones Sustainability Index. The EDP Group produces, distributes, and supplies power to over 9 million customers and has more than 27GW of power production capacity, of which around 75% comes from renewable sources. EDP is the 4th largest wind power producer in the world and the largest electricity generator in Portugal. Active in 28 countries, EDP bets on Open Innovation through a combination of Corporate VC, Open Innovation, and Internal Incubation.
About Iberdrola
With over 170 years of history behind them, Iberdrola is now a global energy leader, the number one producer of wind power, and one of the world's biggest electricity utilities in terms of market capitalisation. They have brought the energy transition forward two decades to combat climate change and provide a clean, reliable, and smart business model.
About Neste
Neste is the world's leading producer of sustainable aviation fuel and renewable diesel, and renewable feedstock solutions for various polymers and chemicals industry uses. They are also developing chemical recycling to combat the plastic waste challenge. Their ambition is to make the Porvoo oil refinery in Finland the most sustainable refinery in Europe by 2030. They are introducing renewable and recycled raw materials such as liquefied waste plastic as refinery raw materials.
About Veolia
Veolia Group aims to become the benchmark company for ecological transformation. Present on five continents with nearly 220,000 employees, the Group designs and deploys useful, practical solutions for the management of water, waste and energy that are contributing to a radical turnaround of the current situation. Through its three complementary activities, Veolia helps to develop access to resources, to preserve available resources and to renew them. In 2021, the Veolia group provided 79 million inhabitants with drinking water and 61 million with sanitation, produced nearly 48 million megawatt hours and recovered 48 million tonnes of waste.
EIC Business Acceleration Services
All participants are expected to fill out a brief satisfaction survey shortly after the event and a business impact survey after six months. Failure to do so may lead to exclusion from future Business Acceleration Services.
This opportunity is brought to you by the EIC Business Acceleration Services. To explore other opportunities to connect with corporates in Europe, keep an eye on our events page.
Cancellation policy
Cancellations will only be considered in duly documented cases of "force majeure". Unjustified cancellation can lead to exclusion in future EIC Business Acceleration Services events.
Should you have any questions regarding the event or your eligibility, please contact us through our contact page (please choose "EICxREPowerEU" as the subject).