The European Innovation Council (EIC) invites EIC Pathfinder (former FET-Open & FET-Proactive) and Transition beneficiaries to apply for the EIC Innovation Bootcamp 2.0: a virtual four-day intensive training in entrepreneurship and technology commercialisation taking place from 15 to 17 November and on 10 December 2021. 
Apply here by 8 October 2021 
to learn entrepreneurial basics and to preliminary validate your business idea / innovation based on the results from your research and innovations projects by working as a team of entrepreneurial researchers.
The EIC Innovation Bootcamp 2.0 is a novel concept, organised by the EIC Business Acceleration Services. To help researchers navigate through the entrepreneurial world and acquire the right skills to successfully exit the lab with a technology or product ready for the market, the EIC Innovation Bootcamp will provide you with a guide explaining everything you need to know to start transforming your innovation into a valid solution and successfully bring it to market. 
The EIC Innovation Bootcamp will be a full four-day event, taking place from 15 to 17 November and on 10 December 2021 from 9h till 17h (CET), and consist out of a mix of interactive lectures with group dynamics and hands-on work on business modelling and pitching. After these sessions, you will be better equipped to reach the market and venture into the entrepreneurial world with an innovative product/solution that leads to successful business opportunities.
 
The end goal of the EIC Innovation Bootcamp is to present a high-quality pitch (EIC Accelerator step 1 level) on the fourth day and to actively participate with a selected team developing further the Pathfinder or Transition project research results, and innovations. The application implies a full commitment to attend all the four-days of the event.
The programme
An overview of the four days can be found below.
Day 1: Introduction to innovation management
The first day will focus on making that first step from academia to business through tailor-made content to researchers and to build on their entrepreneurial side. There will be lectures with top-notch speakers on problem solving, systematic innovation and design thinking, as well interactive sessions on entrepreneurship to researchers and innovation transfer from science to industry and commercialisation.
Day 2: From the lab to the market
The second day we will be going through the customer discovery and product development process through interactive sessions where the teams will be guided by EIC speakers and coaches on venture building and alternative paths, lean start-up methodology, creating innovative business models, product and market development and IP strategy. This day will allow a hands-on approach and collaborative work of the teams building around their own innovation. 
Day 3: EIC and beyond
Day three will be dedicated to a set of EIC presentations, including getting to know the EIC Programme Managers and Tech2Market team and in two very practical lectures – financing strategies (including EIC Fund) and pitching training. A half-day pitching training/rehearsal on 6 December will provide the fine tuning of your pitches for the final day. 
Day 4: Pitching day
Four weeks of learning sessions and preparation later (including the fine tuning/rehearsal session with Programme Managers and EIC coaches), on 10 December, the teams will present their pitch to a selected jury. The 4th day will start with a roundtable of success cases that have made the path from the lab to the market backed up by the EIC. 
Who can apply?
The application is open only to EIC Pathfinder (ex. FET-Open and FET-Proactive) and Transition researchers as representatives of the consortium/project. The EIC Innovation Bootcamp is only open to a team of at least two researchers/individuals (and maximum four) per project. Complementary profiles are required to form eligible and successful teams and provide a high-quality engagement and delivery of the pitching. The two mandatory team roles to apply:
Entrepreneurial lead/representative: responsible for the business orientation and entrepreneurial side of the idea/innovation (usually postdocs, PhD students or any researcher that could imagine herself or himself as a potential entrepreneur). 
Technology lead/representative: responsible for the technical development of the idea/innovation.
Only one application per project will be accepted.  Maximum 12 EIC Pathfinder or Transition projects can participate (2 people per project minimum and 4 maximum). There is limited availability, and a selection committee will choose the best applications*. 
*EIC Accelerator beneficiaries are not eligible for application.
Additional information
EIC Business Acceleration Services
The European Innovation Council (EIC) continues to support science-to-technology research projects like FET programme has done with an additional focus on continuous improvement, networking, learning opportunities and facilitating access to business partners and investors for our beneficiaries. Being part of the programme offers you a privileged access to our business acceleration services, customized to your needs. 
EIC Pathfinder and Transition scientists, innovators and entrepreneurs can listen selected lectures on entrepreneurship and validate their commercialisation strategies and business ideas during dedicated EIC Innovation Training Workshops and Innovation Bootcamps, respectively.
EIC beneficiaries are also invited to be part of the online EIC Community. The overall aim of the EIC Community platform is to help innovators, entrepreneurs, SMEs and scientists to successfully establish themselves on the European and global markets, by creating a shared knowledge base and a virtual meeting place for them to connect with investors, corporates and peers to discuss potential businesses partnerships.
The Business Acceleration Services provided are free of charge. All participants are expected to fill out a short satisfaction survey shortly after the event, and a business impact survey after six months. 
This opportunity is brought to you by the EIC Business Acceleration Services. To explore other opportunities, keep an eye on our events page. 
For additional information and questions on the application, please refer to our helpdesk: https://community-smei.easme-web.eu/contact (please choose "EIC Innovation Bootcamp" as the subject).
Cancellation policy
Cancellations will only be considered in duly documented cases of "force majeure". Unjustified cancellation can lead to exclusion in future Business Acceleration Services events. For additional information, please refer to our helpdesk: https://community-smei.easme-web.eu/contact (please choose "EIC Innovation Bootcamp" as the subject).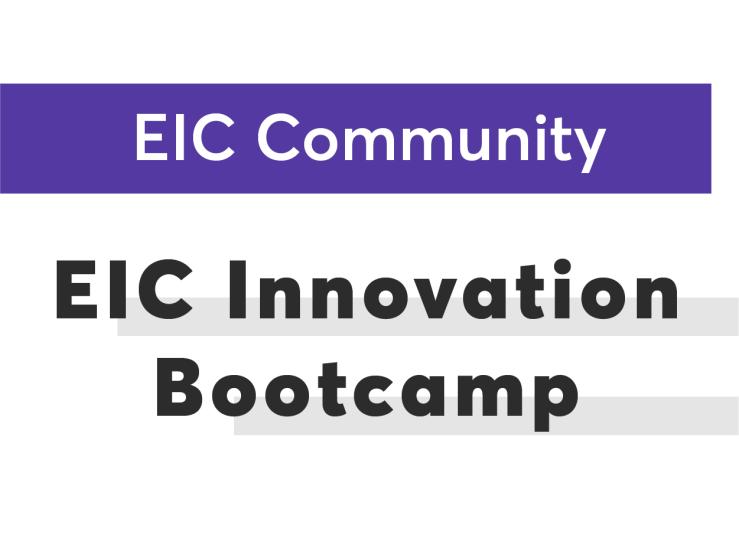 DISCLAIMER: This information is provided in the interest of knowledge sharing and should not be interpreted as the official view of the European Commission, or any other organisation.