As an EIC-funded SME, you probably already had the chance to pitch your solution in multiple matchmaking initiatives to attract the attention of investors or potential customers. But did you ever try to build win-win synergies and co-create solutions with Business Partners? That's where the EIC Greenhouse Gas Programme (GHG) comes in. The aim is to leverage unique collaborative experiences between EIC companies and large European organisations while offering EIC companies the chance to co-create products and services. In this light, the European Innovation Council and its Business Partner Electrolux invite you to apply to our EIC GHG Co-creation initiative.
The manifesto for environmental stewardship and action has shown how dependant we are on each other to achieve sustainable development and collective wellbeing. With this mindset, European corporates, regions, and industrial organisations are taking action to reduce their climate impacts while building innovative collaborations to drive common progress and achieve mutual goals. But to do so, they need you.
Electrolux is a leading global appliance company that has shaped living for the better for more than 100 years. The Group reinvented taste, care, and wellbeing experiences for millions of people, while always striving to be at the forefront of sustainability in society through their solutions and operations.
The Group's sustainability framework – For the Better 2030 – defines how Electrolux works to achieve Better Solutions, Better Company, and a Better Living.
So, save the date: this co-creation journey with Electrolux kicks off with an event on 23 and 24 March 2022. You can find more info about the co-creation process and timeline below.
Let us know why you're the right co-creator here and join this collaborative journey.
Applications are open until 28 January 2022. 
Why should you join the EIC GHG Co-creation programme? 
Explore how your solutions and capabilities can be sustainable
Network and collaborate with Electrolux and like-minded innovators 
Build a roadmap of market entry with Electrolux 
Closely work with partners on solutions that can best fit the market 
Find potential partners and customers in the industry
Get access to experts from the EIC
Your co-creation journey
The EIC GHG Co-creation with Electrolux will be an entirely virtual service following the co-creation journey below.

Step 1: Applications and Info webinar 
To apply to the EIC GHG Co-creation with Electrolux you will have to fill the application form available here by 28 January 2022. 
During the application process, an info webinar (21 December 2021, from 10:00 to 11:00 CET) will be organised to provide more information about the co-creation initiative, the application requirements, and challenges. If you would like to attend this info-webinar, make sure to check the agenda here and register here.
*Please note that your registration to the info webinar does not imply that you will be selected for the co-creation initiative with Electrolux.
Step 2: Selection process 
As soon as we close the submission process, your application will be shared with Electrolux. Then, they'll proceed with the evaluation and selection of the final list of participants. You'll be contacted once the selection process is completed. Also, please note that any feedback or recommendation to the companies that were not selected won't be foreseen.
Step 3: Preparation session for the kick-off event 
Successful and confirmed participants will be invited to join a preparatory session in which you will be briefed into more detail on the co-creation process and encouraged to undergo pitching training to meticulously prepare your pitches for the kick-off.
Step 4: Co-creation kick-off event – 23rd & 24th of March | Save the date! 
After the selection process, a two-day ideation event with Electrolux will take place on 23 and 24 March 2022. It will help you better understand the challenges and start co-developing your solutions with one of the business partners. During this meeting, you'll also have the chance to define a clear roadmap with your next steps.
Step 5: Iteration & Development 
You'll have two months to implement the roadmap that you'll define with Electrolux. Not to mention, have the opportunity to validate it regularly to ensure you are steering in the right direction.
GHG Summit
The GHG Summit will showcase the success stories and pitch them to a bigger audience. Date TBD.
Challenges
Regarding challenges, Electrolux is focused on finding solutions for the following thematics:
Challenge 1 – New solutions for furnaces
Context: Nowadays, many production processes are still relying on the usage of fossil fuels which account for approximately 70% of the total Group operations emissions. Among the processes that rely on fossil fuels, the enamelling one is the largest contributor to GHG emissions in Electrolux food preparation factories due to the high temperature (up to 850°C) required.
Specific challenge: Furnaces that can operate without the usage of fossil fuels and that could be potentially implemented within a 3-year timeframe. Potential solutions could span from either the complete replacement of current technologies or the substitution of single components, for example (but not limited to): 
Replacement of gas burners with electric heating elements 
Full redesign and replacement of current furnaces  
Heating technologies alternative to furnaces
Challenge 2 – Zero-emission warehouse model
Context: Most of the Electrolux finished goods' warehouses are still using fossil fuels mainly for heating purposes.
Specific challenge: Must be:
High energy efficient
Energy self-sufficient
Utilise renewable energy sources only
Challenge 3 – Solutions to reduce heating/cooling levels of operation sites
Context: Heating systems in Electrolux Operations sites mainly rely on fossil fuels. Besides, in several countries, buildings are using a lot of energy for cooling in the summer period. Even though Electrolux is investing and will invest in solar panels, heat pumps and other green solutions to heat and cool its sites, it is also interested in finding solutions to reduce the heating/cooling load of its buildings and therefore the energy required to heat them or cool them down.
Specific challenge: Achieve easy, fast, and cost-effective solutions to improve the insulation of existing buildings.
More information on the Electrolux challenges can be found here.
About the EIC Business Acceleration Services   
This opportunity is brought to you by the EIC Business Acceleration Services. To explore other opportunities to connect with the largest corporates in Europe, keep an eye on our events page.    
About the EIC GHG programme   
With the EIC GHG programme, part of the Business Acceleration Services, the EIC offers its beneficiaries a dedicated GHG tool, monthly webinars and further resources.   
In addition, co-creation activities with corporates, industrial associations, regions in carbon transition and other EIC beneficiaries are taking place on a regular basis.
Did you hear about the latest EIC GHG Tool?
As a way of efficiently reducing carbon emissions and developing other sustainable practices to help our planet, this initiative is meant to offer EIC beneficiaries the opportunity to calculate, track & monitor CO2 emissions, plus simulate mitigation measures to make your business more sustainable. More information on the EIC GHG programme can be found here.
Need help?   
For additional information, please refer to our helpdesk (please choose 'EIC GHG: Co-creation with Electrolux' as the subject).
Cancellation policy
Cancellations will only be considered in duly documented cases of "force majeure". Unjustified cancellation can lead to exclusion in future Business Acceleration Services events.
Should you have any questions regarding the event or your eligibility, please contact us through our contact page (please choose 'EIC GHG: Co-creation with Electrolux' as the subject).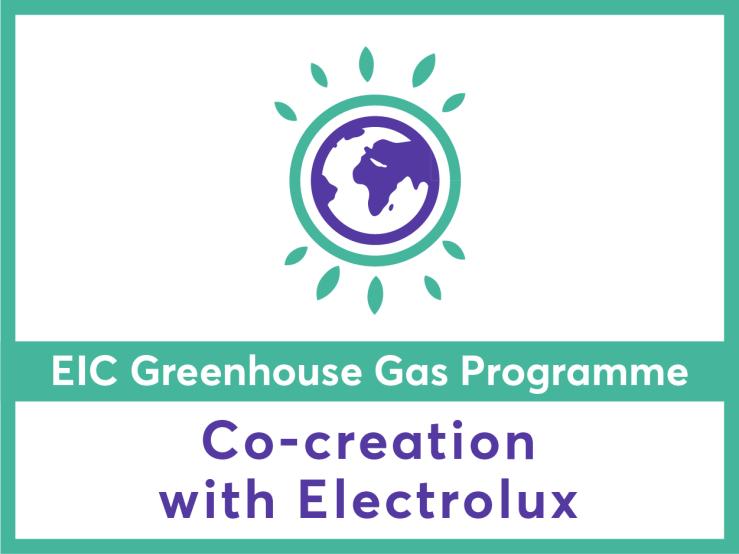 DISCLAIMER: This information is provided in the interest of knowledge sharing and should not be interpreted as the official view of the European Commission, or any other organisation.