Every month the European Innovation Council organises an 'EIC ePitching with Investors' around a dedicated topic. This time around, the EIC is pleased to invite all eligible startups to participate in our next session dedicated to Fintech, Insurtech, and Blockchain on 27 June 2022. The selected EIC-backed SMEs will be able to present their innovative solutions during an online event to a jury of top-class European investors such as Augmentum Fintech, Earlybird Venture Capital, Entrée Capital, Finch Capital, HV Capital, Inventure, Iris Capital, Lakestar, Octopus Ventures, Redalpine, Verdane Capital, and many more to be confirmed soon.
The applications are open until 17 May 2022.
Make sure to apply, and don't miss this opportunity!
Fintech is the meeting between finance and technology, and the term is used to describe technology that delivers financial services via software – e.g., mobile payments apps or online banking. Since it emerged, Fintech has provided new ways and concepts to allow consumers, financial institutions, business owners, and corporates to have more influence on their financial outcomes, plus faster and better management. With Fintech becoming more and more an effective way to address certain key fundamentals to effectively use it, it will help ensure compliance and security aren't such a problem.
On that same note, the insurance sector also has a term for its innovative ways. Known as Insurtech, this is how you address companies who are using technology to positively disrupt the insurance industry. To improve the inefficiencies of previous providers, Insurtech is where technology meets insurance while ensuring more effective means are used. From mobile apps, real data, to Artificial Intelligence (AI), leading companies are paving the way in this market and solving problems for customers.
This brings us to another innovative technology called Blockchain. Best known for its crucial role in cryptocurrency systems, this system is a distributed database shared in the nodes of a computer network. In addition, Blockchain stores information electronically in a digital format while keeping transactions secure, decentralised, and immutable. All this is to facilitate the process of recording transactions and tracking assets – e.g., houses, land, money, patents, or copyrights – in business networks.
With this in mind, and to further develop these sectors, this EIC ePitching with Investors initiative is a valuable opportunity for selected EIC beneficiaries to pitch their innovations in front of jury members from top-class European investors in the Fintech, Insurtech, and Blockchain fields.
What's in it for you?
This exclusive service will include specific training and is an excellent opportunity to exchange experiences with fellow EIC companies.
You will benefit from:
An ePitching opportunity in front of top European investors.
Insights into the EIC fund and BAS activities.
One-to-One meetings between companies and investors (if selected).
Top-tier preparatory coaching sessions (including dry-runs).
When?
Take note: 27 June 2022, from 12:30 PM to 16:30 PM (CET).
Where?
Online. You can join the online session by clicking on the following Zoom link and making your registration to follow the event.
Who can apply?
All EIC-funded companies looking for a Seed to Series A funding and working on innovative solutions in Fintech, Insurtech, and Blockchain.
How can you be selected?
During the application process, you'll need to apply via the Dashboard and complete a company profile. Afterwards, your company profile will be shared with our investor jury, and they will make the selection based on their investment preferences.
This opportunity is brought to you by the EIC Business Acceleration Services. Should you have any questions regarding the event or your eligibility, please contact us through our contact page (choose 'EVENT - EIC ePitching with Investors on FinTech, Insurtech & Blockchain' as the subject).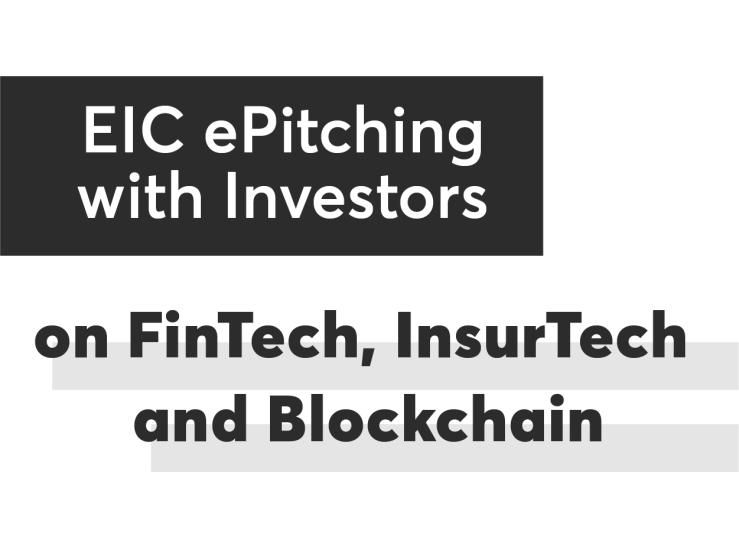 DISCLAIMER: This information is provided in the interest of knowledge sharing and should not be interpreted as the official view of the European Commission, or any other organisation.