The European Innovation Council (EIC) would like to invite all female (co)founded or led companies to join the online EIC ePitching on Healthcare & New materials on 13 June 2023. Those selected will be able to pitch their innovative business ideas to top European late-stage investors like Amadeus Capital Partners, Angels Santé/Angels for Health, BioGeneration Ventures, Capricorn Partners, eCapital, EQT Ventures, Gilde Healthcare, imec.xpand, Inventures Investment Partners, Invivo Capital, Molten Ventures, Panakès Partners, Shilling VC, Turenne Capital, V-Bio Ventures, Verve Ventures, Ysios Capital, and more are to be confirmed soon.
The deadline for applications under New Materials is extended until 1 May 2023!
The call for applications under Health is now closed.
Women entrepreneurs have always been behind game-changing innovations. To further raise awareness of the need to increase women in business and innovation, the EIC seeks to create opportunities to promote female- co(founded) or led companies and novel technologies to make this happen.
Tied into the EIC's Women Leadership Programme (EIC WLP), the European Innovation Council (EIC) is organising an online EIC ePitching on 13 June to showcase and connect the most innovative EIC-funded European companies in healthcare (including Biotech, Medtech and E-Health) and new materials (including sustainable materials).
Please note that when applying, you must select one of the two topics of interest above. 
What's in it for you?
This exclusive service will include specific training and is an excellent opportunity to exchange experiences with fellow EIC companies.
You will benefit from:  
An ePitching opportunity in front of top European VCs and CVCs.  

Insights into the EIC fund and BAS activities.  

One-to-One meetings between companies and investors (if selected).  

Top-tier preparatory coaching sessions (including dry-runs).
When?   
13 June 2023 from 10:00 AM to 14:00 PM (CET).   
Who can apply?   
This initiative is dedicated to all female (co)founders and leaders (CEOs). Applicants must ensure a woman is part of the founding team and should be the one presenting in case your company is selected. We are looking for companies in need of Seed to Series A funding with technologies and/or working on innovative solutions in the two areas mentioned above.
Selection process   
During the application process, you will need to fill in an application form. Afterwards, your company profile will be shared with our investor jury, and they will make the selection based on their investment preferences.  Also, please note that we reserve the right to not share incomplete profiles.
About the EIC Business Acceleration Services   
This opportunity is brought to you by the EIC Business Acceleration Services. To explore other opportunities to connect with investors, procurers and corporates in Europe, keep an eye on our events page.    
All participants are expected to fill out a brief satisfaction survey shortly after the event and a business impact survey after six months. Failure to do so may lead to exclusion from future Business Acceleration Services.   
Cancellation policy   
Cancellations will only be considered in duly documented cases of "force majeure". Unjustified cancellation can lead to exclusion in future Business Acceleration Services events. For additional information, please refer to our Helpdesk (please choose "EIC ePitching with female (co)founders and leaders in Healthcare & New materials" as the subject).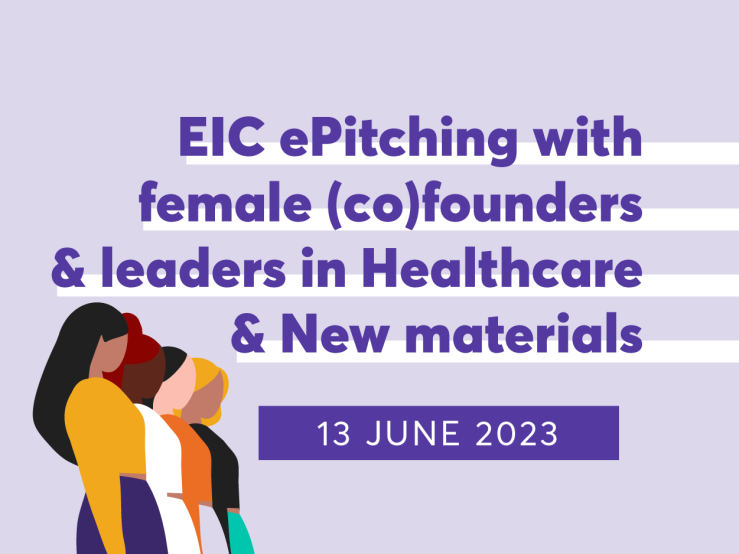 DISCLAIMER: This information is provided in the interest of knowledge sharing and should not be interpreted as the official view of the European Commission, or any other organisation.