Every month the European Innovation Council organises an 'EIC ePitching with Investors' around a dedicated topic. This time around, the EIC & Bpifrance-Euroquity are pleased to invite all eligible startups to participate in our next session dedicated to Aerospace and Aeronautics on 20 April 2023. The selected EIC-backed beneficiaries will be able to present their innovative solutions during an online event to a jury of top-class European investors such as Alpine Space Ventures, Expansion, Herius Capital, IQ Capital, Neo Ventures, NewSpace Capital, OHB Venture Capital, Promus Ventures, Seraphim, Vsquared Ventures, and many more to be confirmed soon.  
The applications are open until 19 March 2023.  
Make sure to apply, and don't miss this opportunity!  
Despite their similarities, Aeronautics and Aerospace engineering is different. While aeronautics is often associated with the design and construction of aircraft vehicles that operate within the earth's atmosphere (including planes, helicopters or drones), aerospace is the broader engineering field that includes the design and construction of both aircraft and spacecraft vehicles operating within and outside of the earth's atmosphere (space shuttles, launch vehicles or rockets).
With this in mind, and to further develop these two sectors, this EIC ePitching with Investors initiative is a valuable opportunity for selected EIC beneficiaries to pitch their innovations in front of jury members from top-class European investors in the Aerospace and Aeronautics fields.  
What's in it for you?  
This exclusive service will include specific training and is an excellent opportunity to exchange experiences with fellow EIC companies.  
You will benefit from:  
An ePitching opportunity in front of top European VCs and CVCs.  
Insights into the EIC fund and BAS activities.  

One-to-One meetings between companies and investors (if selected).  

Top-tier preparatory coaching sessions (including dry-runs).  
When?  
Take note: 20 April 2023, from 14:00 PM to 18:00 PM (CET).   
Where?  
Online. You can join the online session by clicking on the following Zoom link and making your registration to follow the event.  
Who can apply?  
All EIC-funded companies working on innovative solutions in Aerospace and Aeronautics.  
How can you be selected?  
During the application process, you'll need to apply via the Dashboard and complete a company profile. Afterwards, your company profile will be shared with our investor jury, and they will make the selection based on their investment preferences. Also, please note that we reserve the right not to share incomplete profiles.  
Please read the privacy statement for more information.  
   
This opportunity is brought to you by the EIC Business Acceleration Services. Should you have any questions regarding the event or your eligibility, please contact us through our contact page (choose 'EVENT - EIC & Bpifrance-Euroquity E-pitching on Aerospace & Aeronautics' as the subject).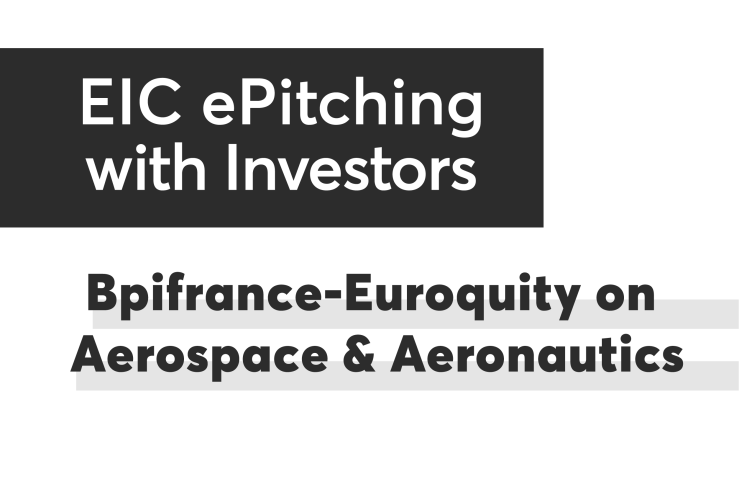 DISCLAIMER: This information is provided in the interest of knowledge sharing and should not be interpreted as the official view of the European Commission, or any other organisation.