The European Innovation Council Business Acceleration Services and Safran - an international high-technology group, operating in the aviation (propulsion, equipment and interiors), defense, and space market – invite you to gear up your business by applying to our EIC Corporate Day, taking place in Paris, France on 26 & 27 September 2022. Safran is looking for SMEs with innovative solutions in the area of fuel cells.
Safran is an international high-technology group, operating in the aviation (propulsion, equipment and interiors), defense and space markets. Its core purpose is to contribute to a safer, more sustainable world, where air transport is more environmentally friendly, comfortable and accessible. Safran has a global presence, with 79,000 employees and holds, alone or in partnership, world or European leadership positions in its core markets.
As a part of its Safran explore H2 (keep posted on more opportunities for the startups), Safran is now partnering with the EIC to find SMEs with scalable solutions that contribute to this purpose, especially with regard to fuel cell technology.
Interested in this opportunity?
Make sure to apply here until 17 June 2022 then!
The selected EIC beneficiaries to attend the EIC Corporate Day with Safran in Paris, France on 26 & 27 September 2022 will have access to pitch trainings provided by the EIC and will pitch their proposed solutions to Safran representatives. The pitching event will be at the Safran University in Paris, France. After the event, the intended goal is to engage in proof-of-concept (PoC) project(s) that validate the proposed solutions. If successful and viable, the solution(s) can be taken to a full commercial scale after completion of the PoC.
Who can apply?
Safran is looking for innovative EIC SMEs working on technology related to fuel cells:
Fuel Cell stacks:
Ultra-lightweight, corrosion resistant and conductive bipolar plates
High performance materials for 100°C+ operating MEA (Membrane-Electrode Assembly). Objective is to enable high performance and durability with a medium to high temperature PEMFC.
Sealing technologies, concepts and integration into a fuel cell stack, to keep up segregated fluids and reactants from each other and from external environment.
Clamping technologies, concepts and methods, to lightened non-active parts of fuel cell stacks.
Fuel Cell system and balance of plant. Light weight is a premium:
H2 liquid water separator and H2 humidity extractor
H2 control valves, capable of controlling a wide range of flow
H2 shut-off valves, back and forth (and conversely) leak tight 
Wide range flow H2 fuel cell recirculation system
Air humidifier system, with active or passive moisture control
Variable air turbine system able to control inlet pressure and provide mechanical power
Air control valves, capable of controlling a wide range of flow
Heating system using hydrogen, capable of transferring heat to a coolant flow
High power multisource electrical on-demand interconnect system
For PEM or SOFC fuel balance-of-plant air compressor and heat-exchanger that manages to reduce the total parasitic power requirement by least one half of the state-of-the-art (e.g., typically for state-of-the-art PEM it is around 30% of gross stack output)
Opportunities for selected EIC-funded SMEs
Privileged access to one of the world's leading companies with the potential to initiate strategic partnerships along with increased visibility and possible access to new markets.
Networking opportunities with relevant business counterparts based on your company profile.
Personalised online training on pitching techniques and Safran specifications before the event. 
Services related to support before, during and after the event.
Application
You can apply by clicking on the following link.
After logging in with your EU-Login, please fill in the respective form.
In your application form, you should:
Describe how your business meets the requirements of the Corporate Day with Safran
Explain what the expected specific synergies/outcomes for your potential business with the Corporation are
Please acknowledge the information you provide on the application form is shared with Safran to maximise potential benefits and ensure the effectiveness of meetings. Safran, based on its business interests, will select the final participants among the applicants.
The Business Acceleration Services will contact all applicants once the selection process finishes. However, this contact does not include feedback or recommendations for those not selected.
About the EIC Business Acceleration Services 
This opportunity is brought to you by the EIC Business Acceleration Services. The Business Acceleration Services provided are free of charge. Additional costs, such as travelling and accommodation, are not included. However, your EIC running projects might cover these as dissemination activities. Please check this possibility with your Project Officer or Key Account Manager. To explore other opportunities to connect with the largest corporates in Europe, keep an eye on our events page.
 
All participants are expected to fill out a brief satisfaction survey shortly after the event and a business impact survey after six months. Failure to do so may lead to exclusion from future Business Acceleration Services.
Cancellation policy
Cancellations will only be considered in duly documented cases of "force majeure". Unjustified cancellation can lead to exclusion in future Business Acceleration Services events. For additional information, please refer to our Helpdesk (please choose "EIC Corporate Day with Safran" as the subject).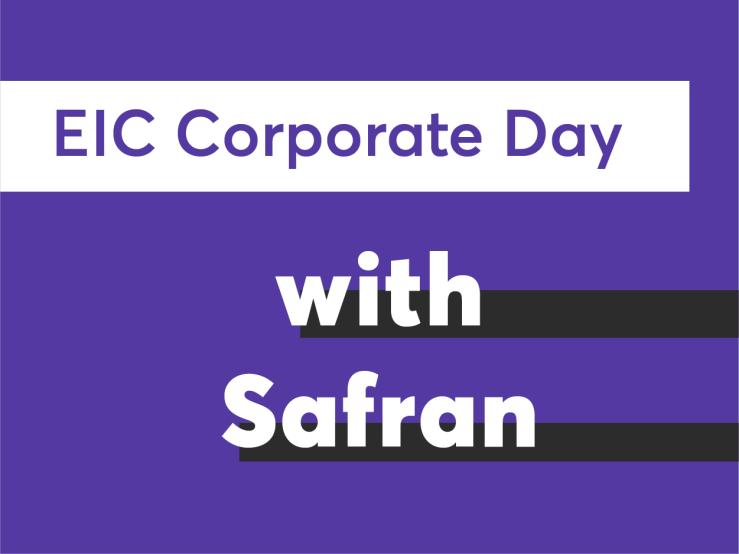 DISCLAIMER: This information is provided in the interest of knowledge sharing and should not be interpreted as the official view of the European Commission, or any other organisation.