For the second consecutive year, the European Pavilion returns to Arab Health, the largest gathering of healthcare and trade professionals in MENA region. In the context of EIC OTF Programme 2.0, the European Innovation Council (EIC) is pleased to announce the top European innovators to promote cutting-edge solutions in Arab Health 2023. The flagship event will take place in Dubai, United Arab Emirates, from 30 January to 2 February 2023.
Story
After the exhaustive evaluation, the companies to represent the European Pavilion were selected based on concrete internationalisation goals, technological fit with the scope of the trade fair, as well as their contribution to EU strategic autonomy and/or the image of the EU as technology powerhouse, among other criteria. 
From state-of-the-art imaging equipment to the most cost-effective disposables; developments in surgery to advances in prosthetics, Arab Health continues to be at the heart of healthcare in the Middle East. This allows European exhibitors to stay current with the latest trends and advancements, as well as keep ahead of competition in one of the fastest growing medical destinations.  
The 20 EIC-funded companies that will exhibit their advanced technologies are:
In view of the flagship trade fair for the medical sector, the European delegation participated in a one-day online preparatory workshop on 23 November. The briefing served to adequately prepare the selected participants about the market situation, growth potential, and business culture in United Arab Emirates. On top of this, the workshop's agenda included practical aspects regarding the logistics and business services offered.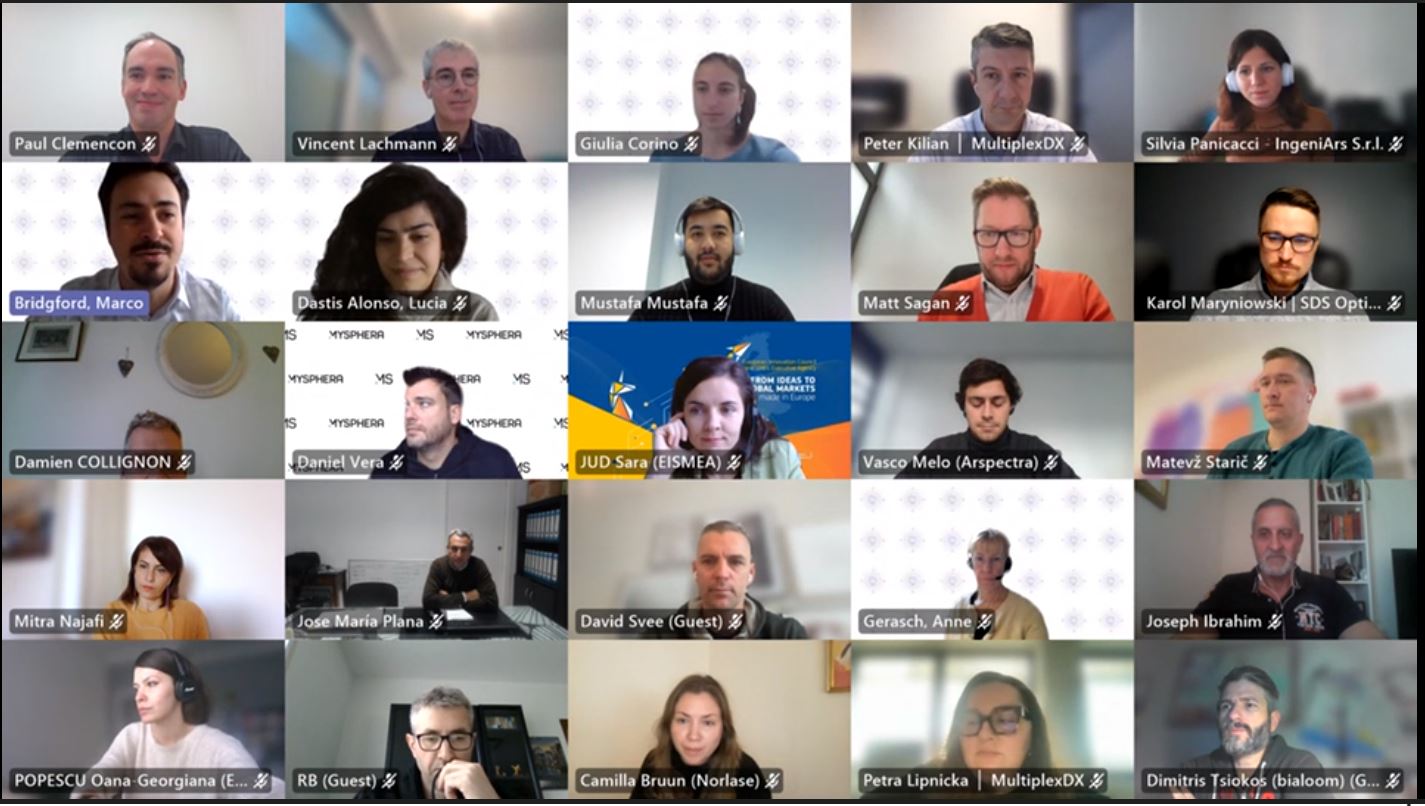 In attendance were guest speakers, who covered crucial topics regarding Arab Health 2023. Ross Williams the Exhibition Director at Informa Markets, informed the delegation on the unlimited networking, programming and partnering opportunities of the leading tradeshow. 
Former participants in EIC OTF Programme 2.0, Karol Maryniowski, Marketing, Communication and IR Manager at SDS Optic, shared hisvaluable experience, offering tips for a successful exhibition. «Arab Health is a great window towards the health market and an excellent opportunity to promote our company, products and capabilities. The support received from the EIC OTF team is invaluable, as both the work efforts and cost related to such a participation in many cases would exceed the resources available», highlighted Mr. Maryniowski.
More on the EIC OTF Programme 2.0?
Visit EIC OTF Programme 2.0 for additional information and the EIC Community Platform to explore news, open calls, stories and OTF-related events. 
If you are interested in applying to the upcoming trade fairs under the EIC OTF Programme 2.0, please check the following open calls:
Watch the EIC OTF Programme 2.0 – Application Dos & DONTs video in order to find out how you can submit a successful application and maximise the chances of being selected.
Should you have any questions on the Programme, please do not hesitate to contact us through the EIC Community Helpdesk (please select the category "EIC OTF Programme" as the subject)