On 24-27 January 2022, 18 pioneering EIC- funded SMEs, startups and scale-ups with breakthrough health solutions met in Dubai, UAE on the occasion of Arab Health 2022, the leading medical equipment exhibition in the Middle East. 
Under the theme ''United by business, forging ahead'', Arab Health 2022 brought together almost 60.000 attendees with more than 3500 exhibitors from 60 countries, delivering a platform to cutting-edge technology and the latest innovation designed to tackle the most pressing health challenges. 
The European Pavilion hosted a diverse range of ingenious technologies, including digital health products (remote sensing and wearables, telemedicine, predictive modeling, wellness behavior modification tools) and medical devices. During the business exhibition, the selected companies had the unique opportunity to engage and network with countless healthcare and trade professionals around the MENA region.
"Innovation is key to do business overseas. We are proud to offer European SMEs the opportunity to scale up their game-changing ideas globally", highlighted Stephane Ouaki, Head of Department of European Innovation Council. 
In an interview with Omnia Health, Veronica Beneitez Piñero, Deputy Head of Transition and Business Acceleration Services Unit at European Innovation Council,  mentioned: "We support groundbreaking ideas that help society find the path to new therapies, but we also seek an economic revolution in health technologies, making Europe the most innovative economy and an engine of creation and growth of market leading companies that can offer competitive solutions at global level. Arab Health is the place to be to do the right contacts in the health sector at MENA region''. 
''At Arab Health 2022, the European Pavilion is showcasing an extraordinary selection of 18 companies gathering from 13 different countries, from Sweden to Spain and even Israel. They are heterogeneous on their technologies but all of them have at least 3 things in common: firstly, they all have developed a high-level innovation, secondly, they have a clear business plan for growth and expansion at global level and thirdly, all of them have been selected and have received funding and support from the European Innovation Council, what implies an outstanding level at European standards'', concluded Mr. Ouaki.
The popular start-up competition Innov8 Talks featured 24 companies in various stages of maturity, with each showcasing creative solutions in prevention, management, operations and diagnostics in the healthcare industry. Among the finalists, Tada Medical from the European Pavilion presented ReLink, an advanced breakaway connector for IV tubes.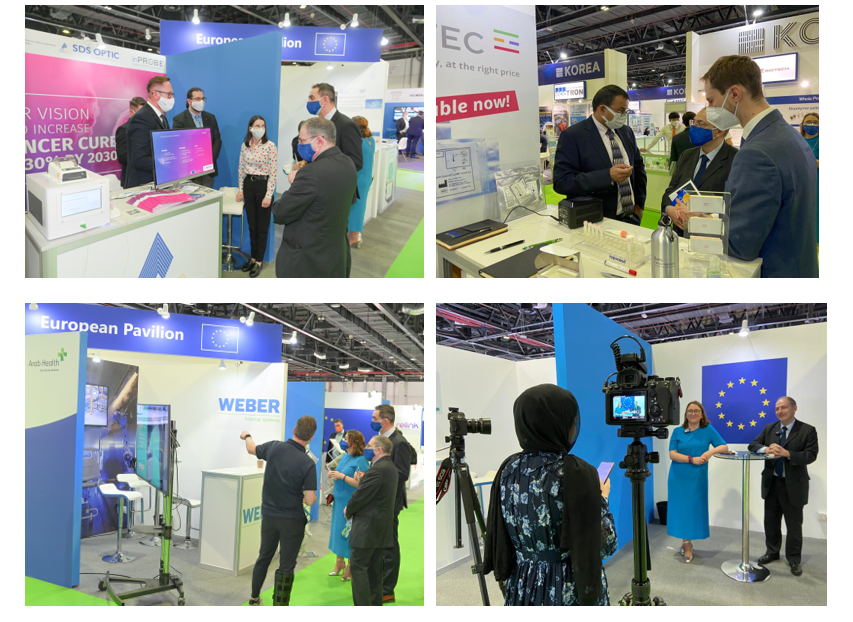 ''We are so glad to have been selected by the European Innovation Council to join the European Pavilion. This is the first time for LightSpace Technologies to attend Arab Health. It's amazing that we are among key players in the market. Our expectation is to generate relevant contacts and attend great matchmaking meetings'', pointed out Madara Kalniņa-Kalnmale, CEO of LightSpace and selected participant of EIC OTF Programme 2.0.
On behalf of Tada Medical, Katarina Hedbeck, CEO & Co-founder, mentioned: ''It's fantastic to be at a live event and meet all these people from all over the world who are eager to learn about the ReLink device. All the years we have invested in fine-tuning our breakaway connector, with the insights from our brilliant network of nurses, have paid off''.  
To find out more on the European SMEs that participated at Arab Health 2022, please click on the following link. 
About EIC Overseas Trade Fairs Programme 2.0
The EIC Overseas Trade Fairs (OTF) Programme 2.0 supports EIC-funded SMEs, start-ups and scale-ups to develop their large-scale commercialisation strategy in foreign markets and leverage entrepreneurial opportunities at global innovation hubs, strengthening the European Union's (EU) brand around the world. 
Building on the success of the Pilot OTF Programme, which took place between 2017-2018, the EIC OTF Programme 2.0 is running throughout 2022 and 2023, offering EIC beneficiaries the unprecedented opportunity to showcase their unconventional ideas at 15 international trade fairs in diverse sectors across four extra-EU markets.
Check the EIC OTF Programme 2.0 website for additional information and the list with the upcoming trade fairs. The EIC OTF Programme 2.0 continues its journey at BIO International Convention in San Diego, USA (June 2022) and Florida International Medical Expo in Miami, USA (July 2022). For stories, open calls and events, you may also visit the EIC Community Platform. To follow the latest news and learn more about getting involved, please visit the EIC's official social media accounts on Twitter and LinkedIn.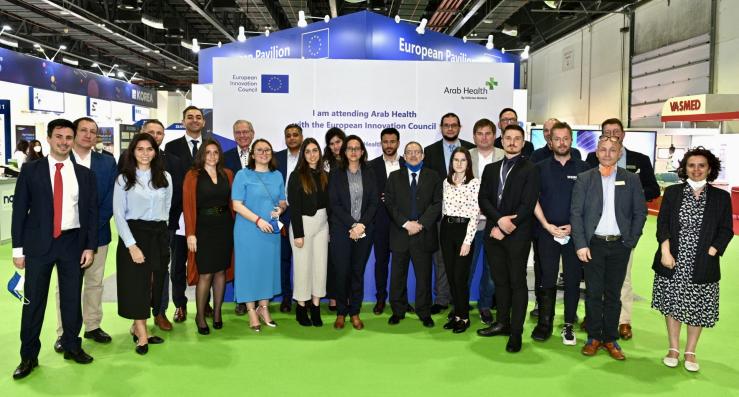 DISCLAIMER: This information is provided in the interest of knowledge sharing and should not be interpreted as the official view of the European Commission, or any other organisation.