On 10-14 October 2022, 20 of the most promising EIC- funded SMEs, startups and scale-ups with outstanding digital solutions, met in Dubai, UAE at GITEX 2022. The biggest technology event in Middle East brought together key international industry players and pioneering innovators, ensuring that attendees will gain insights and strengthen business ties with global tech giants. 
The European Pavilion stood out in this year's tradeshow, featuring the latest developments in crucial sectors, such as 5G, artificial intelligence, cloud technology, cybersecurity, FinTech, blockchain, data analytics and smart cities.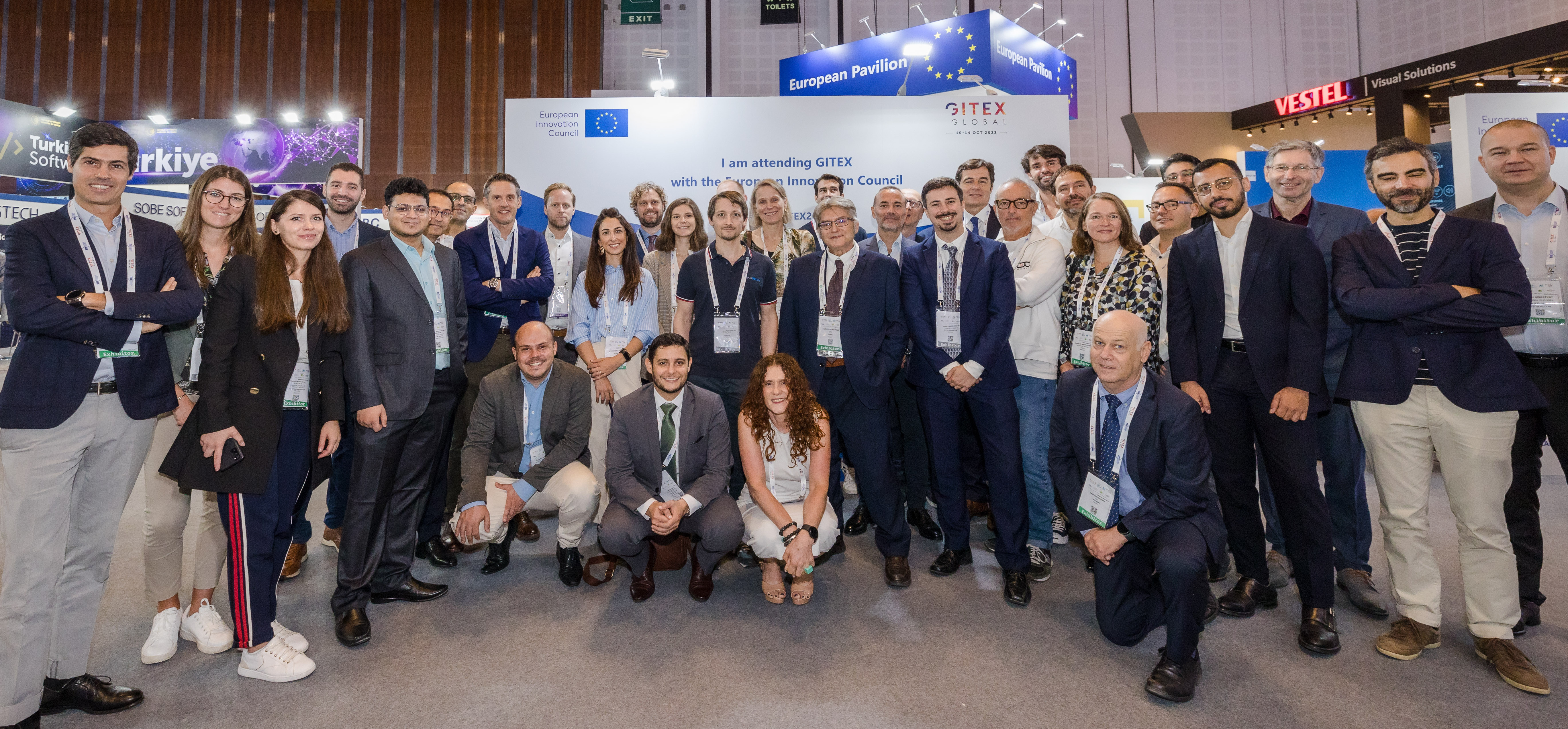 Smashing geographic boundaries, North Star Dubai welcomed the biggest international names in the tech world and hosted the world's largest start-up event, in which 5 companies of the European Pavilion (JADBio, OrbitalAds, OutThink, Svelte and TreaTech) impressed the audience with their outstanding advancements. Being a part of the European Pavilion, 4 EIC-backed companies (Neurolytics, CardLab Innovation, Solarbox and DUNE) participated in diverse pitching sessions and speaking opportunities, presenting their revolutionary solutions.
Over the course of the five-days tradeshow, the European presence was prevalent during the conference sessions; Anne-Marie Sassen, Head of Unit Programme Managers office at EISMEA, participated in a high-level panel discussion on Digital Inclusion: Aligning Regulators & Network Providers to Bridge the Digital Divide, highlighting the importance of digital transformation and social inclusion. 

Among the key highlights stands out the ''Move The World'' Startup Innovation Cup 2022, where BIEL GLASSES, a selected Spanish company part of the European Pavilion delegation, had been chosen as a finalist and won the first prize. The start-up competition featured innovative early and middle stage start-ups from across the globe, pitching their revolutionary ideas and battling on stage. The goal was to empower entrepreneurs and foster an ecosystem of innovation by targeting high-impactful start-ups to showcase their disruptive ideas and reimagine the current processes that will transform various industries. The winners received prizes and benefited from a range of activities, including access to cutting-edge tech, legal support, mentorship, coaching, media exposure and networking opportunities from experts in the field.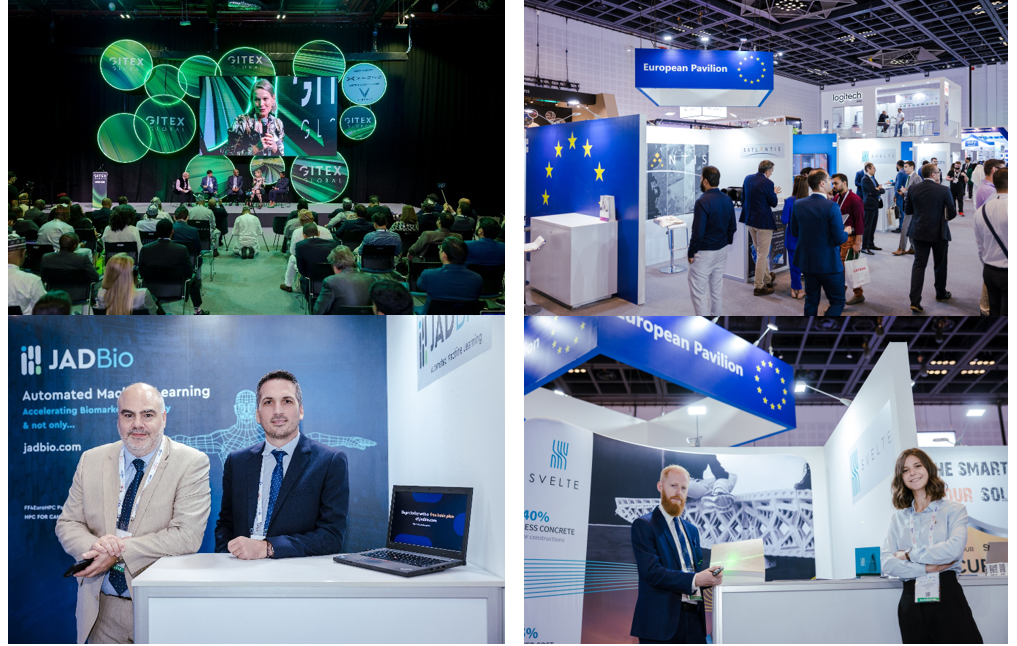 With a wide variety of conference programmes, 1000+ expert speakers, 5000+ exhibitors and 100000+ attendees from 170+ countries, GITEX gathered the world of technology in one place and united the most influential ecosystems, advancing business, economy, society and culture. Through thought-provoking sessions, interactive exhibit halls and limitless business opportunities, attendees networked with European leaders and innovators.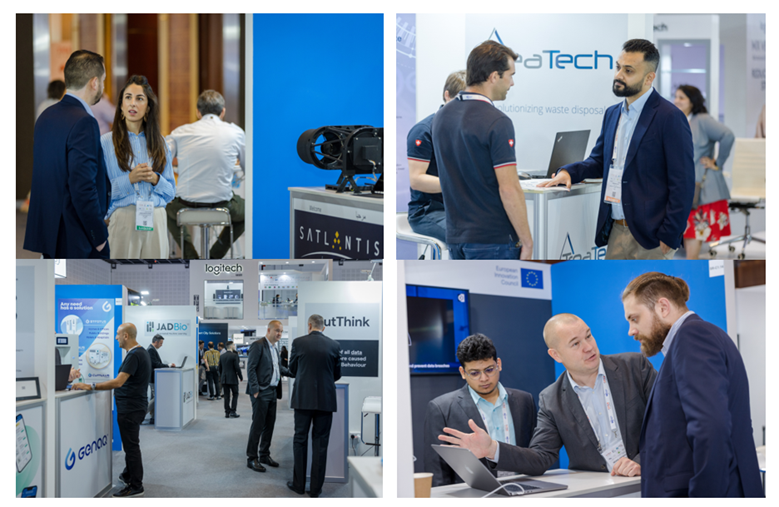 To find out more on the European SMEs that participated in GITEX 2022, please read this article. 
About EIC Overseas Trade Fairs Programme 2.0
The EIC Overseas Trade Fairs Programme 2.0 supports EIC-funded SMEs, start-ups and scale-ups to develop their large-scale commercialisation strategy in foreign markets and leverage entrepreneurial opportunities at global innovation hubs, strengthening the European Union's (EU) brand around the world. 
Building on the success of the Pilot OTF Programme, which took place between 2017-2018, the EIC OTF Programme 2.0 is running throughout 2022 and 2023, offering EIC beneficiaries the unprecedented opportunity to showcase their unconventional ideas at 15 international trade fairs in diverse sectors across EU and extra-EU markets.
Check the EIC OTF Programme 2.0 website for additional information and the list of the upcoming trade fairs. The EIC OTF Programme 2.0 continues the innovation journey MEDICA (November 2022) in Düsseldorf, Germany and CES Las Vegas (January 2023). For stories, open calls and events, you may also visit the EIC Community Platform. 
To follow the latest news and learn more about getting involved, please visit the EIC's official social media accounts on Twitter and LinkedIn.