The European Innovation Council (EIC), within the Greenhouse Gas Programme (GHG), has developed a dedicated GHG Tool to support beneficiaries in the assessment of their company's carbon footprint. Given their core business, Geopredict, a German-based startup, joined the GHG Tool initiative. We met with Frank Lemke, founder and CEO, to discuss his participation and the current status of his GHG actions.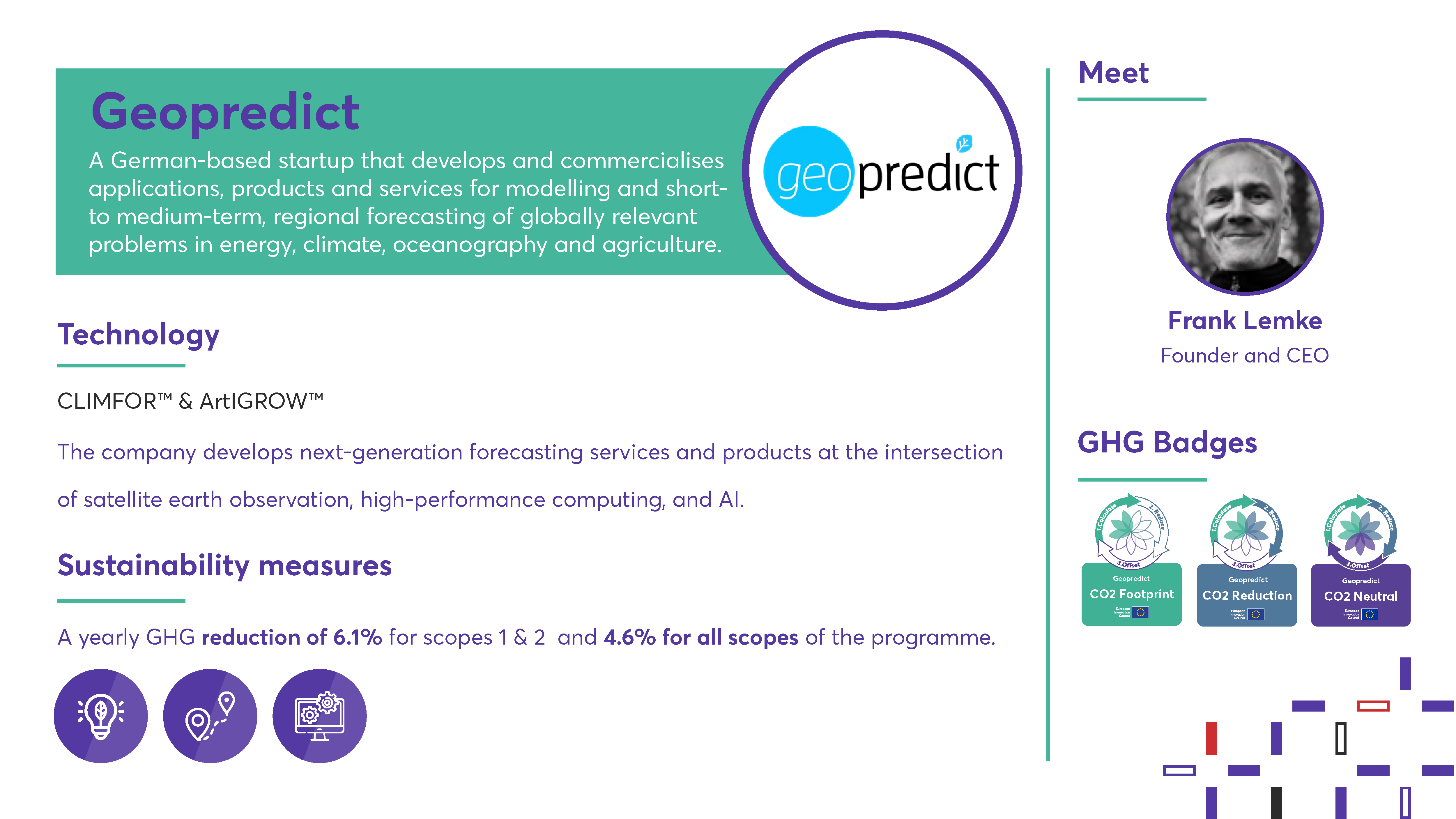 Can you briefly describe your role in Geopredict?  
I'm the founder and CEO of Geopredict GmbH. 
Could you describe your innovation and its positive contributions? 
We develop a high-resolution spatiotemporal forecasting service called CLIMFOR™, based on satellite Earth Observation data that fills the large predictive information gap between traditional weather forecasting and current long-term climate projections. 
Our CLIMFOR™ innovation drives various other forecasting services for smart decision support and operations in weather-dependent application fields such as energy, responsible agriculture, or marine. For example, we are providing our renewable energy production forecasting solution SEED™ to Indian energy companies for implementing regulatory requirements. 
We have another upcoming project called ArtIGROW™, which consists of spatially highly resolved crop growth forecasting that will help farmers in the region of Mecklenburg-Western Pomerania to improve their short- to long-term planning and operational needs in the context of a changing climate. 
Tell us how participating in the EIC GHG Programme has strategically helped your company so far. 
We believe that climate-change-related regulations in the EU and Germany will only increase and get stricter. This will put rising economic and organisational pressure on companies. As an SME, it's important to anticipate possible developments of strategic relevance to be better prepared and more resilient to external influences. Here, the various webinars of the EIC GHG Programme helped us get a better understanding of the problem and look into different solutions.  
Did the EIC GHG Tool help you increase your awareness of the amount of GHG emissions generated by your company? If yes, could you elaborate? 
The EIC GHG Tool has been a big help in quantifying the GHG emissions that Geopredict generates. It allowed us to identify our major emission factors per scope and which reduction measures we can take. The emissions overview and the graphical representations which have been added are also very welcome tools for better insights and management of the company's sources of GHG emissions.  
What is the status of your participation (regarding the Badges/CO2 Neutral Label/GHG Tool initiative)? 
We have been granted all three badges, the CO2 Footprint badge, the CO2 Reduction badge and the CO2 Neutral label.  
Did the input received from the GHG experts contribute further towards the green transition journey? 
The sessions with the GHG experts helped us with assigning specific emission values to the GHG tool and we learned about green investment opportunities for becoming CO2 neutral.  
What measures did you implement or wish to implement? 
In the coming years, we are planning to: 
Subscribe to a green electricity procurement 
Promote active and short-distance mobility 
Extend the lifespan of IT devices  
 This will allow us a yearly GHG reduction of 6.1% for scopes 1 & 2 and 4.6% for all scopes of the programme. 
How did the measures you implemented affect positively your return on investment (economically, environmentally, socially, etc.)?  
Given we started implementing measures only recently, we expect a positive impact on our reputation, credibility, and attractivity strategically. Our goal is to become a company where employees enjoy working on challenging solutions and are committed.  
What are the most interesting elements provided by the GHG tool compared to other similar tools? 
The EIC's GHG Tool was the first tool of its kind we tried. We enjoy its clean structure, its simplicity to enter data per calendar year, and the analysis tools of the Track section. 
Additional information  
About Geopredict  
Geopredict is a geo-forecasting knowledge factory run by a motivated, open-minded, committed, international team with a proven track record in key areas such as Machine Learning, software development, climate, and energy forecasting.  
The company develops next-generation forecasting services and products at the intersection of satellite earth observation, high-performance computing, and AI. It addresses industrial and societal challenges of high-resolution spatiotemporal forecasting in energy, climate, oceanography, agriculture, and geology. Geopredict has received several competitive grants from the European Innovation Council, the European Space Agency, and the German national and regional funding programs to support the company's innovation. The company takes responsibility for current global challenges and sustainable development. 
About the EIC Business Acceleration Services   
This opportunity is brought to you by the EIC Business Acceleration Services. To explore other opportunities to connect with the largest corporates in Europe, keep an eye on our events page.     
EIC GHG Summit   
The EIC will host its second Summit on 7-8 December 2022 in Brussels, Belgium. Hosted at the EIC Summit is the GHG programme where you can come, meet and network with fellow GHGers!  
About the EIC GHG Programme        
With the EIC GHG programme, part of the Business Acceleration Services, the EIC offers its beneficiaries a dedicated GHG tool, the GHG Badges & CO2 Neutral Label initiative, and further resources.     
In addition, co-creation activities with corporates, industrial associations, regions in carbon transition and other EIC beneficiaries are taking place on a regular basis.