The EIC Overseas Trade Fairs (OTF) Programme 2.0 continues the innovation journey to top business destinations and invites you to submit your application for GITEX 2022, UAE's most eagerly anticipated event. The leading tradeshow will take place from 10 to 14 October 2022 in Dubai and it is set to unite the tech world with the year's biggest and most mind-blowing showcase of enterprise solutions. 
GITEX constitutes the most influential meeting place for the technology industry, bringing together thought leaders and innovators to discuss, debate and challenge current sector trends, showcase revolutionary products and identify future opportunities.
With 6 themes under one roof, conference programmes with 1000+ expert speakers, 4000 exhibitors and more than 200 government entities from 170 countries, the trade fair provides a strong business platform for tech giants, creative start-ups and enterprises. Meet international leaders, innovators and policymakers as they discuss new ideas from mission critical cloud, IoT and cybertech to breakthroughs in artificial intelligence, the metaverse, quantum computing, programming, and sustainability.
If you are interested in pitching your advanced innovations globally, establish strategic partnerships and leverage extraordinary business opportunities, GITEX 2022 is the ideal tradeshow for interaction, engagement and networking. 
Applications will remain open until 7 June 2022. 


What's in it for you?
EIC-funded SMEs, start-ups and scale-ups, who will be selected to attend GITEX 2022, will have access to unique business services, including pitching, matchmaking support, a free booth to exhibit their innovations within the European Pavilion, mentoring services, and the reimbursement of 50% of all expenses up to EUR 1 000.
Who can apply?
GITEX 2022 is looking for EIC-funded SMEs, start-ups and scale-ups working on innovative technologies in the following fields: 
Telecom & 5G
Energy
Digital Cities & Artificial Intelligence
Healthcare
Future Mobility
Cybersecurity
Data Economy
Marketing Technology (Martech)
Application  
After logging in with your EU-Login credentials, please fill in the corresponding form and answer all the questions. 

You will be assessed on the following criteria:
Your plan to internationalise your innovative products and services overseas.
The expected impact of your participation to the trade fair.
The fit of your innovative products and services with the trade fair.
Your commitment of financial and human resources for participation to a trade fair. 
 Your contribution to EU strategic autonomy and/or the image of the EU as technology powerhouse.
Please notice that the information you provide on the application form will be shared with external experts in order to maximise potential benefits and ensure the effectiveness of meetings. 
The OTF team will then contact all applicants once the selection process has been concluded and inform each applicant of the outcome of their application. 
About the EIC Overseas Trade Fairs Programme 2.0
The EIC OTF Programme 2.0 supports EIC beneficiaries to promote their commercialisation strategy in foreign markets and leverage business opportunities at the most popular trade fairs, strengthening the EU innovation brand around the world. Selected EIC-funded SMEs, start-ups and scale-ups from EU Member States and associated countries have access to the Programme.
The EIC OTF Programme 2.0 is running throughout 2022 and 2023, offering EIC beneficiaries the opportunity to attend 15 international trade fairs in different sectors across EU and extra-EU markets (Southeast Asia, the United Arab Emirates and the United States of America).
Should you have any question, please contact us through the EIC Community Helpdesk (please select the category "EVENT – EIC OTF Programme – GITEX 2022'' as the subject).
Cancellation policy
Cancellations will only be considered in duly documented cases of "force majeure". Unjustified cancellation can lead to exclusion in future EIC Business Acceleration Services initiatives.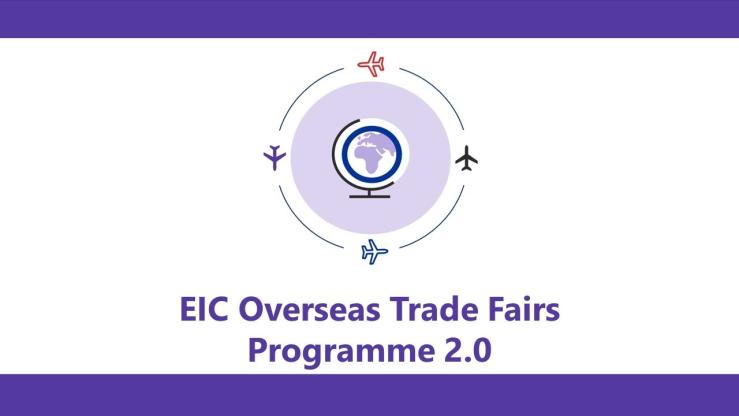 DISCLAIMER: This information is provided in the interest of knowledge sharing and should not be interpreted as the official view of the European Commission, or any other organisation.