The EIT Climate-KIC is working together with the European Innovation Council (EIC) Business Acceleration Services to offer you a new programme, in which 80 EIC accelerator startups, scale-ups or SMEs will be able to participate. EIT Climate KIC will help you understand, measure, and forecast how your product or service mitigates climate change. Companies will be invited into the programme on a first-come first-served basis.
Are you interested? Apply here until 31 January 2022!

 
What's in it for you?
During this five-month programme you will be working directly with climate and life-cycle-assessment experts. In the programme, you will be supported with tools, methodologies and through coaching to help you understand, measure, and forecast the CO2 emissions of your product or service innovation and compare them to the business-as-usual solution. 
You will get to understand the basic concepts of climate mitigation impact. In a first step you will develop a climate impact hypothesis of your key product or service. Through training sessions, you will be able to turn your climate impact hypothesis into a more detailed forecast. 

At the end of this programme, you will get the climate mitigation impact in CO2 eq. of one of your key products or service innovations validated and certified.
You will receive the certification in form of a digital report, which you can use to show investors, customers, suppliers, and your community how your product or service innovation mitigates climate change.
The programme will be offered from January 2022 to June 2022, with several different start dates. After registration, the team will be in touch with you to determine your start date. In addition, you will have access to the online Climate Impact Forecast Tool for the entire year!
Who can apply?
EIC Accelerator beneficiaries - current or from the last five years: startups, scale-ups or SMEs that claim to have a climate mitigation impact and have previously been supported by the EIC.
How to apply?
To apply for this programme please fill out the application form that you can find here. 
Applications are open until the 31st of January 2022 midnight CET.
Do you have any questions?
More information can be obtained in two upcoming questions and answers (Q&A) sessions:
The first Q&A session will be held on the 15th of December 2021 at 11am CET.
The second Q&A session will be held on the 18th of January 2022 at 3pm CET. 
If you are interested in joining one of the sessions, please send an email to alexandros.nikopoulos@climate-kic.org.
About Climate-KIC 
EIT Climate-KIC is the EU's climate innovation initiative, working to accelerate the transition to a zero-carbon and resilient world by enabling systems transformation. Headquartered in Amsterdam, it operates from 13 hubs across Europe and is active in 39 countries. Find out more at www.climate-kic.org.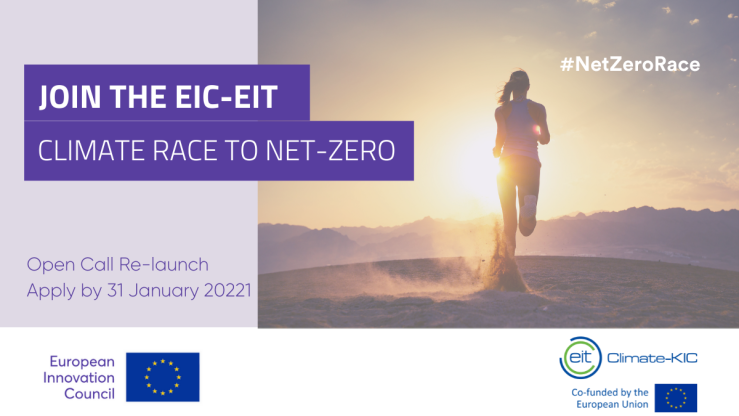 DISCLAIMER: This information is provided in the interest of knowledge sharing and should not be interpreted as the official view of the European Commission, or any other organisation.