What if we told you the European Innovation Council (EIC), CaixaBank and AgroBank are offering you the exclusive opportunity to scale up your business? As part of a pilot project, this Innovation Procurement initiative offers EIC-funded companies the chance to help Spanish and Portuguese rural areas develop by using innovative solutions and sustainable technologies in agriculture and reach final customers in Spain and Portugal.
Applications are open until 21 January 2022.
Make sure to apply here!
CaixaBank, a leading financial group in retail banking in Spain and Portugal with more than 20million customers and 5000 bank branches, is keen on putting its quality, trust, and social commitment values to good use. By using AgroBank, CaixaBank's leading business line & bank in the agricultural sector with half a million target clients (farmers, small agro-communes, among others), CaixaBank has teamed up once again with the EIC to support SMEs and provide them with the chance to make a positive contribution. The objective of this initiative? To bring the business ecosystem closer to different rural areas across Spain and Portugal and jointly develop innovative projects and ideas that respond positively to the needs of agriculture and its daily challenges.
What's in it for you? The possibility of having top-tier specialised coaching and support from the EIC, plus having AgroBank use their sales force to promote your innovative solution. In addition, you will have the opportunity of having new financing services and procurement models to stimulate your business and have further visibility. So, save the date: this joint journey between the EIC, CaixaBank and AgroBank kicks off with an event during springtime 2022 (date & location TBD).
With that in mind, the EIC, CaixaBank and AgroBank are looking for EIC beneficiaries working on innovative solutions and leading technologies in Agrotech in the following areas:
Data, Monitoring & Geolocation

 

IoT
Big Data
Satellite imagery
Platform management
Blockchain
Robots & Digital Process

 

Process automatization (end to end)
Vertical green
Change in production
Models
Labour management
Biotech

 

Biotechnology
Genetic technology
New fertilisers
Sustainability, Biodiverse & Circular Economy

 

Carbon and hydric footprint
Reforestation
New products for the circular economy
Water Efficiency & Energy

 

Energy self-consumption
Batteries
Water purification and desalination
E-commerce & Farm to fork

 

Marketplaces
Farm to fork
New business models
Who can apply?
EIC beneficiaries – current or that previously worked with the EIC (including SME Instrument, FTI or/and FET programme since 2014) - that are startups, scale-ups or SMEs with ready for the market innovative solutions in the Agrotech areas described above and looking for new final clients to scale up their business.
How to apply?
To apply for this EIC x CaixaBank Innovation Procurement pilot in Agrotech, please fill in the application form available here. Don't forget, applications are open until 21 January 2022 at midnight (CET).
Please acknowledge the information you provide on the application form will be shared with CaixaBank and AgroBank to maximise potential benefits and ensure the effectiveness of meetings. CaixaBank and AgroBank, based on their business interests, will select the final participants among the applicants. 
The Business Acceleration Services will contact all applicants once the selection process has been concluded. However, this contact does not include feedback or recommendations to those not selected.
About the EIC Business Acceleration Services
This opportunity is brought to you by the EIC Business Acceleration Services. To explore other opportunities to connect with the largest corporates in Europe, keep an eye on our events page.
All participants are expected to fill out a brief satisfaction survey shortly after the event and a business impact survey after six months. Failure to do so may lead to exclusion from future Business Acceleration Services.
Cancellation policy
Cancellations will only be considered in duly documented cases of "force majeure". Unjustified cancellation can lead to exclusion in future Business Acceleration Services events. For additional information, please refer to our helpdesk (please choose 'EIC x CaixaBank Innovation Procurement in Agrotech' as the subject).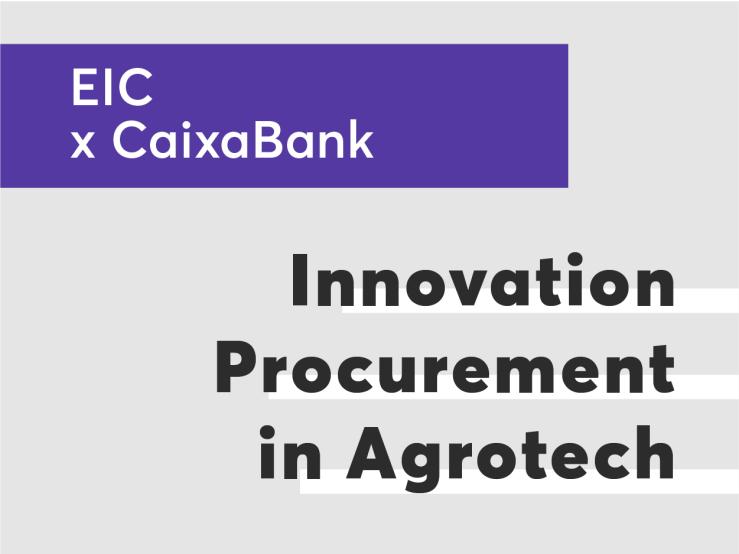 DISCLAIMER: This information is provided in the interest of knowledge sharing and should not be interpreted as the official view of the European Commission, or any other organisation.