The European Innovation Council (EIC), via its Tech to Market Business Acceleration Services (BAS) Programme, is offering its Pathfinder & Transition beneficiaries a series of TED Talk-style webinars to discuss trending topics that are relevant to researchers and early-stage innovators. So, save the date: the first two webinars are scheduled for 10 March and 19 April 2022.
Feeling interested in this opportunity?
Make sure to mark your calendar for 10 March & 19 April and apply here!
Staying ahead in leading research and technology development is pivotal. That's why the EIC's Tech to Market BAS Programme is the obvious path to take and joining these EIC Innovation Talks - Webinar Series will certainly help you create further business opportunities.
To offer Pathfinder and Transition beneficiaries access to meaningful initiatives, each webinar session will cover a specific matter of interest during a one hour-format. The intention is to bring relevant and current topics for discussion and engage with innovators and researchers in order to boost their entrepreneurial path.
What to expect from the two-day webinar series?
1st Webinar – Tips from early-stage investors: how to get investment-ready?
When: 10 March 2022, from 10:00 to 11:00 (CET). Please note that the deadline to apply is 7 March 2022.
Meet our speakers:
Almudena Trigo Lorenzo | Founding Partner & Chairwoman at BeAble Capital
Sónia Magalhães | CFO & Partner at Fast Track VC and Managing Partner at Kleber Capital
2nd Webinar – The basics of Intellectual Property (in collaboration with the European IP Helpdesk)
When: 19 April 2022, from 10:30 to 12:00 (CET). Please note that the deadline to apply is 15 April 2022.
Meet our speaker:
Michele Dubbini | Senior IP Expert at European IP Helpdesk Training Team
Who should attend?
The application is only for EIC Pathfinder and Transition beneficiaries, acting either as individuals or representatives of a consortium. EIC Accelerator beneficiaries are not eligible for participation.
EIC Business Acceleration Services
The Business Acceleration Services provided are free of charge. All participants are expected to fill out a brief satisfaction survey shortly after the event, and a business impact survey after six months. Failure to do so may lead to exclusion from future Business Acceleration Services.
This opportunity is brought to you by the EIC Business Acceleration Services. To explore other opportunities to connect with the largest public and private procurers in Europe, keep an eye on our events page.   

 
Cancellation policy
Cancellations will only be considered in duly documented cases of "force majeure". Unjustified cancellation can lead to exclusion in future Business Acceleration Services events.
Should you have any questions regarding the event or your eligibility, please contact us through our contact page (please choose "EIC Innovation Talks: Webinar Series" as the subject).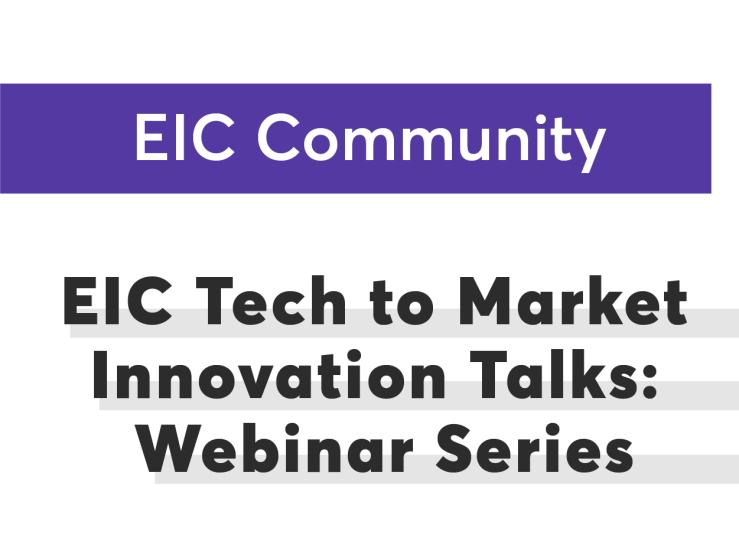 DISCLAIMER: This information is provided in the interest of knowledge sharing and should not be interpreted as the official view of the European Commission, or any other organisation.