The European Innovation Council (EIC) Business Acceleration Services and AB inBev invite EIC beneficiaries to apply to a physical EIC Corporate Day on 26/27 June in Leuven, Belgium. This specially designed service is meant to gear up collaboration with the global drink and brewing company. EIC innovators with solutions to challenges such as Bioprocessing, Packaging Circularity and Health & Wellness are invited to apply.
Make sure to APPLY until 19 May 2023
With a diverse portfolio of well over 500 beer brands including global brands Budweiser®, Corona® and Stella Artois®, AB inBev is no stranger to many a fridge. Moreover, having worked together with the EIC on several different events over the past years, the global drink and brewing company is well acquainted with the EIC, its innovators and how to forge strong startup collaborations (read more about collaborations coming from earlier events). Now the Belgian corporate is back with new challenges for you to apply to.
EIC beneficiaries selected to attend the EIC Corporate Day with AB inBev on 26/27 June 2023 will have access to specific training for pitching, pre-arranged meetings with top decision-makers from AB inBev, and the possibility to network with high-level partners and like-minded innovators in a dedicated event at AB inBev's HQ, located in Leuven, Belgium.  
Who can apply?  
This is an exclusive call for EIC beneficiaries. Applications are open for EIC beneficiaries that can provide innovative solutions to the following ABinBev challenges:   
Challenge 1: Co-products
Upcycle opportunities for Co-products (beer spent grain and yeast).
Challenge 2: Bioprocesses
Create superior products by leveraging microorganisms.
Challenge 3: Health & Wellness
Explore potential novel functional beverages in the non-alcoholic space.
Challenge 4: Packaging circularity
Reduce single-use materials and maximise recycled content for primary packaging.

Reduce single-use materials and maximise recyclability for secondary and tertiary packaging.
Challenge 5: Dispense
Alternative refrigeration methods for a reduced environmental impact
Sustainable primary packaging foil with very low oxygen permeability for bag-in-box applications

Miniature refrigeration system with 20W cooling power at ΔT=40°C and total size of the system preferably under 1000 cm3

Contactless ID tag/code on CPG packaging and a reader for use by consumers, cheaper than what is existing on the market. Does not have to be an electronic tag.

Affordable device or method for determining remaining volume in a collapsible package, with an accuracy of ±5ml / ±0,1% 
Opportunities for selected EIC beneficiaries 
Privileged access to one of the world's leading companies with the potential to initiate strategic partnerships along with increased visibility and possible access to new markets.  

Networking opportunities with relevant business counterparts based on your company profile.  

Personalised online training on pitching techniques and AB InBev's specifications before the event.  

Services related to support before, during and after the event.  
Application   
EIC beneficiaries can apply by clicking on the following link.
After logging in with their EU-Login, please fill in the respective form.   
In the application form, you should include the answer to the questions:   
What is your business compliance with the matchmaking event?   

What are your expected specific synergies/outcomes for your potential business with the corporation?   
Please acknowledge the information you provide on the application form is shared with AB inBev to maximise potential benefits and ensure the effectiveness of meetings. 
Please read the privacy statement for more information. 
Based on its business interests, AB inBev will select the final participants among the applicants. The Business Acceleration Services team will contact all selected applicants once the process finishes. However, this contact does not include feedback or recommendations for those not selected.   
Additional information
About Anheuser-Busch InBev
Anheuser-Busch InBev is a publicly traded company (Euronext: ABI) based in Leuven, Belgium, with secondary listings on Mexico (MEXBOL: ANB) and South Africa (JSE: ANH) stock exchanges and with American Depositary Receipts on the New York Stock Exchange (NYSE: BUD). As a company, we dream big to create a future with more cheers. We are always looking to serve up new ways to meet life's moments, move our industry forward and make a meaningful impact in the world. We are committed to building great brands that stand the test of time and to brewing the best beers using the finest ingredients. Our diverse portfolio of well over 500 beer brands includes global brands Budweiser®, Corona® and Stella Artois®; multi-country brands Beck's®, Hoegaarden®, Leffe® and Michelob ULTRA®; and local champions such as Aguila®, Antarctica®, Bud Light®, Brahma®, Cass®, Castle®, Castle Lite®, Cristal®, Harbin®, Jupiler®, Modelo Especial®, Quilmes®, Victoria®, Sedrin®, and Skol®. Our brewing heritage dates back more than 600 years, spanning continents and generations. From our European roots at the Den Hoorn brewery in Leuven, Belgium. To the pioneering spirit of the Anheuser & Co brewery in St. Louis, US. To the creation of the Castle Brewery in South Africa during the Johannesburg gold rush. To Bohemia, the first brewery in Brazil. Geographically diversified with a balanced exposure to developed and developing markets, we leverage the collective strengths of approximately 169,000 colleagues based in nearly 50 countries worldwide. For 2021, AB InBev's reported revenue was 54.4 billion USD (excluding JVs and associates).
About the EIC Business Acceleration Services    
This opportunity is brought to you by the EIC Business Acceleration Services. To explore other opportunities to connect with the largest corporates in Europe, keep an eye on our events page.   
All participants are expected to fill out a brief satisfaction survey shortly after the event and a business impact survey after six months. Failure to do so may lead to exclusion from future Business Acceleration Services.   
Cancellation policy   
Cancellations will only be considered in duly documented cases of "force majeure". Unjustified cancellation can lead to exclusion in future Business Acceleration Services events. For additional information, please refer to our Helpdesk (please choose "EIC Corporate Day with AB InBev" as the subject).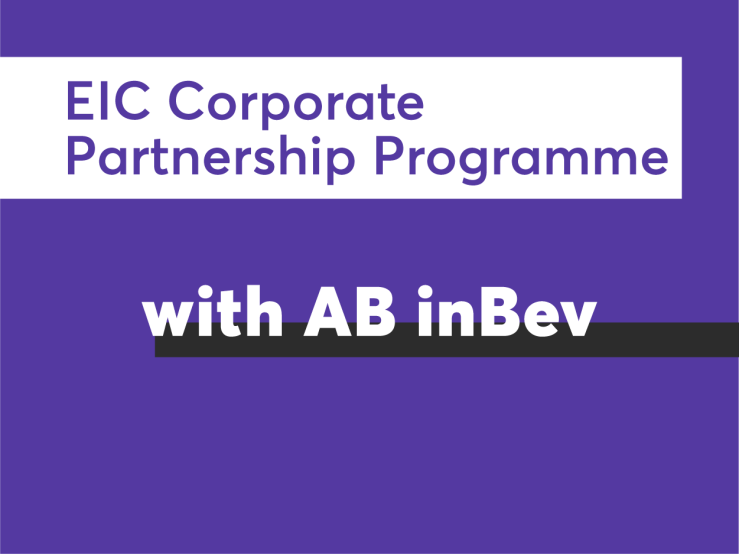 DISCLAIMER: This information is provided in the interest of knowledge sharing and should not be interpreted as the official view of the European Commission, or any other organisation.