CES 2022 will soon kick off in Las Vegas and the delegation of the 20 most promising European SMEs is ready to dive into innovation overseas! Few weeks prior to the official commencement of the tradeshow, we sat with Karen Chupka, the Executive Vice President at the Consumer Technology Association (CTA), for a quick fire chat. Karen talks about European innovations and shares highlights on what to expect during the world's most influential tech exhibition.
Undoubtedly, CES constitutes a high-level business event that touches all industries. What should the attendees expect in January? Do you have a "must visit" area you would recommend? 
With tech spanning many different industries, attendees should expect the unexpected at CES 2022. We have seen growth across product categories like vehicle tech, digital health and startups. I also encourage attendees to check out what's new this year – food tech, space tech and NFTs. Explore as much as you can and experience tech first-hand as we return to Las Vegas. 
The pandemic has drastically changed the way startups do business. What do you think the impact of COVID-19 has had on the consumer electronics industry?
The pandemic has pushed the industry to innovate in ways never thought of before. Companies have changed how they do business, from supply chain mechanics to consumer marketing, and we have seen new tech along the way. A key trend at CES 2022 will showcase how the pandemic has fueled innovation across many industries, including digital health, smart home and advertising and marketing.
It is evident that Europe has a strong presence at the trade fair over time. What added value will the European Pavilion bring to CES 2022?
CES is the global stage for innovation. The European Pavilion will bring global startups and tech to CES 2022, sharing unique innovations and perspective with attendees from around the world. We are excited to welcome delegations from all over Europe including, France, the Netherlands, Italy, Spain, Switzerland and Belgium. 
In your view, how can CES help the European innovators overcome the barriers of internationalisation and form meaningful business partnerships in the US?
CES is where global business gets done. Exhibitors and attendees alike are looking forward to doing business face-to-face once again. We have seen research that face-to-face meetings are critical to successfully building and maintaining business relationships and CES 2022 will serve as a gathering place for these innovators to do just that. European innovators will have an opportunity to meet with investors, potential customers and media from all over the world.
Any piece of advice that you would like to share with the European entrepreneurs, who will showcase their innovative solutions at the tradeshow?
Dedicate time to networking and building connections with attendees, media and other exhibitors. You never know where those relationships will take you in the future. Use the CES digital platform to continue to connect with attendees and media after the live event is over.
CES 2022 will take place in Las Vegas from 5 to 8 January with press conferences, numerous workshops, fruitful roundtable discussions and keynote speeches from industry leaders. The 2022 edition of the massive consumer electronics trade show is to be an in-person event after it shifted entirely online earlier this year due to the COVID-19 pandemic. 
Do not miss the unique opportunity to visit the European Pavilion at the Venetian Expo, Level 2, Halls A-C and get ready to be impressed with the latest technological advancements – made in Europe!
Find out more on the EIC Overseas Trade Fairs Programme 2.0 website and check the official delegation of European SMEs to attend CES 2022 here.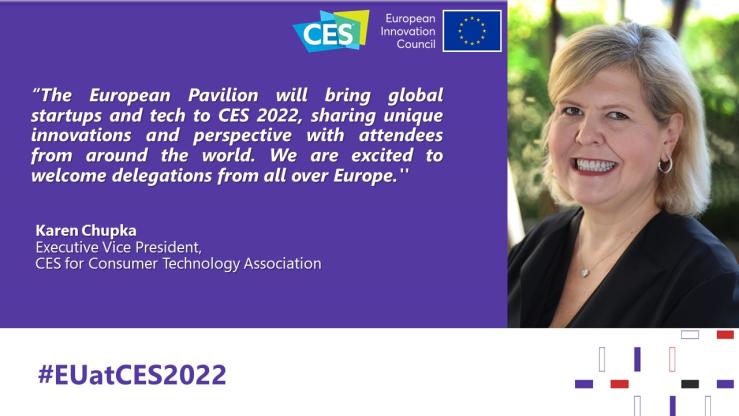 DISCLAIMER: This information is provided in the interest of knowledge sharing and should not be interpreted as the official view of the European Commission, or any other organisation.