On 5-7 January 2022, 18 top EIC- funded SMEs, startups and scale-ups met in Las Vegas, USA, on the occasion of the Consumer Electronics Show (CES), the first international trade fair under the EIC Overseas Trade Fairs Programme 2.0. 
The CES 2022 edition welcomed on site more than 2300 exhibiting companies, 1800 global media and over 40.000 attendees from more than 159 countries. While COVID-19 pandemic forced the program to be 100% digital in 2021, the international trade fair returned to its physical form, providing a wide range of product announcements, allowing the participants to explore the latest gadgets and digital technology trends projected for the coming year. 
"EIC supports its beneficiaries from advanced research to the market with grants, equity and blended finance but also with targeted business acceleration services. Even under these difficult conditions due to the pandemic, the EIC is present at CES 2022 providing the right cover to our best innovators and will keep supporting them to increase their business' growth", highlighted Viorel Peca, Head of Transition Activities and Business Acceleration Services Unit of EIC.
In addition, CES 2022 featured the latest transformative technologies, including vehicle technology, artificial intelligence, digital health and smart home tech, as well as new categories: NFTs, food tech and space tech.
The European Pavilion offered an immersive experience around the quality and authenticity of European novelties. The CES show floor unveiled the best European tech innovations that spur business and shift global markets. The European Pavilion's presence encouraged the international business community to collaborate with European counterparts in order to build a more sustainable and connected future.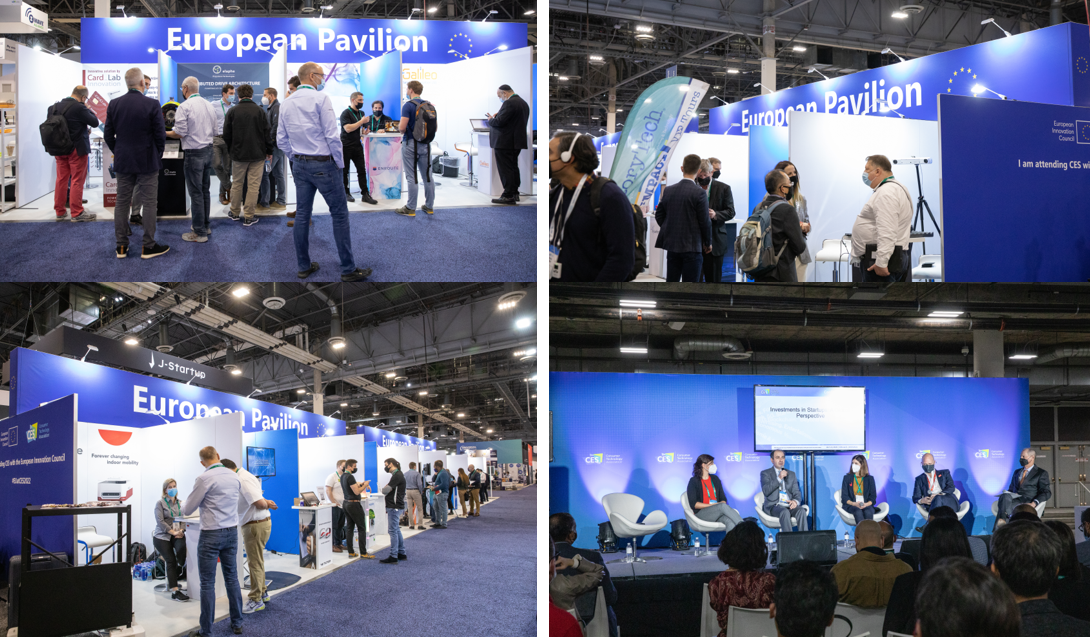 The European Pavilion: tech companies with mind-blowing innovations 
''With the EIC Overseas Trade Fairs Programme, CES has been extremely successful for us, given that we managed to meet the right contacts. We look forward to continuing this partnership''.

Raghunath Koduvayur, CMO, IQM Quantum Computers
''We received excellent support from the EIC in arranging the meetings. We had dozens of meetings with potential customers and partners every day. We recommend startups that are interested in participating in the future to get in touch with the EIC. They are extremely helpful and supporting us in preparing for the trade fair''. 

Matthias Kauer, CEO, Lightricity LTD
''At CES, we have had an exposure that would not have been possible for us otherwise. We recommend all the startups apply to the EIC Overseas Trade Fairs Programme 2.0, because this is a great chance to come and be part of this exciting and dynamic show''.

Amra Hadzic, CBO, Nestwave
''We are really honored to have been selected and join the European Pavilion. We encourage any startup to take advantage of this programme. It allowed us to have an excellent show and over 100 meetings with different clients''.

Ann Whyte, CEO, Photonic Sensors & Algorithms SL


To find out more on the 18 selected innovators that participated at CES 2022, please click on the following link. 
Curious to learn about the European Pavilion at CES 2022? Watch the highlights in the wrap-up video below.
EIC Overseas Trade Fairs Programme 2.0: Europe's leading innovators take centre stage at CES 2022 


About EIC Overseas Trade Fairs Programme 2.0
The EIC Overseas Trade Fairs (OTF) Programme 2.0 supports EIC-funded SMEs, start-ups and scale-ups to develop their large-scale commercialisation strategy in foreign markets and leverage entrepreneurial opportunities at global innovation hubs, strengthening the European Union's (EU) brand around the world. 
Building on the success of the Pilot OTF Programme, which took place between 2017-2018, the EIC OTF Programme 2.0 is running throughout 2022 and 2023, offering EIC beneficiaries the unprecedented opportunity to showcase their unconventional ideas at 15 international trade fairs in diverse sectors across four extra-EU markets.
Check the EIC OTF Programme 2.0 website for additional information and the list with the upcoming trade fairs. For stories, open calls and events related to EIC OTF Programme 2.0, you may also visit the EIC Community Platform. To follow the latest news and learn more about getting involved, please visit the EIC's official social media accounts on Twitter and LinkedIn.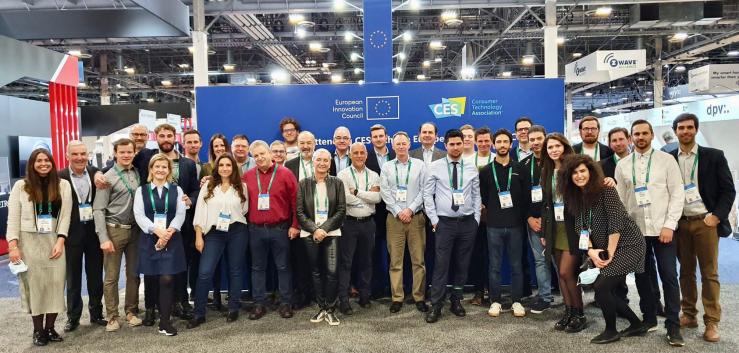 DISCLAIMER: This information is provided in the interest of knowledge sharing and should not be interpreted as the official view of the European Commission, or any other organisation.