The European Innovation Council (EIC), within the Greenhouse Gas Programme (GHG), has developed a dedicated GHG Tool to support beneficiaries in the assessment of their company's carbon footprint and suggest valuable mitigation measures and practices compatible with EU objectives. To further develop sustainability targets inside the company, DVP Vacuum Technology, an Italian-based company that builds vacuum pumps and compressors used in various industrial sectors (e.g., environment, health, etc.), joined the GHG Tool initiative. We then took the opportunity to meet Daniele Biffi, Chief Quality Assurance, and Valeria Di Cintio, Project Manager of Research & Innovation, from the company to discuss their participation and its current status.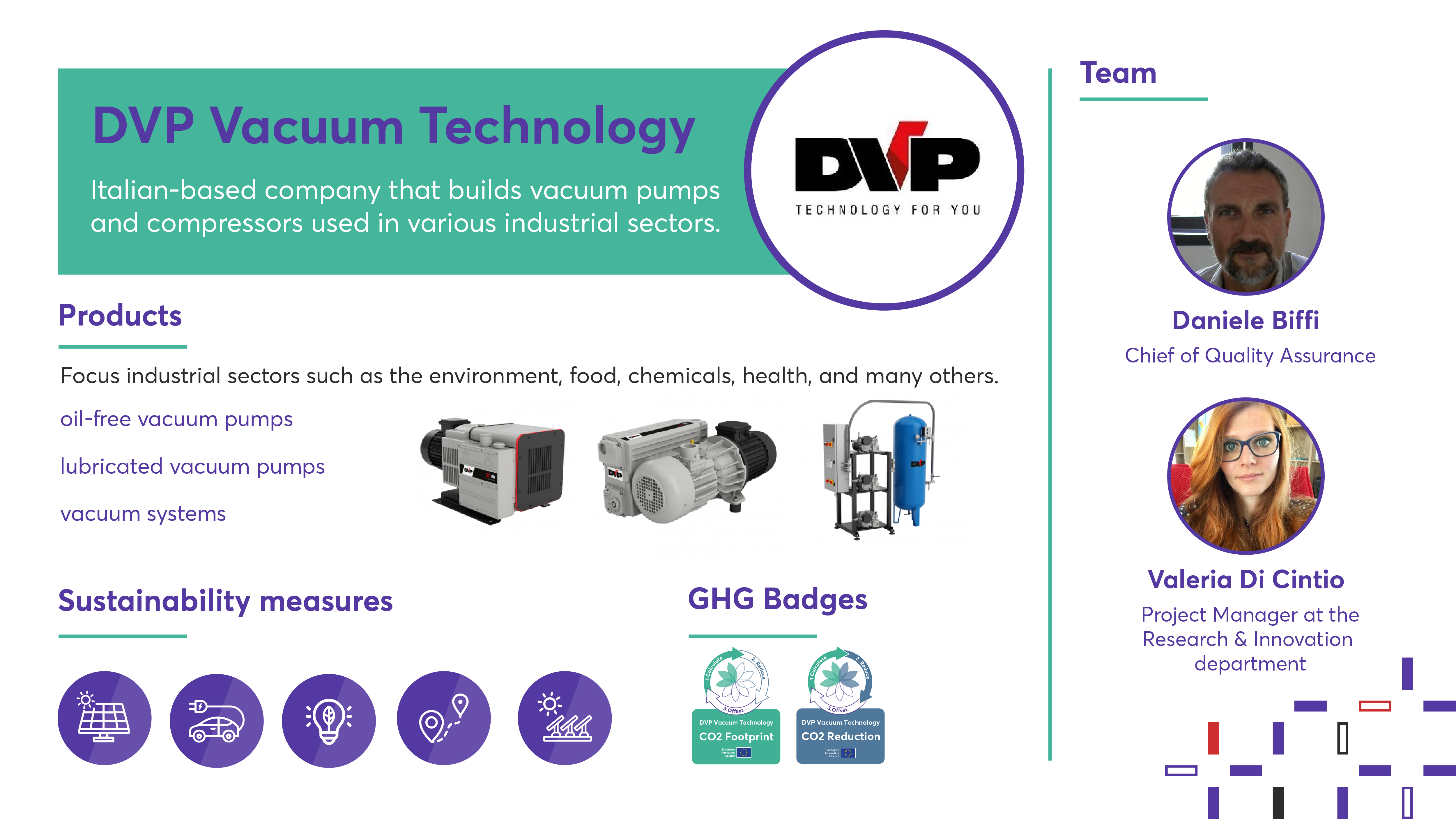 Can you briefly describe your role in DVP Vacuum Technology? 
Daniele Biffi: I'm the Chief of Quality Assurance at DVP Vacuum Technology. 
Valeria Di Cintio: I'm a Project Manager at the Research & Innovation department inside DVP Vacuum Technology. 
Could you describe your innovation? 
Daniele Biffi: DVP Vacuum Technology is one of the important players in the vacuum technology sector. We focus on producing vacuum pumps and compressors used in industrial sectors such as the environment, food, chemicals, health, and many others. 
In mid-2021, we started developing sustainability targets inside our company, as we are particularly aware and sensible to climate change. Given we aim to address these related issues within the company, it made all the sense to adapt our ways to the current times we are living in and the way we produce to the outside.  
Tell us how participating in the EIC GHG Programme has strategically helped your company so far. 
Daniele Biffi: Joining the EIC GHG Tool initiative in 2021 was useful for our company because we got to better understand relevant aspects of sustainability and what we can do to minimise our impact on business, society, and the world. The engagement with the GHG community and its experts was amazing, from the webinars we joined to the meetings we had. It allowed us to share our experience inside the EIC GHG Tool while getting the help we needed from the experts related to our green journey. 
Did the EIC GHG Tool help you increase your awareness of the amount of GHG emissions generated by your company? If yes, could you elaborate? 
Valeria Di Cintio: The EIC GHG Tool was useful to quantify the number of emissions our company produces. We had access to all the values we needed to take into account, and it was easier for us to navigate, confirm that data, and decide the best course of action for our company. 
Daniele Biffi: Exactly, for instance receiving solutions to mitigate our carbon footprint. We participated in the beta test phase of the GHG Tool in 2021, and with it, we could assess our carbon footprint during this year. We attended three individual sessions to get answers to our technical questions, receive advice on methodology to assess logistic emissions, and discuss the importance of integrating emissions related to the products we sell. 
What is the status of your participation (regarding the Badges & CO2 Neutral Label/GHG Tool initiative)? 
Daniele Biffi: We received the first badge for CO2 Footprint and, more recently, the second badge for CO2 Reduction. We went further along by sending a letter of engagement for the next five years. Based on our efforts and alignment with the GHG experts, we are working to adopt key strategies of conduct that will allow us to decrease our emissions and reduce our impact by more than 5%. 
Did the input received from the GHG experts contribute further towards the green transition journey? 
Daniele Biffi: The answer is yes. Participating in such an important initiative and sharing our experience with those involved was pivotal. Not to mention, it was an increment of green knowledge that's in line with the needs of our company. 
What measures did you implement or wish to implement? 
Daniele Biffi: (1) We are installing solar panels on our main offices and buildings and intend to start using plug-in hybrid or total hybrid cars. Also, (2) we are planning the substitution of lamps throughout our offices with more efficient and economical ones and reducing the distance from the supply chain. Step by step, we are doing our part. 
Moreover, (3) we are also installing a photovoltaic plant that will be able to cover 33% of the electricity needs of the company and we will consider the possibility of increasing it with time. That way, we can become more independent and have more sustainable energy production while reducing our consumption. 
How did the measures you implemented affected positively your return on investment (economically, environmentally, socially, etc.)? 
Daniele Biffi: The photovoltaic plant we are installing is part of the steps we wish to implement to work toward a greener business. In our view, sustainability isn't an option but a necessity, so that's why we need to consider all the key aspects of our journey to do this. Hence why the EIC's role is so important because it's changing the way business is conducted in that sense. More and more, we are giving sustainability and climate change the attention it deserves, and the efforts we make now will make all the difference in the future. 
Valeria Di Cintio: Definitely. For instance, customers have started looking for business partners engaged with sustainability. We see it daily with questions we receive from them regarding materials, substances, etc. If we are aware of this and can provide those answers, we are sending a positive message. 
What are the most interesting elements provided by the GHG tool compared to other similar tools? 
Daniele Biffi: The EIC's GHG Tool helped us become more aware of our role in business and society. It provided us with relevant elements that we can use to our advantage, and the fact that it's a European tool related to the EIC makes it even more attractive. Being able to use such a fundamental thing that helps companies in their transition to a greener path and carbon neutrality is always important, so that's why we didn't think twice and wanted to be part of this initiative. 
Additional information 
About DVP Vacuum Technology 
DVP Vacuum Technology is one of the main players in the vacuum technology sector for almost fifty years, competes on a global scale in the production of Vacuum Pumps and Compressors that are used in a wide range of industrial sectors such as packaging, environment, chemical, health, and many others. 
Vacuum Pumps and Compressors are customised to meet specific requests thanks to research done by DVP LAB, DVP's innovative laboratory that constantly works to ensure top performance. New shapes, new materials, new functions, new accessories: unique solutions to meet all their customers' needs. 
Based in San Pietro in Casale (Bologna, Italy), DVP has branches in the United States of America and Brazil and a widespread sales and service network in every continent. 
About the EIC Business Acceleration Services  
This opportunity is brought to you by the EIC Business Acceleration Services. To explore other opportunities to connect with the largest corporates in Europe, keep an eye on our events page.    
About the EIC GHG Programme       
With the EIC GHG programme, part of the Business Acceleration Services, the EIC offers its beneficiaries a dedicated GHG tool, the GHG Badges & CO2 Neutral Label initiative, and further resources.    
In addition, co-creation activities with corporates, industrial associations, regions in carbon transition and other EIC beneficiaries are taking place on a regular basis.