The EIC Tech to Market (T2M) is looking to establish dialogue and collaborations with organisations having the mission to support deep-tech researchers in developing their entrepreneurial experience. The aim is to exchange best practices and join forces to improve the overall set of training instruments in support of innovative researchers in Europe.
The EIC Tech to Market Programme offers a set of training services and tailored support to deep-tech researchers and innovators from projects funded under EIC Pathfinder and Transition funding schemes for the market deployment of their research results. The Programme builds on five different training components to build entrepreneurial skills, drive the academic vision towards market needs and stimulate the transition from the lab to market ("Innovation Discovery Training" and "Bootcamp for innovative researchers"), to help researchers starting the entrepreneurial journey exploring topics such as IP protection and regulatory framework, team management and access to finance ("EIC Pioneer Programme"), to ensure Business Model development and validation through Design Thinking methodologies ("Business Idea Validation Bootcamp" and "Business Validation Programme").
There are other programmes in place at European level to boost entrepreneurial culture and attitude among scientists, researchers and innovators building entrepreneurial knowledge, skills and experience.
The scope of the EIC Tech to Market Peer Learning Workshop is to allow for a cross-fertilisation and exchange of programmes, approaches, practices and tools to improve the overall support to deep-tech innovators in connected European ecosystems and creating favourable conditions for the development of deep-tech entrepreneurship. The workshop will be a first step of a broader peer-learning process in view of enabling mutual learning and establishing collaborations.
Do you run a programme supporting innovative deep-tech researchers? Are you interested in engaging in a peer learning process with the deep-tech entrepreneurial community?
Express your interest to attend the first online "EIC Tech to Market Peer Learning Workshop" that will be held on 19th December 2023 (09:30 – 12:30 CET)
Format of the workshop
The workshop will envisage an initial plenary session to present the EIC Tech to Market Programme, working groups for discussion among participants, and a concluding session to jointly explore the outcomes of working groups. A more detailed agenda will be sent to invited applicants.
What's in it for you?
You will get familiar with the EIC schemes and its Business Acceleration Services in support of innovative researchers in their entrepreneurial journey
You will engage in a mutual learning process with peers on how to better support deep-tech researchers interested in developing their entrepreneurial experience
You will contribute to an overall improvement process to better educate researchers on entrepreneurship in Europe.
How can you apply?
If you want to join the online "EIC Tech to Market Peer Learning Workshop" please express your interest and fill in the application form at this link by 8th December 2023.
Acknowledgement of participation
You will receive confirmation of your participation upon assessment of how your profile, your experience to share and motivation to join fit with the workshop purposes.
Additional information
About the EIC Business Acceleration Services
This opportunity is brought to you by the EIC Business Acceleration Services through its Tech to Market programme. To explore further opportunities, keep an eye on our events page.

Need help?
For additional information, please refer to our helpdesk by choosing "EIC T2M Entrepreneurship Programme" as the subject.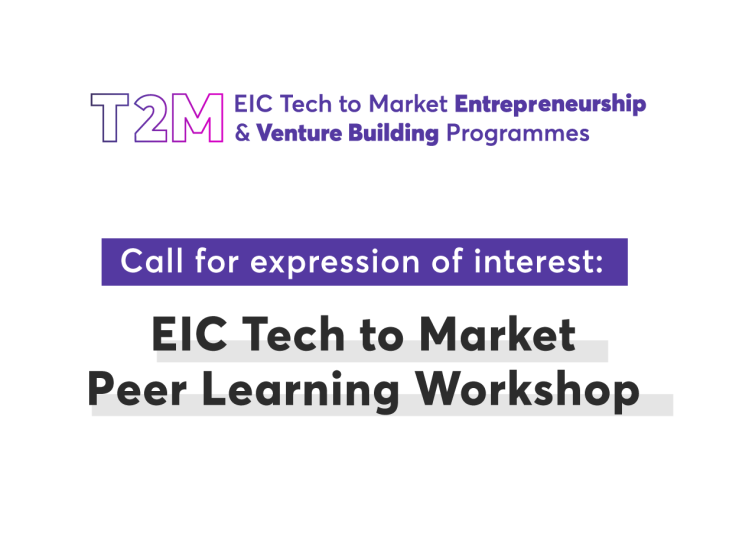 DISCLAIMER: This information is provided in the interest of knowledge sharing and should not be interpreted as the official view of the European Commission, or any other organisation.