Protecting your intellectual property (IP) can be a key aspect in further developing your startup. Whether it's increasing your market value, strengthening your position in the market or facilitating the search for suitable investors, having your IP secured can be a great asset. However, the world of intellection property rights (IPR) can be a difficult one to navigate. Through this EIC Community training, taking place on 7 May 2021 (9.30-12.00 CET), you will be provided with key insights about IPR Management best practices, the most efficient tools and common challenges held by the two experts on the field.
Mark your calendars: Friday, 7 May 2021, 9.30-12.00 and apply here!  
The 'EIC Community Training on Intellectual Property Rights' will give you the opportunity to foster peer-to-peer learning; to stimulate networking opportunities; and to better prepare you and your company for IP-related questions. The concepts presented during the training session will be illustrated through case studies from several domains, according to your current challenges.  
What's in it for you? 
Clarifications and Insights on IP tools & management by the two experts; 
Case studies and peer-to-peer learning:

The EIC Community Trainings are all about peer-to-peer learning;
The confirmed participants will be able to share their cases and present their current challenges.
Who should attend? 
This event is open to all EIC beneficiaries who are either at an earlier stage on their technology development or are keen to learn more about IP-related issues and how they can best protect their company. The workshop will be fully virtual with around 35 participants EIC-backed companies, who will be allocated on a "first come, first served" basis. 
Meet our experts: 
Aleardo Furlani, CEO of Innova, is an expert in business modelling, marketing and scaleup support. He has a strong experience as trainer and he is committed in providing technical assistance expertise in Technology Transfer and Intellectual Property management for international organisations, such as the Italian Trade Agency, European Commission, European Investment Bank, Latin American Development Bank, United Nations Development Programme. 
Silvia Dondi is expert in assisting companies to protect their intangible assets. Her main activities deal with patent drafting and prosecution, opinions and litigation with focus in the fields of electronics, electro-mechanics and software. She is also a Member of the Examination Committee II for the European Qualifying Examination.
Silvia Dondi and Aleardo Furlani are IP and Technology Transfer experts from BUGNION S.p.A. and Innova, 2 core partners of the LeadershIP4SMEs project. LeadershIP4SMEs is a project funded by the European Union's Horizon 2020 Research and Innovation programme under Grant Agreement nº 951164 with the mission to support DeepTech start-ups and SMEs to leverage their IPR to attract funding and boost their growth. Find out more at: www.leadership4smes.eu 
Draft agenda 
Time
Description

 9h30 – 10h10 

 Introduction 

 Insight session on IP tools and management 

 10h10 – 10h30 

 Case studies: presentation 

 10h30 – 10h50 

 Case studies: Experts' feedback & conclusions 

 10h50 – 11h00 

 Break 

 11h00 – 11h30 

 Q&A session – Share your challenges and doubts 

 11h30 – 12h00 

 Conclusions & Wrap-up 
Should you have any questions regarding the event, please refer to our helpdesk (please choose "EIC Community Training on Intellectual Property Rights" as the subject).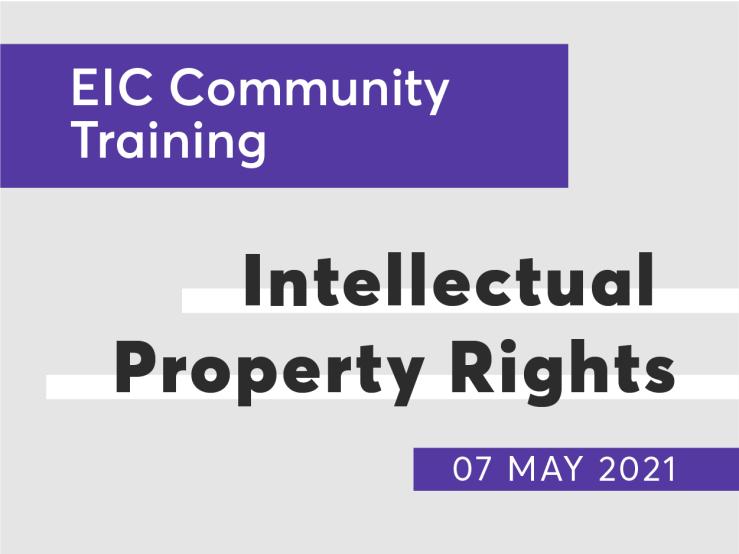 DISCLAIMER: This information is provided in the interest of knowledge sharing and should not be interpreted as the official view of the European Commission, or any other organisation.