Description
As an EIC-funded SME, you probably already had the chance to pitch your solution in multiple matchmaking initiatives to attract the attention of investors or potential customers. But did you ever try to build win-win synergies and co-create solutions with Business Partners? The EIC Greenhouse Gas Programme aims to leverage unique collaborative experiences between EIC companies and large European organisations and offer EIC companies the chance to co-create products and services. In this light, the European Innovation Council and Western Macedonia invite you to apply to our joint EIC GHG Co-creation initiative.
To make sustainable living a commonplace, the Region of Western Macedonia – and more specifically the Cluster of Bioeconomy and Environment of Western Macedonia (CLuBE) – seeks to develop synergies between local and regional participants and businesses in the bioenergy and environment sectors. Their goal? Introduce and develop innovation and increase its added value. So, save the date: this co-creation journey with Western Macedonia kicks off with an event on the 2nd and 3rd of November 2021. 
The challenges
Western Macedonia challenges are focused on adding photovoltaics to roads and highways, public buildings, adding wood to existing and new constructions, and decarbonising the Regional District Heating Systems. 
Challenge: Rooftop PVs or BIPVs in public buildings combined with energy storage infrastructure
Context: Implementation on public buildings as pilot projects and further extension of the application in private houses and business sector's buildings, throughout the territory of Western Macedonia.
Background: The increasing concentration of inhabitants in cities around the world is changing local geomorphology and is strongly influencing the environment. Furthermore, energy poverty, especially for the case of our Region, is a huge social problem that has to be dealt with, as quickly and efficiently as possible. In order to deal with these negative effects of buildings' operation, various techniques and technologies are proposed and applied, including the integration of photovoltaic and energy storage systems.
Specific challenge: We would like to get acquainted with technological solutions that address the following challenges: 
Combining self-consumption and sale of the excess energy, employing smart meters. 
Overcoming the interconnected electrical network's zero capacity of absorbing power form RES stations (Saturated Voltage Transformer Electrical Substations) in areas of our Region. 
Simultaneous utilisation of energy storage systems for the smooth injection of excess energy into the network. 
Your co-creation journey 
The EIC GHG Co-creation with Western Macedonia will be an entirely virtual service for six months, following the co-creation journey below.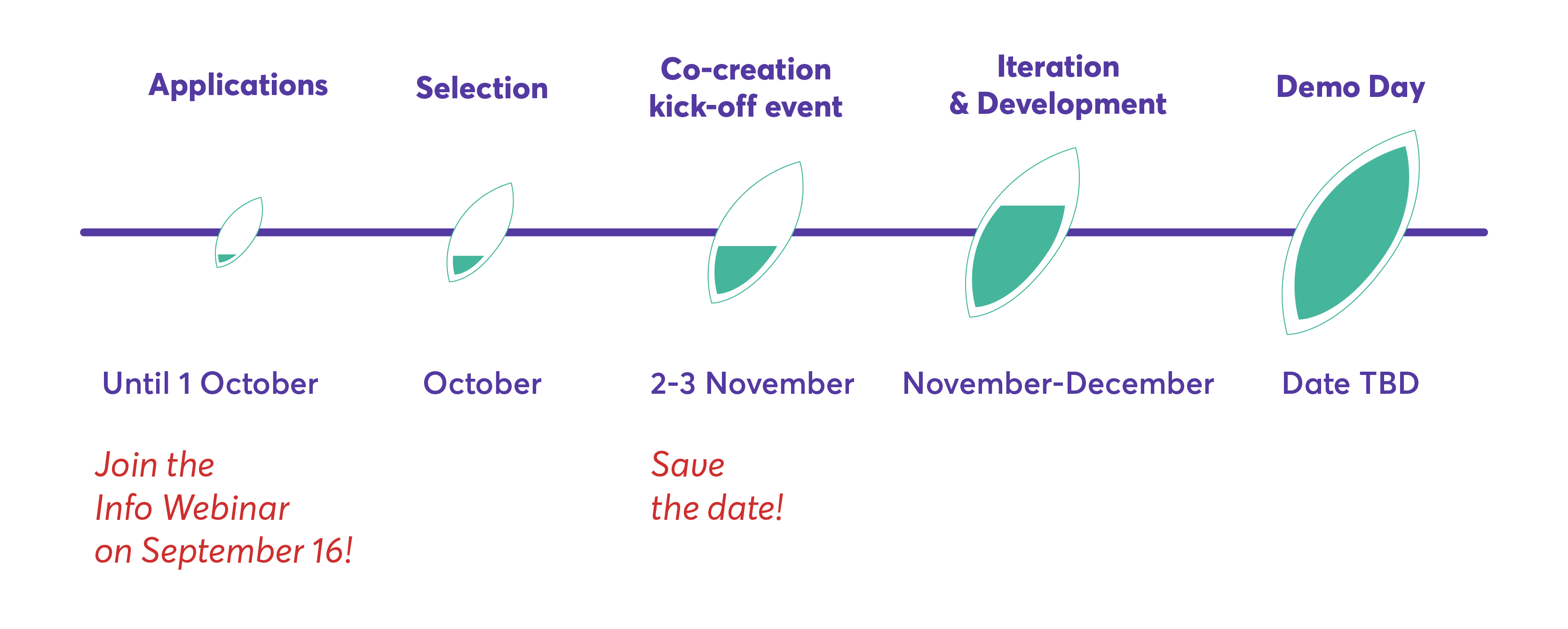 Step 1: Applications and Info webinar 
To apply to the EIC GHG Co-creation with Western Macedonia, you will have to fill the application form available here by the 1st of October 2021. 
Step 2: Selection process 
As soon as we close the submission process, your application will be shared with Western Macedonia. Then, they'll proceed with the evaluation and selection of the final list of participants. You'll be conducted once the selection process is finalised. Also, please note that any feedback or recommendation to the companies that were not selected won't be foreseen.
Step 3: Co-creation kick-off event – 2nd of November | Save the date! 
After the selection process, a two-day ideation event with Western Macedonia will take place on the 2nd and 3rd of November 2021. It will help you better understand the challenges and start co-developing your solutions with the business partners. During this meeting, you'll also have the chance to define a clear roadmap with your next steps.
Step 4: Iteration & Development 
You'll have 2 months to implement the roadmap that you'll define with Western Macedonia. Not to mention, have the opportunity to validate it regularly to ensure you are steering in the right direction.
Demo Day 
The Demo Day will showcase the final solutions and promote them to a bigger audience. Date TBD.
Need help?   
For additional information, you can check the Open Call published in the EIC Community here  or please refer to our helpdesk (please choose 'EIC GHG: Co-creation with Western Macedonia' as the subject).