Description
Are you able to cut the need for offside-supply in existing buildings? Are you ready for the procuRE renewable energy supply challenge? Six cities and regions are looking for R&D solutions to change the approach of building renovation. Barcelona, Istanbul, Velenje, Nuremberg, Vila Nova de Gaia, Eilat are following a pre-commercial procurement (PCP) approach and challenging those suppliers that can respond to their needs. The total funding amount to be divided among the selected suppliers throughout the whole challenge-based procurement is 7.68 million euro.
Do you have a solution for this challenge?
Proposals have to be submitted electronically by 8 March 2022 (17:00 CET) via the S-Procurement Information System.
Successful suppliers will have to design, develop, and test an innovative Renovation Approach capable of generating Renovation Packages delivering 100% renewable energy supply (RES) to any existing non-residential building with adequate envelope quality. The Renovation Approach is to be tested through generating and implementing Renovation Packages for specific buildings in Buyers Group portfolios, the Demonstration Sites.
The Buyers Group alone operates 21,000 buildings; almost a dozen other procurers are already following the project. Together they hope to supply their buildings with 100% local RES within a short timeframe. To make this possible, it is expected that suppliers will follow an "active approach", optimising heavy loads in heating, ventilation, and air conditioning (HVAC) etc, adding intelligent (remote) control, energy production and storage while responding to specific usage requirements to optimise the entire building.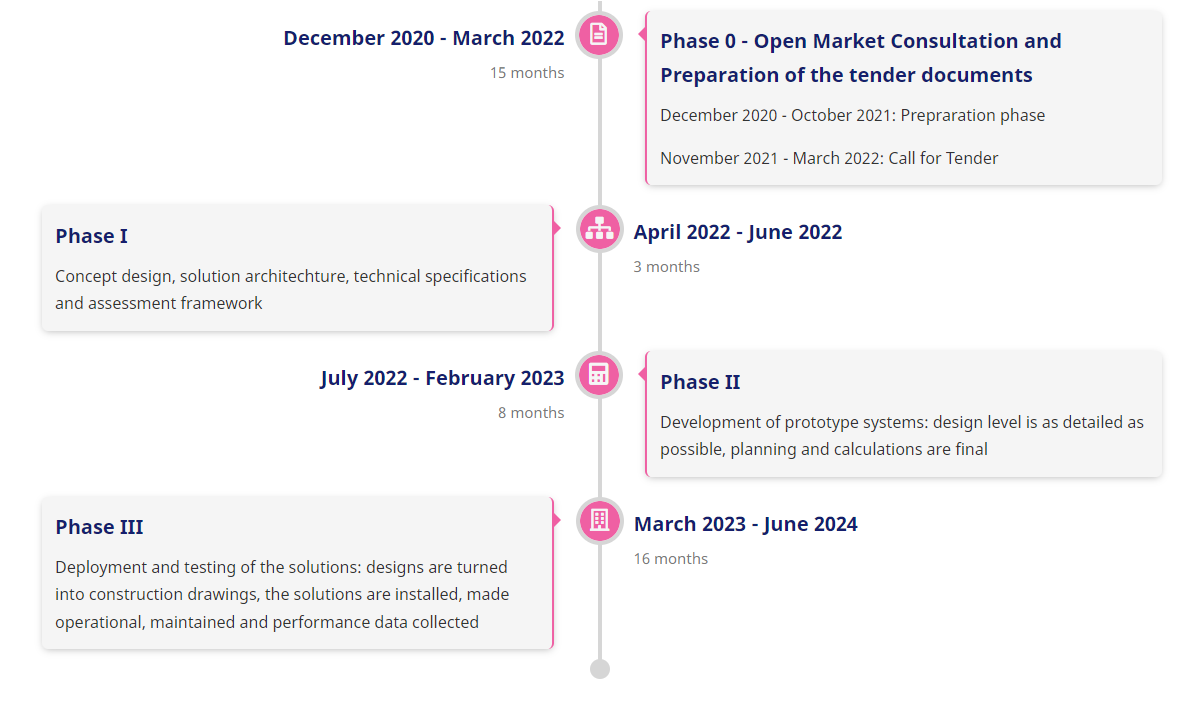 To learn more details about the procuRE PCP Phases, visit this page. More information about the challenge is available here.
Interested parties are also invited to join coaching webinars to learn more about the content and application process. The next Tender Webinar will focus on Admin & Finance parts and take place on 11 January 2022. The event is free of charge and you can submit your registration here.